---
DAWN
Daily Arts Web Nucleus
---
Discover the Arts!
Each day a different image from the Literary, Performing, or Visual Arts representing a portion of Scripture
plus an explanation with links and a discussion forum
2013 November 17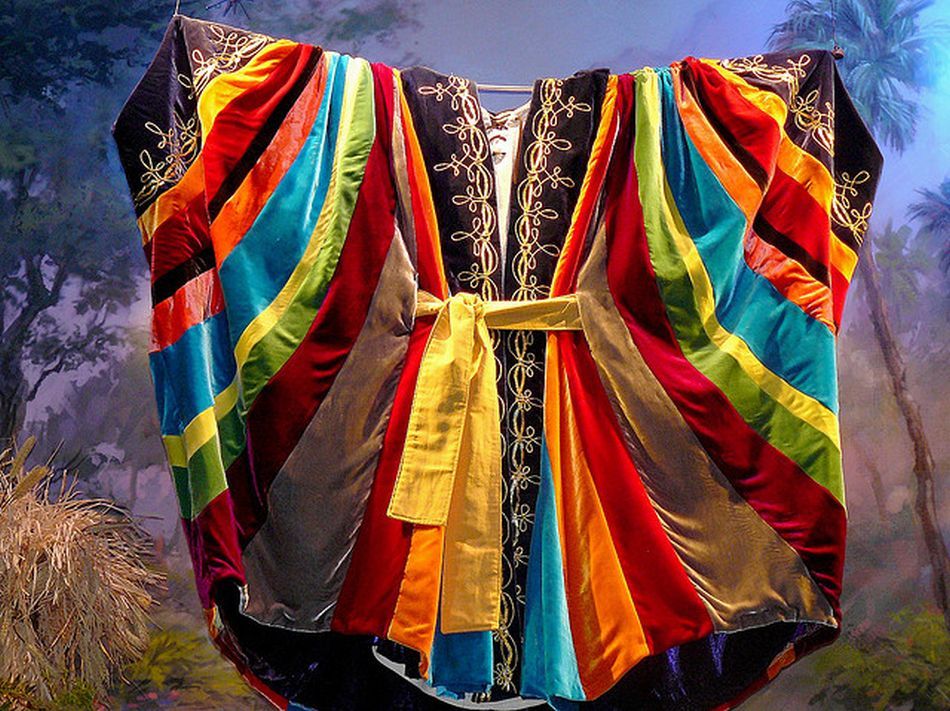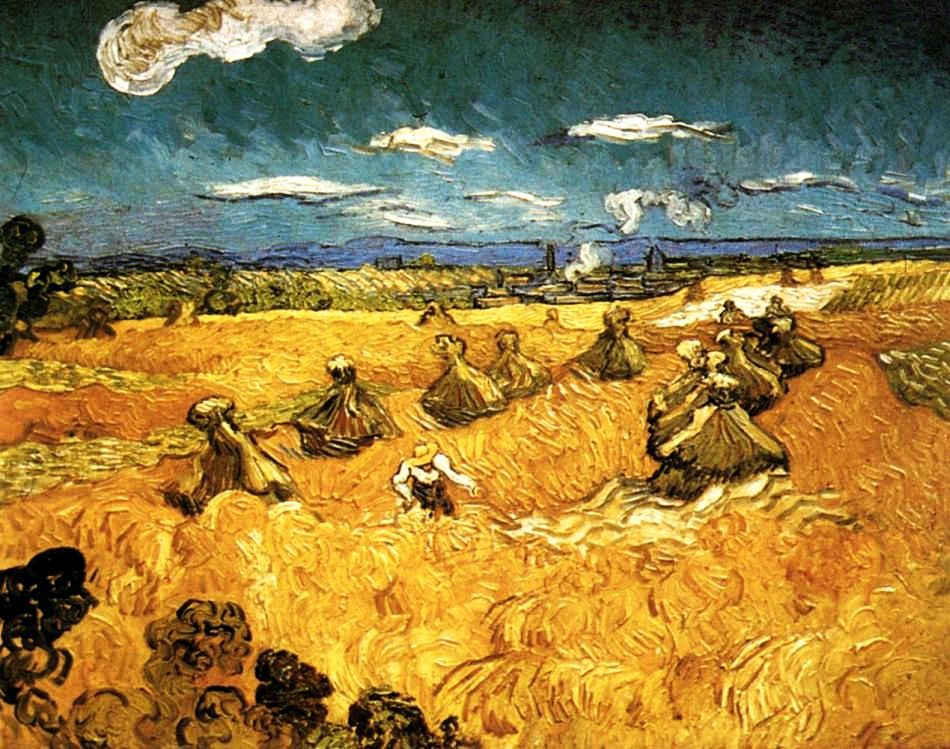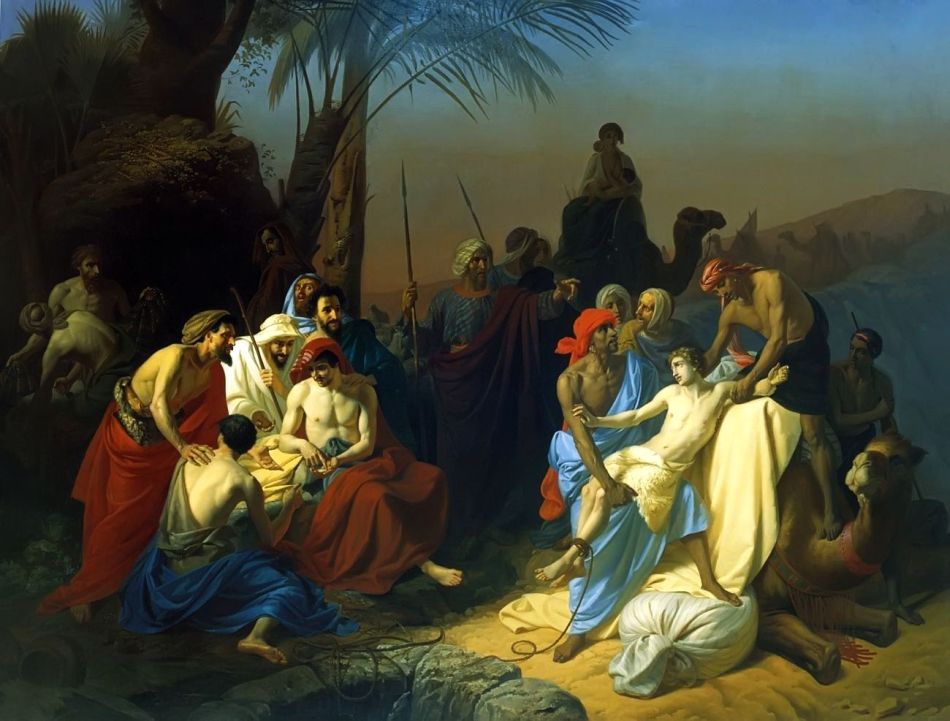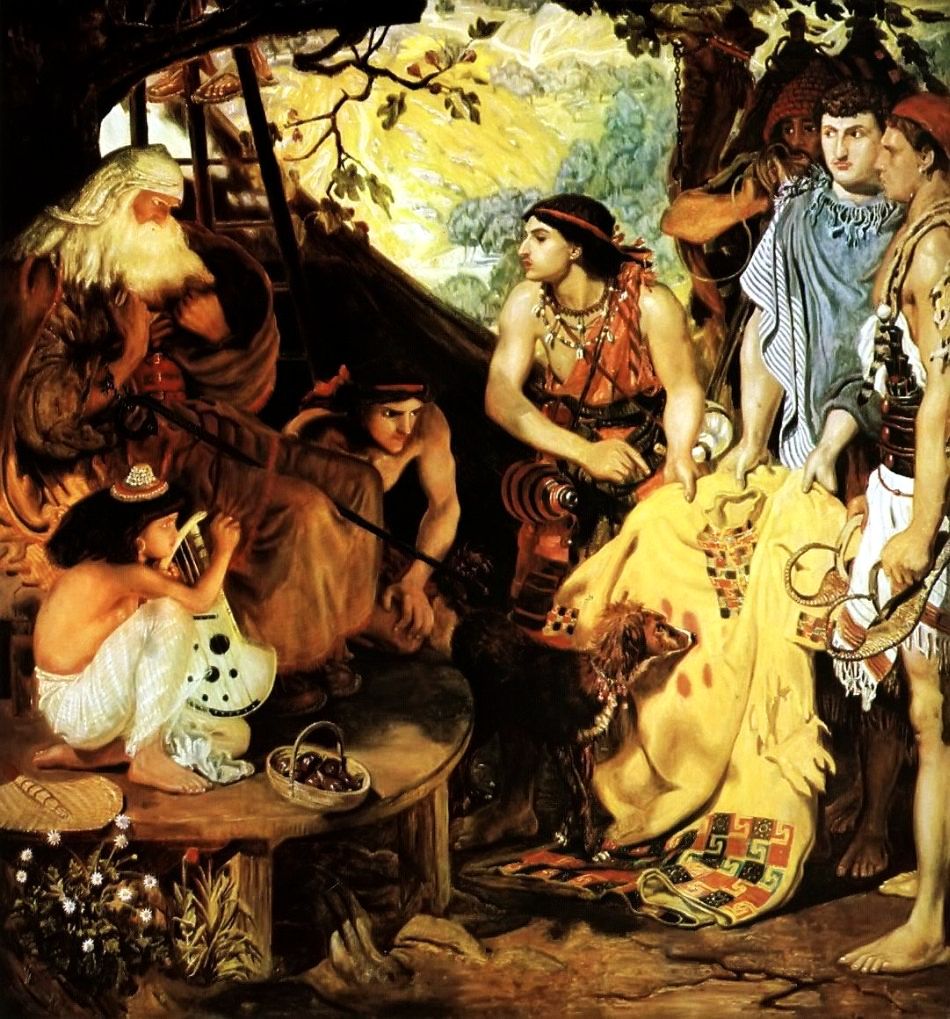 Image 1: A Report: Detail from The Adoration of the Kings (1564)
Pieter Bruegel the Elder (c. 1525 - 1569)
Flemish Renaissance Style
National Gallery of London, London, England, United Kingdom Image Source: Web Gallery of Art



~~~~~~~~~~


Image 2: Joseph's Coat of Colors
(Presumably) Jeanne Morrison (Artist since c. 1978)
Textile Art
Digital Image Prototype for Kimono Design Image Credit: Visit Still Waters



~~~~~~~~~~


Image 3: Wheat Stacks with Reaper (1888)
Vincent van Gogh (1853-1890)
Post-Impressionism Style
Toledo Museum of Art, Toledo, Ohio Image Credit: Web Gallery of Art



~~~~~~~~~~


Image 4: Falling Stars (1879)
Mihaly Zichy (1827-1906)
Romanticism Style
Zichy Museum, Zala, Hungary Image Source: Web Gallery of Art



~~~~~~~~~~


Image 5: Brothers Sell Joseph into Slavery (1855)
Konstantin Flavitsky (1830-1866)
Neo-Classical Style
The Russian State Russian Museum, Saint Petersburg, Russia Image Source: Christ Images



~~~~~~~~~~


Image 6: Jacob and Joseph's Coat (1868-1871)
Ford Madox Brown (1821-1893)
Pre-Raphaelite Hogarthian Style
Museo de Arte de Ponce, Ponce, Puerto Rico Image Source: Christ Images



~~~~~~~~~~


Image 7: Joseph Being Sold to Potiphar (1515-1518)
Jacopo Pontormo (1494-1557)
Mannerism Style Florentine School
National Gallery of London, London, England, United Kingdom Image Source: Web Gallery of Art



Explanation: Of the seven pictures above, the first four are of a more symbolic nature than the final three -- particularly the fourth painting which represents Joseph's brothers not merely as stars, as in Joseph's second dream, but as falling stars, symbolizing their fall from power under Joseph. This was particularly realized in Egypt when Joseph was made second ruler in the land and his family came and lived under his rule; and later it was realized when the Ephraimite branch of Joseph's house took control of ten of the twelve tribes during the period of the divided kingdom. The first painting represents the report of evil which Joseph brought against his brothers; the second represents his coat of many colors symbolizing his status in his father's eyes; the third represents his dream that the sheaves of the field bowed down to his sheaf.
Genesis 37 focuses on the conflict between Joseph and his brothers. Verse 2 is the beginning of a major section ("The Generations of Jacob") which extends into the next book (Genesis 37:2 - Exodus 6:13). This section covers the years 1898 B.C. - 1446 B.C. and takes place in Canaan & Egypt. The chapter opens with the words "And Jacob dwelt in the land wherein his father was a stranger, in the land of Canaan" (1). In the next verse, "the generations of Jacob" opens with Joseph, who was 17, bringing an evil report to Jacob against the sons of Rachel's handmaiden Bilhah (Dan and Naphtali) and the sons of Leah's handmaiden Zilpah (Gad and Asher) - (2). All of Jacob's sons hated Joseph and could not greet him with the usual greeting of "shalom -- peace be to you") because Jacob loved Joseph more than all of them and made him a "coat of many colors" (3-4) -- literally, "coat of palms of the hand or soles of the feet -- variously translated as "coat of many (colored) pieces," "long coat," "coat reaching to the hands," "coat reaching to the feet," "coat reaching to the hands and feet," or "tunic of distinction." The latter translation is probably the best interpretive rendering.
Later, Joseph had a dream which made his brothers hate him all the more when he told it to them (5). In the dream Joseph and his brothers were binding sheaves in the field and his sheaf stood upright, and the sheaves of his brothers bowed down to it; this dream of rule over his brothers was dismissed by them with scorn, and their hatred for him intensified (6-8). But Joseph had another dream in which the sun, the moon, and the eleven stars bowed down to him; his father rebuked this idea that all of the family would bow down to him; "And his brethren envied him; but his father observed the saying" (9-11).
Later, Jacob sent Joseph to gather a report about his brothers who were herding the flocks some distance away; and, with the help of a man he encountered on the way, he found them in Dothan (12-17). When his brothers saw him coming they conspired to kill him; but Reuben persuaded them to cast him in a nearby dry pit with the hope of delivering him later; so they removed his coat and cast him into the pit (18-24). They then sold Joseph to a passing band of merchants headed for Egypt; in the passage they are called Ishmeelites or Midianites -- either because they were a mixed group or because "Ishmeelite" was the general term and "Midianite" was the specific term for these traders (25-28). Reuben was absent when this transaction happened and was distressed when he found out about it; but, to cover the crime, the brothers dipped Joseph's coat in goat's blood and presented it to Jacob who fell into great distress and inconsolable mourning, thinking that Joseph had been devoured by a wild beast; meanwhile, the Midianites sold Joseph to Potiphar, captain of Pharaoh's guard (29-36).
Genesis 37
1 And Jacob dwelt in the land wherein his father was a stranger, in the land of Canaan. 2 These are the generations of Jacob. Joseph, being seventeen years old, was feeding the flock with his brethren; and the lad was with the sons of Bilhah, and with the sons of Zilpah, his father's wives: and Joseph brought unto his father their evil report. 3 Now Israel loved Joseph more than all his children, because he was the son of his old age: and he made him a coat of many colours. 4 And when his brethren saw that their father loved him more than all his brethren, they hated him, and could not speak peaceably unto him.
5 And Joseph dreamed a dream, and he told it his brethren: and they hated him yet the more. 6 And he said unto them, Hear, I pray you, this dream which I have dreamed: 7 For, behold, we were binding sheaves in the field, and, lo, my sheaf arose, and also stood upright; and, behold, your sheaves stood round about, and made obeisance to my sheaf. 8 And his brethren said to him, Shalt thou indeed reign over us? or shalt thou indeed have dominion over us? And they hated him yet the more for his dreams, and for his words.
9 And he dreamed yet another dream, and told it his brethren, and said, Behold, I have dreamed a dream more; and, behold, the sun and the moon and the eleven stars made obeisance to me. 10 And he told it to his father, and to his brethren: and his father rebuked him, and said unto him, What is this dream that thou hast dreamed? Shall I and thy mother and thy brethren indeed come to bow down ourselves to thee to the earth? 11 And his brethren envied him; but his father observed the saying.
12 And his brethren went to feed their father's flock in Shechem. 13 And Israel said unto Joseph, Do not thy brethren feed the flock in Shechem? come, and I will send thee unto them. And he said to him, Here am I. 14 And he said to him, Go, I pray thee, see whether it be well with thy brethren, and well with the flocks; and bring me word again. So he sent him out of the vale of Hebron, and he came to Shechem. 15 And a certain man found him, and, behold, he was wandering in the field: and the man asked him, saying, What seekest thou? 16 And he said, I seek my brethren: tell me, I pray thee, where they feed their flocks. 17 And the man said, They are departed hence; for I heard them say, Let us go to Dothan. And Joseph went after his brethren, and found them in Dothan.
18 And when they saw him afar off, even before he came near unto them, they conspired against him to slay him. 19 And they said one to another, Behold, this dreamer cometh. 20 Come now therefore, and let us slay him, and cast him into some pit, and we will say, Some evil beast hath devoured him: and we shall see what will become of his dreams. 21 And Reuben heard it, and he delivered him out of their hands; and said, Let us not kill him. 22 And Reuben said unto them, Shed no blood, but cast him into this pit that is in the wilderness, and lay no hand upon him; that he might rid him out of their hands, to deliver him to his father again. 23 And it came to pass, when Joseph was come unto his brethren, that they stript Joseph out of his coat, his coat of many colours that was on him; 24 And they took him, and cast him into a pit: and the pit was empty, there was no water in it.
25 And they sat down to eat bread: and they lifted up their eyes and looked, and, behold, a company of Ishmeelites came from Gilead with their camels bearing spicery and balm and myrrh, going to carry it down to Egypt. 26 And Judah said unto his brethren, What profit is it if we slay our brother, and conceal his blood? 27 Come, and let us sell him to the Ishmeelites, and let not our hand be upon him; for he is our brother and our flesh. And his brethren were content. 28 Then there passed by Midianites merchantmen; and they drew and lifted up Joseph out of the pit, and sold Joseph to the Ishmeelites for twenty pieces of silver: and they brought Joseph into Egypt.
29 And Reuben returned unto the pit; and, behold, Joseph was not in the pit; and he rent his clothes. 30 And he returned unto his brethren, and said, The child is not; and I, whither shall I go? 31 And they took Joseph's coat, and killed a kid of the goats, and dipped the coat in the blood; 32 And they sent the coat of many colours, and they brought it to their father; and said, This have we found: know now whether it be thy son's coat or no. 33 And he knew it, and said, It is my son's coat; an evil beast hath devoured him; Joseph is without doubt rent in pieces. 34 And Jacob rent his clothes, and put sackcloth upon his loins, and mourned for his son many days. 35 And all his sons and all his daughters rose up to comfort him; but he refused to be comforted; and he said, For I will go down into the grave unto my son mourning. Thus his father wept for him. 36 And the Midianites sold him into Egypt unto Potiphar, an officer of Pharaoh's, and captain of the guard.




---
PARTICIPATION: We have 7 areas available (via email) for your participation. We are accepting contributions for Prose, Poetry, Writers, Visual Artists, Music, DAWN, and ILLUMINATION. DAWN, the page you are presently visiting, features a new image daily and invites discussion of the artist, style, or Biblical subjects depicted. ILLUMINATION features a compact, Illuminated Bible for which we are accepting visual, auditory, musical, and written contributions on any Biblical passage or theme. Our goal is to have a community-made, online, Illuminated Bible.

Please Email Comments, Questions, and Contributions for All Areas To

AD LIB ARTS EMAIL copyright 2013, Scott Souza