---
DAWN
Daily Arts Web Nucleus
---
Discover the Arts!
Each day a different image from the Literary, Performing, or Visual Arts representing a portion of Scripture
plus an explanation with links
2016 March 15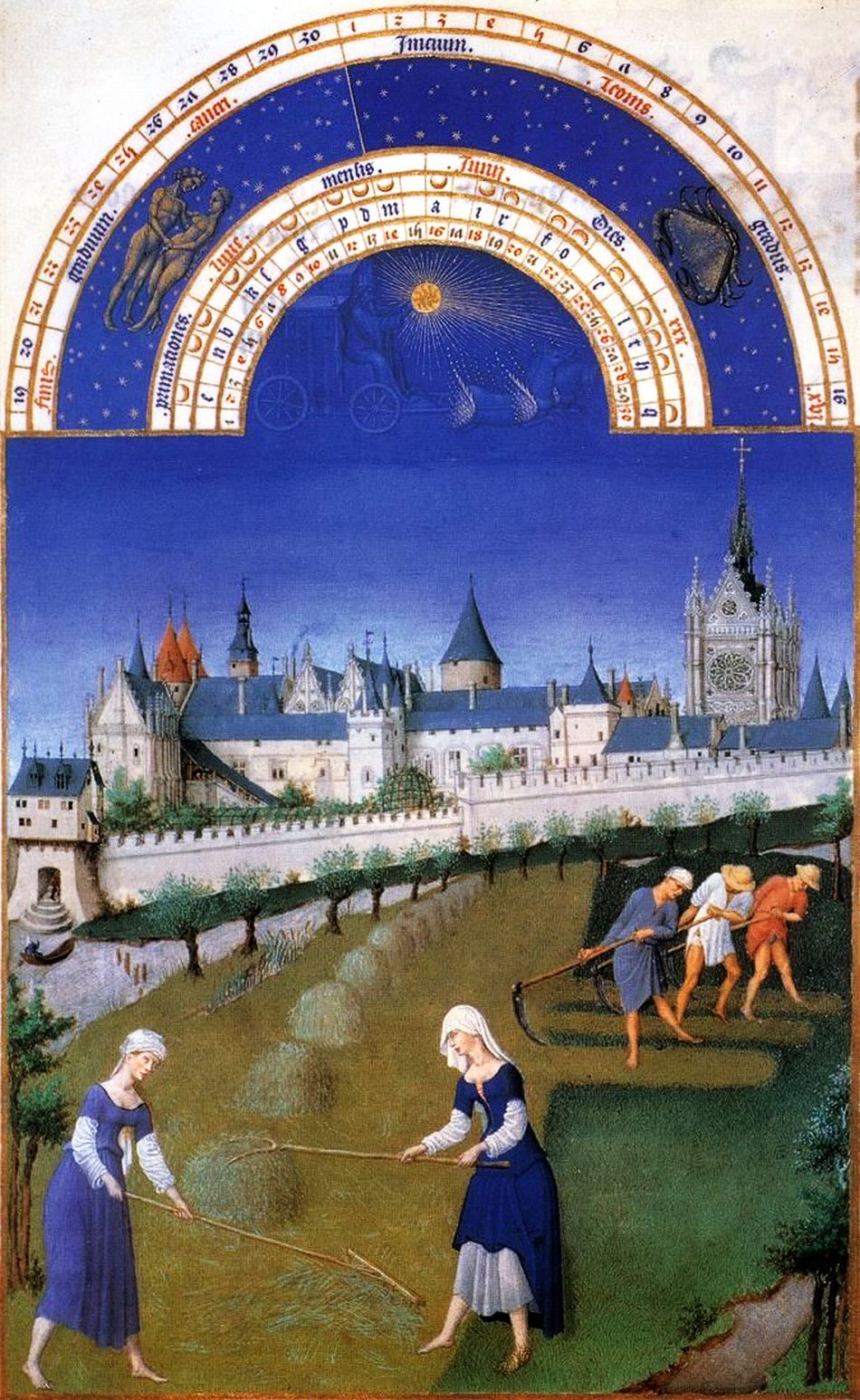 June: From Les Tres Riches Heures du Duc de Berry (1412-1416)
Limbourg Brothers (fl. 1385-1416)
International Gothic Style
Musee Conde, Chateau de Chantilly, Chantilly, Oise, France Image Source: Web Gallery of Art




Explanation: Beginning in Amos 7, and continuing to the end of the book in chapter 9, Amos recounts a series of visions and their explanations. In this chapter he sees a vision of grasshoppers, of fire, and of a plumbline. The grasshoppers threaten to destroy "the latter growth after the kings mowings" (probably a term for the second crop of hay). The fire threatens to destroy a vast number of people symbolized by the great deep (an ocean such as the Mediterranean Sea - Psalms 107:23-31; Genesis 1:2; Job 41:31-32; Isaiah 51:10, 2 Corinthians 11:25, or the subterranean waters - Genesis 7:11; Genesis 8:2; Genesis 49:25; Deuteronomy 8:7; Ezekiel 31:4). And the plumbline symbolizes the fact that Israel is tottering out of spiritual balance and will fall. The first two threats are removed by prayers of intercession by Amos. But the third would come. In defiant response, King Jeroboam II and Amaziah the priest of Bethel tell Amos to desist and return to Judah. Amos tells them that it was the LORD, not some impulse from his own mind or heart, which took him from his herdsman and agricultural duties and sent him to prophesy even though he was 'not a prophet or the son of a prophet' (v. 14). He then tells Jeroboam that he will die by the sword and Israel will go into captivity. As for Amaziah, he will go into captivity and die there, and his wife will become a harlot. [Sermons: Stuart Olyott. James Philip. William Still. ].
Today's image shows normal crop production, something the LORD said he would grant to Israel in response to the prayers of Amos, even though judgment would still come.

[ THEMATICALLY AND CHRONOLOGICALLY RELATED SCRIPTURES: 2 Kings 14. 2 Chronicles 26. Amos 6. Amos 7. Amos 8. Amos 9. ]

[ CHRONOLOGY: GENERAL. Patriarchs (Traditional). Judges # 1. Judges # 2. Kings # 1. Kings # 2. Prophets # 1. Prophets # 2. NT # 1. NT # 2. NT # 3. ]

[ MAPS: Maps # 1. Maps # 2. Maps # 3. Maps # 4. Maps # 5. ]

[ COMMENTARIES, ETC: GENERAL: Bible Study Tools; Bible Hub: Study Light; Blue Letter Bible // PSALMS: Monergism: Precept Austin: The Treasury of David; John Gill; John Calvin - Volumes 1, 2, 3, 4, 5]

[ MUSIC: GENERAL: The Cyber Hymnal // PSALMS: Genevan Psalter (Instrumental). VARIOUS ARTISTS: Micha'el Ben David. Sons of Korah. Fernando Ortega. Janet Isaac Morrison. Music of the Bible Revealed - Suzanne Haik-Vantoura. Dr. David Erb. Gregorian Chants. ]



1. Prophecy Against Israel (Amos 1:1-2) - 760 B.C., Israel
2. Prophecies Against the Nations Bordering Israel [Damascus, Gaza, Tyre, Edom, Ammon, Moab] - (1:3 - 2:3) - 760 B.C., Israel
3. Prophecies, Negative and Positive, About Judah & Israel (2:4 - 9:15) - 760 B.C., Israel



Amos 7





3. Prophecies, Negative and Positive, About Judah & Israel (2:4 - 9:15) - 760 B.C., Israel






C. About Both Judah and Israel (6:1 - 9:15)






2). Allegories of Coming Judgment (7:1 - 8:6)





1 Thus hath the Lord GOD shewed unto me; and, behold, he formed grasshoppers in the beginning of the shooting up of the latter growth; and, lo, it was the latter growth after the king's mowings. 2 And it came to pass, that when they had made an end of eating the grass of the land, then I said, O Lord GOD, forgive, I beseech thee: by whom shall Jacob arise? for he is small. 3 The LORD repented for this: It shall not be, saith the LORD.
4 Thus hath the Lord GOD shewed unto me: and, behold, the Lord GOD called to contend by fire, and it devoured the great deep, and did eat up a part. 5 Then said I, O Lord GOD, cease, I beseech thee: by whom shall Jacob arise? for he is small. 6 The LORD repented for this: This also shall not be, saith the Lord GOD.
7 Thus he shewed me: and, behold, the Lord stood upon a wall made by a plumbline, with a plumbline in his hand. 8 And the LORD said unto me, Amos, what seest thou? And I said, A plumbline. Then said the Lord, Behold, I will set a plumbline in the midst of my people Israel: I will not again pass by them any more: 9 And the high places of Isaac shall be desolate, and the sanctuaries of Israel shall be laid waste; and I will rise against the house of Jeroboam with the sword.
10 Then Amaziah the priest of Bethel sent to Jeroboam king of Israel, saying, Amos hath conspired against thee in the midst of the house of Israel: the land is not able to bear all his words. 11 For thus Amos saith, Jeroboam shall die by the sword, and Israel shall surely be led away captive out of their own land.
12 Also Amaziah said unto Amos, O thou seer, go, flee thee away into the land of Judah, and there eat bread, and prophesy there: 13 But prophesy not again any more at Bethel: for it is the king's chapel, and it is the king's court.
14 Then answered Amos, and said to Amaziah, I was no prophet, neither was I a prophet's son; but I was an herdman, and a gatherer of sycomore fruit: 15 And the LORD took me as I followed the flock, and the LORD said unto me, Go, prophesy unto my people Israel. 16 Now therefore hear thou the word of the LORD: Thou sayest, Prophesy not against Israel, and drop not thy word against the house of Isaac.
---
ADDITIONAL AD LIB MATERIAL: Prose, Poetry, Writers, Visual Artists, Music, DAWN, and ILLUMINATION. ILLUMINATION features a compact, Illuminated Bible. DAWN, the page you are presently visiting, features a new image and explanation daily.

Please Email Comments and Questions To

AD LIB ARTS EMAIL copyright 2014, Scott Souza