---
DAWN
Daily Arts Web Nucleus
---
Discover the Arts!
Each day a different image from the Literary, Performing, or Visual Arts representing a portion of Scripture
plus an explanation with links
2016 April 29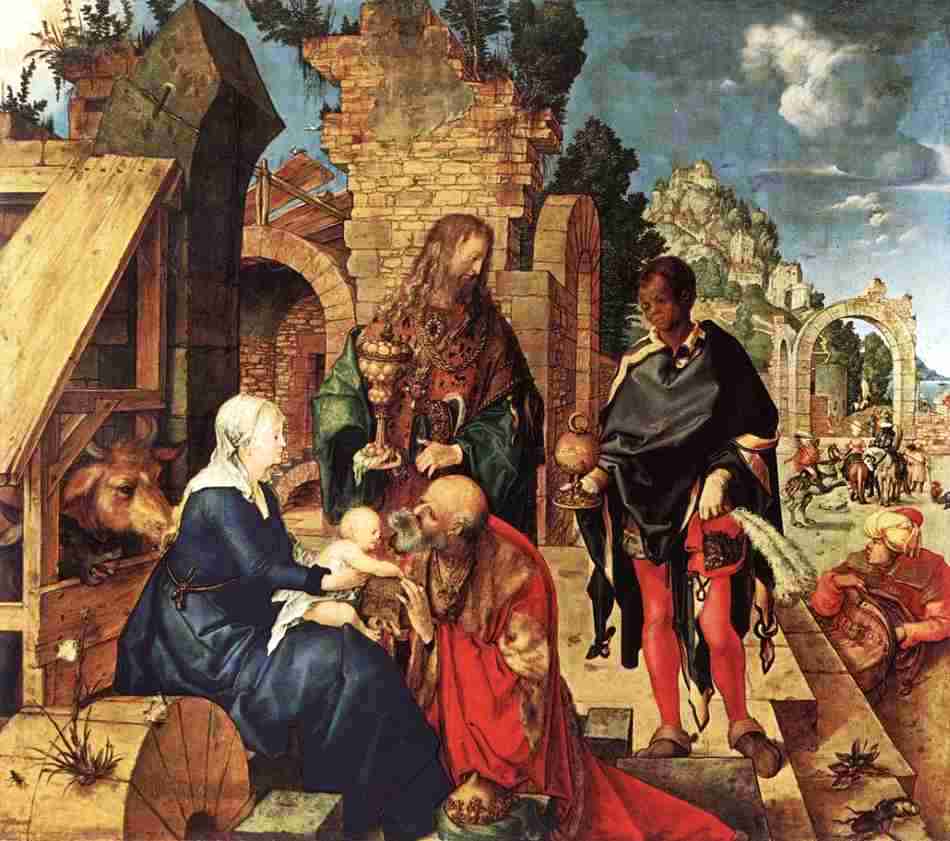 Image 1: Adoration of the Magi (1504)
Albrecht Durer (1471-1528)
German Renaissance Style
Galleria degli Uffizi, Florence, Italy Image Credit: Web Gallery of Art



~~~~~~~~~~


Image 2: Flight into Egypt (1451-1452) ,
Fra Angelico ( c. 1395 - 1455)
Italian Renaissance Style
Museo di San Marco, Florence, Italy Image Credit: Web Gallery of Art



Explanation: In Matthew 2 wise men from the east come to visit Jesus sometime after his birth, probably within his first two years of life (1-12). They are then forced to flee to their own land to escape the murderous wrath of Herod Agrippa. Likewise, Joseph, Mary, and Jesus flee from Herod into Egypt (13-23).
[Sermons: J Ligon Duncan III 1. J Ligon Duncan III 2. Phil Newton. John Piper. ].
Today's paintings illustrate the visit of the wise men to Jesus, and the flight of Jesus and his family into Egypt.

[THEMATICALLY AND CHRONOLOGICALLY RELATED SCRIPTURES: Matthew 1. Luke 3:23-38. Luke 1:1 - 2:39. Luke 2:39-52. ]

[ CHRONOLOGY: GENERAL. Patriarchs (Traditional). Judges # 1. Judges # 2. Kings # 1. Kings # 2. Prophets # 1. Prophets # 2. NT # 1. NT # 2. NT # 3. ]

[ MAPS: Maps # 1. Maps # 2. Maps # 3. Maps # 4. Maps # 5. ]

[ COMMENTARIES, ETC: GENERAL: Bible Study Tools; Bible Hub: Study Light; Blue Letter Bible // PSALMS: Monergism: Precept Austin: The Treasury of David; John Gill; John Calvin - Volumes 1, 2, 3, 4, 5]

[ MUSIC: GENERAL: The Cyber Hymnal // PSALMS: Genevan Psalter (Instrumental). VARIOUS ARTISTS: Micha'el Ben David. Sons of Korah. Fernando Ortega. Janet Isaac Morrison. Music of the Bible Revealed - Suzanne Haik-Vantoura. Dr. David Erb. Gregorian Chants. ]

Matthew 2
1. The Divine Nature of King Jesus and His Kingdom (Mt 1:1 - Mt 4:11) - 2166 B.C. - 29 A.D. Israel
B. The King Worshiped (2:1-12)
1 Now when Jesus was born in Bethlehem of Judaea in the days of Herod the king, behold, there came wise men from the east to Jerusalem, 2 Saying, Where is he that is born King of the Jews? for we have seen his star in the east, and are come to worship him. 3 When Herod the king had heard these things, he was troubled, and all Jerusalem with him. 4 And when he had gathered all the chief priests and scribes of the people together, he demanded of them where Christ should be born. 5 And they said unto him, In Bethlehem of Judaea: for thus it is written by the prophet,
6 And thou Bethlehem, in the land of Juda, art not the least among the princes of Juda: for out of thee shall come a Governor, that shall rule my people Israel.
7 Then Herod, when he had privily called the wise men, enquired of them diligently what time the star appeared. 8 And he sent them to Bethlehem, and said, Go and search diligently for the young child; and when ye have found him, bring me word again, that I may come and worship him also. 9 When they had heard the king, they departed; and, lo, the star, which they saw in the east, went before them, till it came and stood over where the young child was. 10 When they saw the star, they rejoiced with exceeding great joy. 11 And when they were come into the house, they saw the young child with Mary his mother, and fell down, and worshipped him: and when they had opened their treasures, they presented unto him gifts; gold, and frankincense, and myrrh. 12 And being warned of God in a dream that they should not return to Herod, they departed into their own country another way.




C. The King Protected (2:13-23)




13 And when they were departed, behold, the angel of the Lord appeareth to Joseph in a dream, saying, Arise, and take the young child and his mother, and flee into Egypt, and be thou there until I bring thee word: for Herod will seek the young child to destroy him. 14 When he arose, he took the young child and his mother by night, and departed into Egypt: 15 And was there until the death of Herod: that it might be fulfilled which was spoken of the Lord by the prophet, saying, Out of Egypt have I called my son.
16 Then Herod, when he saw that he was mocked of the wise men, was exceeding wroth, and sent forth, and slew all the children that were in Bethlehem, and in all the coasts thereof, from two years old and under, according to the time which he had diligently enquired of the wise men. 17 Then was fulfilled that which was spoken by Jeremy the prophet, saying,
18 In Rama was there a voice heard, lamentation, and weeping, and great mourning, Rachel weeping for her children, and would not be comforted, because they are not.
19 But when Herod was dead, behold, an angel of the Lord appeareth in a dream to Joseph in Egypt, 20 Saying, Arise, and take the young child and his mother, and go into the land of Israel: for they are dead which sought the young child's life. 21 And he arose, and took the young child and his mother, and came into the land of Israel. 22 But when he heard that Archelaus did reign in Judaea in the room of his father Herod, he was afraid to go thither: notwithstanding, being warned of God in a dream, he turned aside into the parts of Galilee: 23 And he came and dwelt in a city called Nazareth: that it might be fulfilled which was spoken by the prophets, He shall be called a Nazarene.




---
ADDITIONAL AD LIB MATERIAL: Prose, Poetry, Writers, Visual Artists, Music, DAWN, and ILLUMINATION. ILLUMINATION features a compact, Illuminated Bible. DAWN, the page you are presently visiting, features a new image and explanation daily.

Please Email Comments and Questions To

AD LIB ARTS EMAIL copyright 2016, Scott Souza