---
DAWN
Daily Arts Web Nucleus
---
Discover the Arts!
Each day a different image from the Literary, Performing, or Visual Arts representing a portion of Scripture
plus an explanation with links
2016 July 17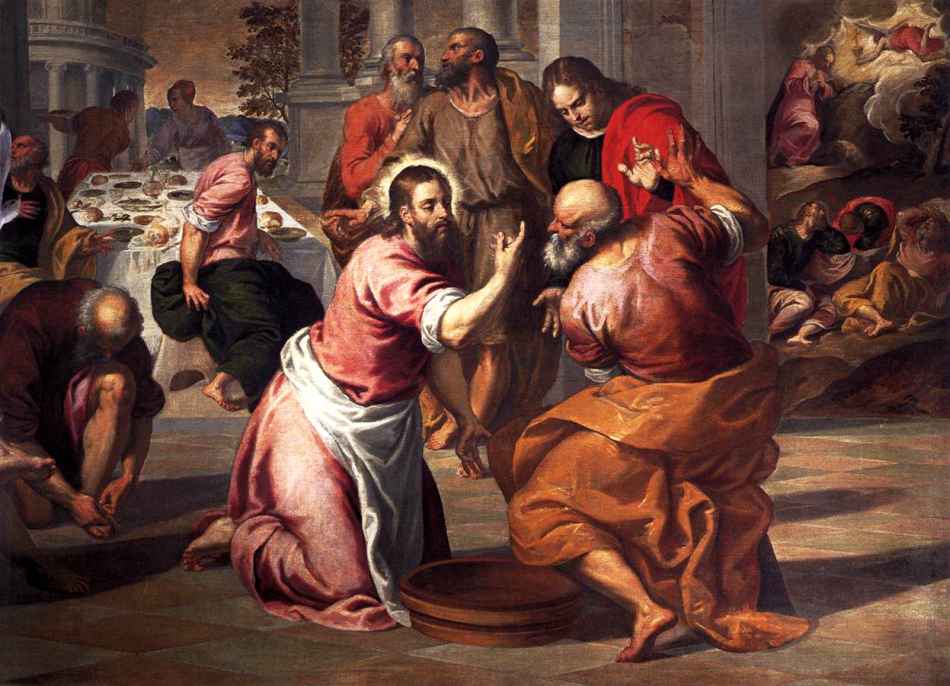 Washing of the Feet (1591-1592)
Palma Giovane (1548/50 - 1628)
Mannerism Style
San Giovanni in Bragora, Venice, Italy Image Source: Web Gallery of Art



Explanation: In John 13 Jesus closed the main part of the Passover feast by washing the feet of his disciples. Peter did not want Jesus to do this for him, probably because he thought it was beneath the dignity of Jesus to do such servile work. Jesus said that if he did not accept this, then Peter had no part in him. Peter then asked to have his hands and face washed as well. But Jesus said that one who has bathed only needs to have his feet washed. And then, speaking of Judas, he said that the disciples were clean, but not all of them. The spiritual point that Jesus was making was that those who had been spiritually cleansed (regenerated) needed only periodic and partial cleansing (sanctification). In the corporate sense, cleansing would come when Judas was removed. After the foot washing, Jesus told his disciples that they should follow his example and take care of one another spiritually (1-20).
Jesus then became troubled, and he said that one of his apostles would betray him. Simon Peter asked John to ask Jesus to identify the traitor. Jesus indicated that it was Judas by giving him a morsel of food. At that moment Satan entered Judas; and Jesus told him to do quickly what he was going to do (betray Jesus). Judas left immediately. Soon after Judas left, as recorded in Matthew, Mark, and Luke, Jesus instituted the Lord's Supper: Matthew 26:26-29; Mark 14:22-25; Luke 22:19-20. This is not mentioned in John (21-30).
With Judas gone, Jesus delivered an extended discourse to the remaining eleven apostles, most of which is recorded only in the Gospel of John. He told the eleven that he was on the verge of being glorified. He told them that he was going away but they would not be able to follow him. And he commanded them to love one another (31-35). Peter asked Jesus where he was going. Jesus answered that he would be able to follow him later (to heaven). Peter told Jesus that he would follow him anywhere and even lay down his life for him. In reply, Jesus told Peter that Peter would deny him three times (36-38).
[Sermons: Maurice Roberts. J V Fesko. J Hampton Keathley III. R C Sproul. John Stott. Various. ]
[Illustration: Today's painting features the foot washing performed by Jesus, which is unique to John's Gospel. ]




---



RESOURCES


[THEMATICALLY AND CHRONOLOGICALLY RELATED SCRIPTURES: John 13:1-20. John 13:21-35: Matthew 26:21-25; Mark 14:18-21; Luke 22:21-23. John 13:36-38: Matthew 26:31-35; Mark 14:27-31; Luke 22:31-38. ]

[ CHRONOLOGY: GENERAL. Patriarchs (Traditional). Judges # 1. Judges # 2. Kings # 1. Kings # 2. Prophets # 1. Prophets # 2. NT # 1. NT # 2. NT # 3. ]

[ MAPS: Maps # 1. Maps # 2. Maps # 3. Maps # 4. Maps # 5. ]

[ COMMENTARIES, ETC: GENERAL: Bible Study Tools; Bible Hub: Study Light; Blue Letter Bible // PSALMS: Monergism: Precept Austin: The Treasury of David; John Gill; John Calvin - Volumes 1, 2, 3, 4, 5]

[ MUSIC: GENERAL: The Cyber Hymnal // PSALMS: Genevan Psalter (Instrumental). VARIOUS ARTISTS: Micha'el Ben David. Sons of Korah. Fernando Ortega. Janet Isaac Morrison. Music of the Bible Revealed - Suzanne Haik-Vantoura. Dr. David Erb. Gregorian Chants. ]


---
*** For Additional word studies use one of the Greek Interlinear Bibles below. ***
---
John 13
3. His Salvation Manifested to His Disciples (Jn 13:1 - Jn 17:26) - 33 A.D. Israel
1 Now before the feast of the passover, when Jesus knew that his hour was come that he should depart out of this world unto the Father, having loved his own which were in the world, he loved them unto the end. 2 And supper being ended, the devil having now put into the heart of Judas Iscariot, Simon's son, to betray him; 3 Jesus knowing that the Father had given all things into his hands, and that he was come from God, and went to God; 4 He riseth from supper, and laid aside his garments; and took a towel, and girded himself. 5 After that he poureth water into a bason, and began to wash the disciples' feet, and to wipe them with the towel wherewith he was girded. 6 Then cometh he to Simon Peter: and Peter saith unto him, Lord, dost thou wash my feet? 7 Jesus answered and said unto him, What I do thou knowest not now; but thou shalt know hereafter. 8 Peter saith unto him, Thou shalt never wash my feet. Jesus answered him, If I wash thee not, thou hast no part with me. 9 Simon Peter saith unto him, Lord, not my feet only, but also my hands and my head. 10 Jesus saith to him, He that is washed needeth not save to wash his feet, but is clean every whit: and ye are clean, but not all. 11 For he knew who should betray him; therefore said he, Ye are not all clean. 12 So after he had washed their feet, and had taken his garments, and was set down again, he said unto them, Know ye what I have done to you? 13 Ye call me Master and Lord: and ye say well; for so I am. 14 If I then, your Lord and Master, have washed your feet; ye also ought to wash one another's feet. 15 For I have given you an example, that ye should do as I have done to you. 16 Verily, verily, I say unto you, The servant is not greater than his lord; neither he that is sent greater than he that sent him. 17 If ye know these things, happy are ye if ye do them. 18 I speak not of you all: I know whom I have chosen: but that the scripture may be fulfilled, He that eateth bread with me hath lifted up his heel against me. 19 Now I tell you before it come, that, when it is come to pass, ye may believe that I am he. 20 Verily, verily, I say unto you, He that receiveth whomsoever I send receiveth me; and he that receiveth me receiveth him that sent me. 21 When Jesus had thus said, he was troubled in spirit, and testified, and said, Verily, verily, I say unto you, that one of you shall betray me. 22 Then the disciples looked one on another, doubting of whom he spake. 23 Now there was leaning on Jesus' bosom one of his disciples, whom Jesus loved. 24 Simon Peter therefore beckoned to him, that he should ask who it should be of whom he spake. 25 He then lying on Jesus' breast saith unto him, Lord, who is it? 26 Jesus answered, He it is, to whom I shall give a sop, when I have dipped it. And when he had dipped the sop, he gave it to Judas Iscariot, the son of Simon. 27 And after the sop Satan entered into him. Then said Jesus unto him, That thou doest, do quickly. 28 Now no man at the table knew for what intent he spake this unto him. 29 For some of them thought, because Judas had the bag, that Jesus had said unto him, Buy those things that we have need of against the feast; or, that he should give something to the poor. 30 He then having received the sop went immediately out: and it was night. 31 Therefore, when he was gone out, Jesus said, Now is the Son of man glorified, and God is glorified in him. 32 If God be glorified in him, God shall also glorify him in himself, and shall straightway glorify him. 33 Little children, yet a little while I am with you. Ye shall seek me: and as I said unto the Jews, Whither I go, ye cannot come; so now I say to you. 34 A new commandment I give unto you, That ye love one another; as I have loved you, that ye also love one another. 35 By this shall all men know that ye are my disciples, if ye have love one to another. 36 Simon Peter said unto him, Lord, whither goest thou? Jesus answered him, Whither I go, thou canst not follow me now; but thou shalt follow me afterwards. 37 Peter said unto him, Lord, why cannot I follow thee now? I will lay down my life for thy sake. 38 Jesus answered him, Wilt thou lay down thy life for my sake? Verily, verily, I say unto thee, The cock shall not crow, till thou hast denied me thrice.




---
ADDITIONAL AD LIB MATERIAL: Prose, Poetry, Writers, Visual Artists, Music, DAWN, and ILLUMINATION. ILLUMINATION features a compact, Illuminated Bible. DAWN, the page you are presently visiting, features a new image and explanation daily.

Please Email Comments and Questions To

AD LIB ARTS EMAIL copyright 2016, Scott Souza