---
DAWN
Daily Arts Web Nucleus
---
Discover the Arts!
Each day a different image from the Literary, Performing, or Visual Arts representing a portion of Scripture
plus an explanation with links
2017 August 8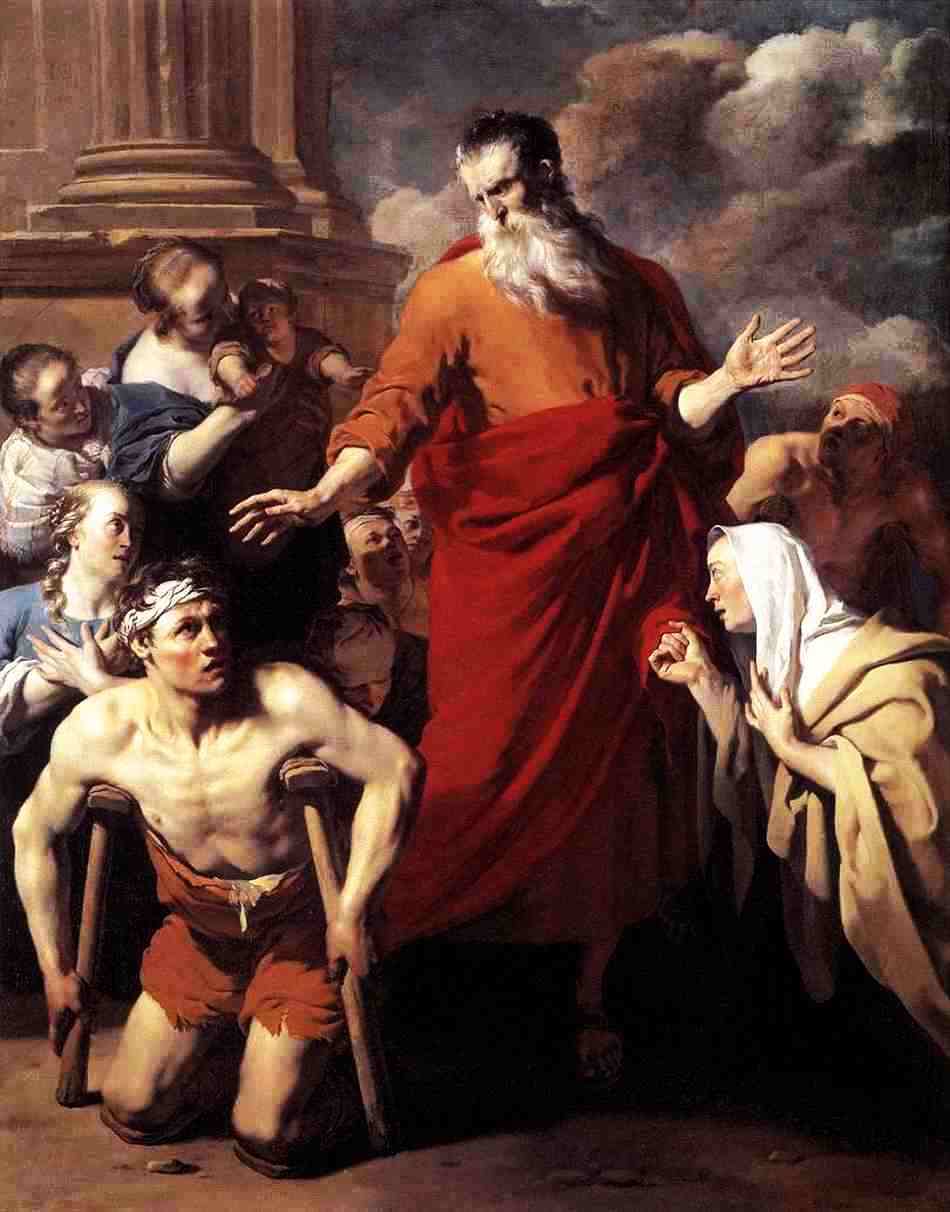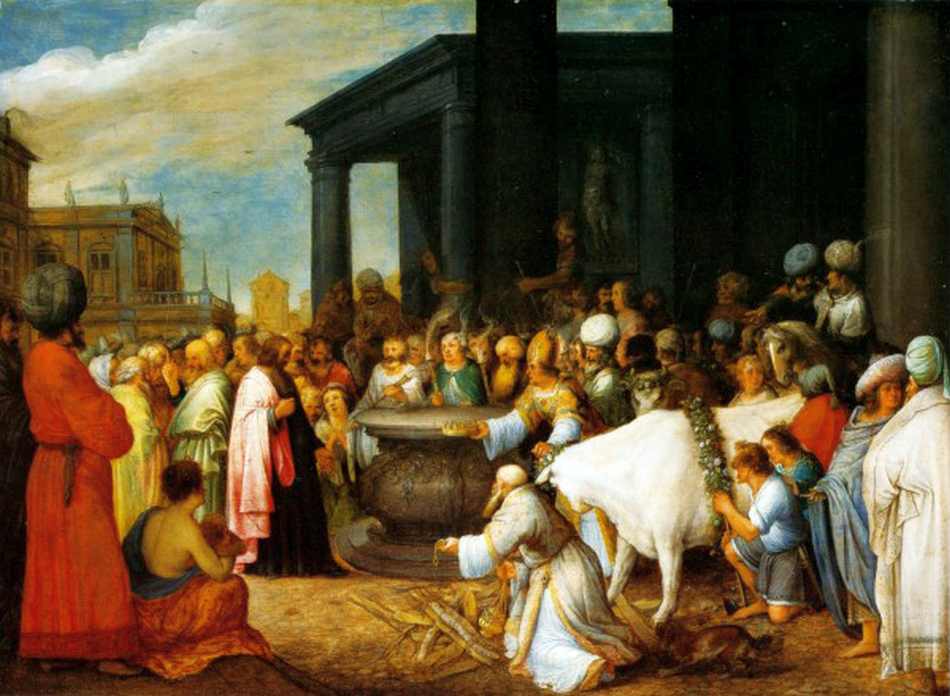 Image 1: St. Paul Healing the Cripple at Lystra (1663)
Karel Dujardin (1622-1678)
Dutch Golden Age Baroque Style
Rijksmuseum, Amsterdam, Netherlands Image Credit: Web Gallery of Art



~~~~~~~~~~


Image 2: Paul and Barnabas at Lystra
Adriaen van Stalbemt (1580-1662)
Flemish Baroque Style
Stadel, Frankfurt, Germany Image Credit: Wikimedia



Explanation: In Acts 14, while Paul and Barnabas were preaching in Iconium, they gained a number of converts among the Gentiles, but the Jews poisoned the minds of many among the Gentiles, and the people of the city were divided, some siding with the disciples, others siding with the Jews. When Paul and Barnabas learned of a plot to stone them, they fled to Lystra and Derbe and surrounding cities. There they continued to preach the word (1-7). In Lystra, Paul healed a crippled man, and the people thought he was the god and that Barnabas was the god Jupiter. The priest of Jupiter came with many others to offer sacrifices to Paul and Barnabas, but they restrained them and persuaded them that they were merely men. They asked them to refrain from the vanities of their religion and to turn to the living and true God (8-18). Certain Jews came from Antioch and Iconium and turned the people against Paul. They stoned him and took him outside the city, thinking he was dead. But as the disciples stood around him, Paul rose up and went back into the city. The next day Paul and Barnabas departed to Derbe. Perhaps Paul was only knocked unconscious and not seriously injured. On the other hand, the fact that Paul was able to travel the next day may be because God healed him or even raised him from the dead (19-20). In Derbe, Paul and Barnabas preached the gospel to many. They then returned to Lystra, Iconium, and Antioch, strengthening the souls of the disciples, exhorting them to continue in the faith, and warning them that we must enter into the kingdom of God through much tribulation. They ordained elders in every church and traveled through several other cities, ending up in Antioch, from whence they had been sent; and they stayed there for a long time with the disciples. (21-28).
[Sermons:Sinclair B Ferguson. William Still. Charles Leiter. Various. ]
[Illustration: Today's paintings illustrate two key incidents in today's chapter, the healing of the cripple at Lystra and the attempt to treat Paul and Barnabas as gods for their miracle. ]




---



RESOURCES


[THEMATICALLY AND CHRONOLOGICALLY RELATED SCRIPTURES: Acts 14:1-7: 2 Corinthians 11:25. Acts 14:8-23: Acts 17:30; Romans 1:20; Acts 10:26; Acts 16:1-3; 2 Timothy 3:10-11. Acts 14:24-28: Acts 11:19-26. ]

[ CHRONOLOGY: GENERAL. Patriarchs (Traditional). Judges # 1. Judges # 2. Kings # 1. Kings # 2. Prophets # 1. Prophets # 2. NT # 1. NT # 2. NT # 3. ]

[ MAPS: Maps # 1. Maps # 2. Maps # 3. Maps # 4. Maps # 5. ]

[ COMMENTARIES, ETC: GENERAL: Bible Study Tools; Bible Hub: Study Light; Blue Letter Bible // PSALMS: Monergism: Precept Austin: The Treasury of David; John Gill; John Calvin - Volumes 1, 2, 3, 4, 5]

[ MUSIC: GENERAL: The Cyber Hymnal // PSALMS: Genevan Psalter (Instrumental). VARIOUS ARTISTS: Micha'el Ben David. Sons of Korah. Fernando Ortega. Janet Isaac Morrison. Music of the Bible Revealed - Suzanne Haik-Vantoura. Dr. David Erb. Gregorian Chants. ]


---
*** For Additional word studies use one of the Greek Interlinear Bibles below. ***
---
Acts 14
2. Focus on the Ministry of Paul & his Companions (Ac 13:1 - Ac 28:31) - 48 A.D. - 62 A.D. Israel; Mediterranean Region
1 And it came to pass in Iconium, that they went both together into the synagogue of the Jews, and so spake, that a great multitude both of the Jews and also of the Greeks believed. 2 But the unbelieving Jews stirred up the Gentiles, and made their minds evil affected against the brethren. 3 Long time therefore abode they speaking boldly in the Lord, which gave testimony unto the word of his grace, and granted signs and wonders to be done by their hands. 4 But the multitude of the city was divided: and part held with the Jews, and part with the apostles. 5 And when there was an assault made both of the Gentiles, and also of the Jews with their rulers, to use them despitefully, and to stone them, 6 They were ware of it, and fled unto Lystra and Derbe, cities of Lycaonia, and unto the region that lieth round about: 7 And there they preached the gospel.
8 And there sat a certain man at Lystra, impotent in his feet, being a cripple from his mother's womb, who never had walked: 9 The same heard Paul speak: who stedfastly beholding him, and perceiving that he had faith to be healed, 10 Said with a loud voice, Stand upright on thy feet. And he leaped and walked. 11 And when the people saw what Paul had done, they lifted up their voices, saying in the speech of Lycaonia, The gods are come down to us in the likeness of men. 12 And they called Barnabas, Jupiter; and Paul, Mercurius, because he was the chief speaker. 13 Then the priest of Jupiter, which was before their city, brought oxen and garlands unto the gates, and would have done sacrifice with the people. 14 Which when the apostles, Barnabas and Paul, heard of, they rent their clothes, and ran in among the people, crying out, 15 And saying, Sirs, why do ye these things? We also are men of like passions with you, and preach unto you that ye should turn from these vanities unto the living God, which made heaven, and earth, and the sea, and all things that are therein: 16 Who in times past suffered all nations to walk in their own ways. 17 Nevertheless he left not himself without witness, in that he did good, and gave us rain from heaven, and fruitful seasons, filling our hearts with food and gladness. 18 And with these sayings scarce restrained they the people, that they had not done sacrifice unto them.
19 And there came thither certain Jews from Antioch and Iconium, who persuaded the people, and, having stoned Paul, drew him out of the city, supposing he had been dead. 20 Howbeit, as the disciples stood round about him, he rose up, and came into the city: and the next day he departed with Barnabas to Derbe. 21 And when they had preached the gospel to that city, and had taught many, they returned again to Lystra, and to Iconium, and Antioch, 22 Confirming the souls of the disciples, and exhorting them to continue in the faith, and that we must through much tribulation enter into the kingdom of God. 23 And when they had ordained them elders in every church, and had prayed with fasting, they commended them to the Lord, on whom they believed.
24 And after they had passed throughout Pisidia, they came to Pamphylia. 25 And when they had preached the word in Perga, they went down into Attalia: 26 And thence sailed to Antioch, from whence they had been recommended to the grace of God for the work which they fulfilled. 27 And when they were come, and had gathered the church together, they rehearsed all that God had done with them, and how he had opened the door of faith unto the Gentiles. 28 And there they abode long time with the disciples.




---
ADDITIONAL AD LIB MATERIAL: Prose, Poetry, Writers, Visual Artists, Music, DAWN, and ILLUMINATION. ILLUMINATION features a compact, Illuminated Bible. DAWN, the page you are presently visiting, features a new image and explanation daily.

Please Email Comments and Questions To

AD LIB ARTS EMAIL copyright 2016, Scott Souza