---
DAWN
Daily Arts Web Nucleus
---
Discover the Arts!
Each day a different image from the Literary, Performing, or Visual Arts representing a portion of Scripture
plus an explanation with links
2016 August 24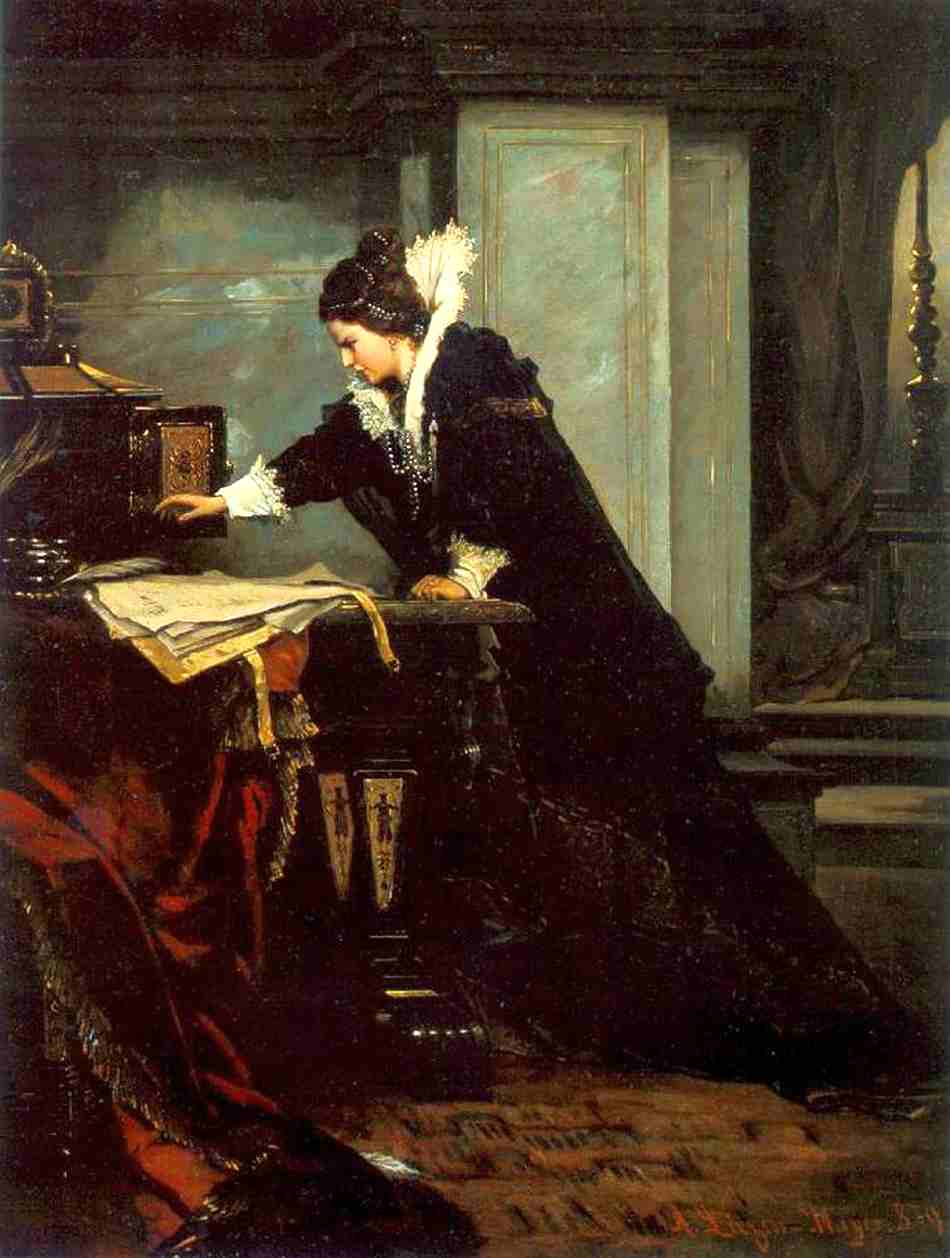 Queen Elisabeth Signs the Condemnation to Death to Mary Stuart (1879)
Sandor Liezen-Mayer (1839-1898)
Romanticism Style
Magyar Nemzeti Galeria, Budapest, Hungary Image Source: Web Gallery of Art



Explanation: In Romans 2, Paul notes that those who condemn others condemn themselves because they all do the same things, and God's judgment rightly falls on them all. Some presume upon God's forbearance by continuing in sin, but God's forbearance is designed to lead us to repentance. By continuing in sin we store up wrath for the day of judgment. But those who continue steadfastly in obedience seek glory, honor, and immortality. But wrath and fury will be the lot of those who do evil -- both Jews and Greeks. Likewise, those who do good will have glory, honor, and peace -- both Jews and Greeks. God is not partial (1-11). Those who sin without the Law will perish without the law, and those who sin under the Law will be judged by the Law. Gentiles have the law written in their hearts and will be judged accordingly. Jews have the law and rejoice in it, and instruct others from it. But they break it just like everyone else. Their circumcision, a sign of their covenant with God, is useless when they sin because their sin breaks the covenant. A Jew is one who is a Jew inwardly, one who has a circumcised heart (12-29).
[Sermons: Eric Alexander. William Still. Various. ]
[Illustration: Today's painting depicts the judgment of Mary Stuart. Judgment is the theme of today's chapter. Paul criticizes his readers for unjust and unwarranted judgments against one another. Whether the judgment depicted in today's painting was just or unjust is uncertain, according to historians. But with God's judgment the condemnation is certain and just. ]




---



RESOURCES


[THEMATICALLY AND CHRONOLOGICALLY RELATED SCRIPTURES: Romans 2:1-5: 1 Corinthians 4:1-5; 1 Corinthians 5:1-5; 1 Corinthians 6:1-8; 2 Corinthians 2:5-11; Galatians 2:11-14; Philippians 3:17-21; Colossians 2:16-19; Hebrews 3 - 4. Romans 2:6-11: 1 Corinthians 3:10-15; Philippians 3:17-21; 1 Thessalonians 4:1-8; 2 Thessalonians 1:3-12. Romans 2:12-16: 1 Corinthians 4:1-5; 1 Corinthians 8:7-13; 1 Corinthians 9:19-23; 1 Corinthians 10:23-11. Romans 2:17-24: 2 Corinthians 11:21b-29; Galatians 1:13-14; Galatians 2:11-14; Philippians 3:2-11. Romans 2:25-29: 1 Corinthians 7:17-24; Galatians 3:10-14; Galatians 4:21-31; Galatians 5:1-12; Galatians 6:11-17; Philippians 3:2-11; Colossians 2:8-15.
NOTE: The parallels above are based in a very small part on my own research but principally on the following sources:
Fred O Francis and J. Paul Sampley, Pauline Parallels, Second Edition. (Minneapolis, Minnesota: Fortress Press, 1984).
Most of the material on Hebrews is from an online article titled Pauline parallels in Hebrews taken from Charles H. Welch and Stuart Allen Welch, Perfection Or Perdition? An Exposition Of The Epistle To The Hebrews, (London: Berean Publishing Trust, 1973). ]

[ CHRONOLOGY: GENERAL. Patriarchs (Traditional). Judges # 1. Judges # 2. Kings # 1. Kings # 2. Prophets # 1. Prophets # 2. NT # 1. NT # 2. NT # 3. ]

[ MAPS: Maps # 1. Maps # 2. Maps # 3. Maps # 4. Maps # 5. ]

[ COMMENTARIES, ETC: GENERAL: Bible Study Tools; Bible Hub: Study Light; Blue Letter Bible // PSALMS: Monergism: Precept Austin: The Treasury of David; John Gill; John Calvin - Volumes 1, 2, 3, 4, 5]

[ MUSIC: GENERAL: The Cyber Hymnal // PSALMS: Genevan Psalter (Instrumental). VARIOUS ARTISTS: Micha'el Ben David. Sons of Korah. Fernando Ortega. Janet Isaac Morrison. Music of the Bible Revealed - Suzanne Haik-Vantoura. Dr. David Erb. Gregorian Chants. ]


---
*** For Additional word studies use one of the Greek Interlinear Bibles below. ***
---
Romans 2
1. Justification (Romans 1:1 - Romans 5:21) - 55 A.D. Corinth
1 Therefore thou art inexcusable, O man, whosoever thou art that judgest: for wherein thou judgest another, thou condemnest thyself; for thou that judgest doest the same things. 2 But we are sure that the judgment of God is according to truth against them which commit such things. 3 And thinkest thou this, O man, that judgest them which do such things, and doest the same, that thou shalt escape the judgment of God? 4 Or despisest thou the riches of his goodness and forbearance and longsuffering; not knowing that the goodness of God leadeth thee to repentance? 5 But after thy hardness and impenitent heart treasurest up unto thyself wrath against the day of wrath and revelation of the righteous judgment of God;
6 Who will render to every man according to his deeds: 7 To them who by patient continuance in well doing seek for glory and honour and immortality, eternal life: 8 But unto them that are contentious, and do not obey the truth, but obey unrighteousness, indignation and wrath, 9 Tribulation and anguish, upon every soul of man that doeth evil, of the Jew first, and also of the Gentile; 10 But glory, honour, and peace, to every man that worketh good, to the Jew first, and also to the Gentile: 11 For there is no respect of persons with God.
12 For as many as have sinned without law shall also perish without law: and as many as have sinned in the law shall be judged by the law; 13 (For not the hearers of the law are just before God, but the doers of the law shall be justified. 14 For when the Gentiles, which have not the law, do by nature the things contained in the law, these, having not the law, are a law unto themselves: 15 Which shew the work of the law written in their hearts, their conscience also bearing witness, and their thoughts the mean while accusing or else excusing one another;) 16 In the day when God shall judge the secrets of men by Jesus Christ according to my gospel.
17 Behold, thou art called a Jew, and restest in the law, and makest thy boast of God, 18 And knowest his will, and approvest the things that are more excellent, being instructed out of the law; 19 And art confident that thou thyself art a guide of the blind, a light of them which are in darkness, 20 An instructor of the foolish, a teacher of babes, which hast the form of knowledge and of the truth in the law. 21 Thou therefore which teachest another, teachest thou not thyself? thou that preachest a man should not steal, dost thou steal? 22 Thou that sayest a man should not commit adultery, dost thou commit adultery? thou that abhorrest idols, dost thou commit sacrilege? 23 Thou that makest thy boast of the law, through breaking the law dishonourest thou God? 24 For the name of God is blasphemed among the Gentiles through you, as it is written.
25 For circumcision verily profiteth, if thou keep the law: but if thou be a breaker of the law, thy circumcision is made uncircumcision. 26 Therefore if the uncircumcision keep the righteousness of the law, shall not his uncircumcision be counted for circumcision? 27 And shall not uncircumcision which is by nature, if it fulfil the law, judge thee, who by the letter and circumcision dost transgress the law? 28 For he is not a Jew, which is one outwardly; neither is that circumcision, which is outward in the flesh: 29 But he is a Jew, which is one inwardly; and circumcision is that of the heart, in the spirit, and not in the letter; whose praise is not of men, but of God.




---
ADDITIONAL AD LIB MATERIAL: Prose, Poetry, Writers, Visual Artists, Music, DAWN, and ILLUMINATION. ILLUMINATION features a compact, Illuminated Bible. DAWN, the page you are presently visiting, features a new image and explanation daily.

Please Email Comments and Questions To

AD LIB ARTS EMAIL copyright 2016, Scott Souza