---
DAWN
Daily Arts Web Nucleus
---
Discover the Arts!
Each day a different image from the Literary, Performing, or Visual Arts representing a portion of Scripture
plus an explanation with links
2016 September 3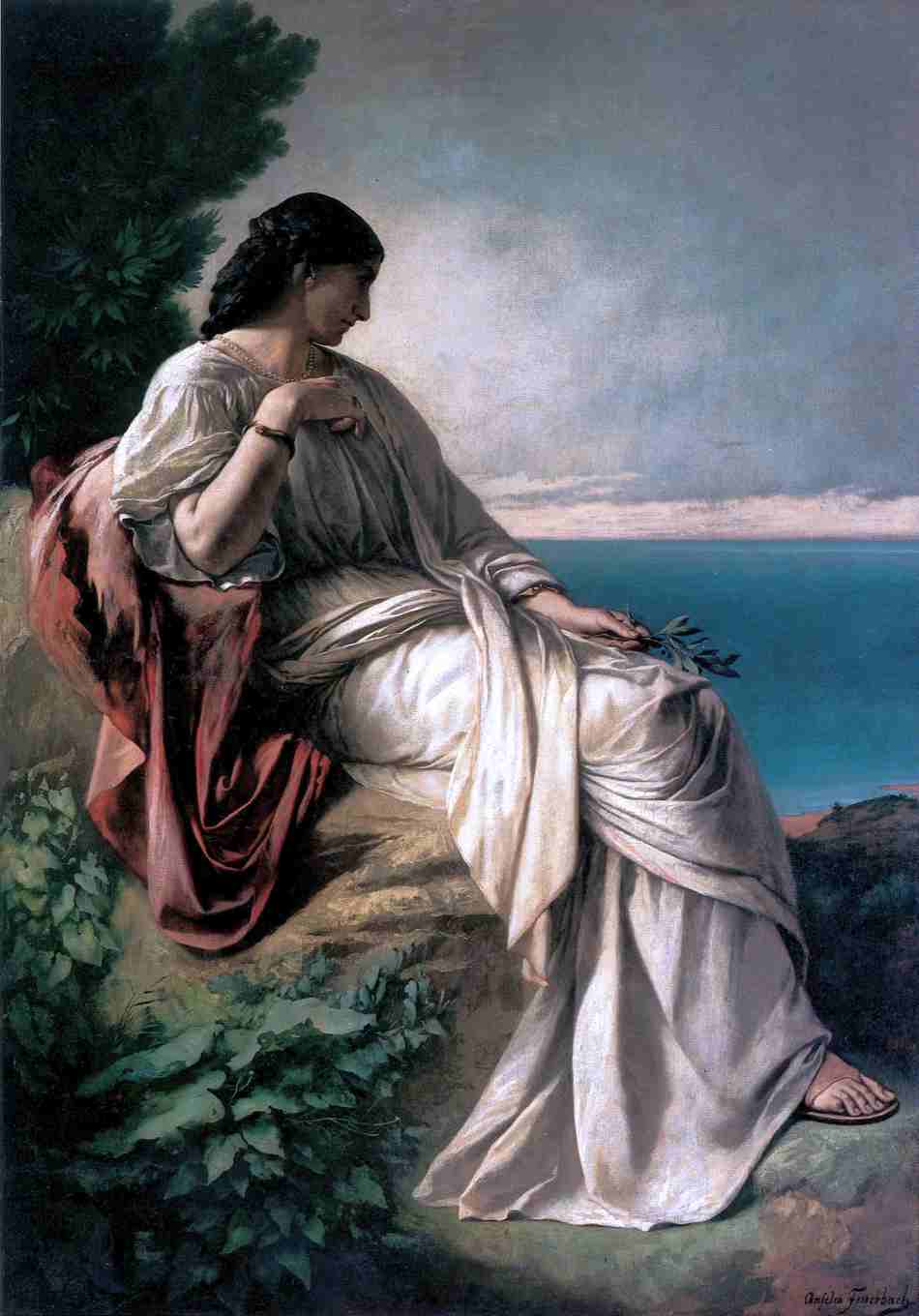 Iphigenie (First Version) - (1862)
Anselm Feuerbach (1829-1880)
Neoclassical Style
Hessisches Landesmuseum Darmstadt, Darmstadt, Germany Image Source: Wikimedia



Explanation: In Romans 12 Paul begins by asking us to present our bodies as a living sacrifice to God. He says that this is our reasonable service (our rational or logical worship). We do this by not being conformed to the world and by being transformed by the renewing or our mind. By doing so, we discover that God's will is good, acceptable, and perfect. to put this another way, the body obeys the mind; if the mind is fully conformed to God, then the body will also be fully conformed to God in "all of its parts, powers, and performances," to use a phrase found in the writings of the Puritans (1-2).
Paul then turns his attention from the members of our body to the members of our church. We must exercise our gifts graciously. To do so we must not be proud. But the remedy is not humility, abstractly considered. Rather, the remedy is sobriety. As Paul explains it, this means that we must accurately estimate our gifts of grace and faithfully administer them. We must know ourselves, know what we are and are not capable of, and act accordingly. Having a false humility, underestimating ourselves, thinking depressively and negatively of ourselves, is not sober thinking; nor is pride. To put it into an aphorism, we must not over-think but sober-think concerning ourselves and act accordingly. This is one aspect of renewing our minds (3-8).
Paul then mentions additional aspects of mind (or heart renewal). We should love genuinely, without pretending to love. We should abhor evil and cling to what is good. We should cherish each other with brotherly love. We should value each other and defer to one another. Our zeal should not be slothful but fervent. We should rejoice in hope, have endurance in tribulation, and be earnest in prayer. We should share the needs of the saints and be given to hospitality (9-13).
We should bless those who curse us. We should be sensitive to the emotional state of others, rejoicing with those who rejoice and weeping with those who weep. We should be of the same mind with one another. We should not be high-minded, but associate with the lowly. We should not be wise in our own eyes. We should not repay evil for evil. We should thoughtfully do what is honorable. As much as you are able, live peaceably with everyone. Do not avenge yourselves. Let God take vengeance, which is his alone. Help your enemy in his necessity. In so doing you will heap burning coals (of God's judgment) on his head. "Be not overcome of evil, but overcome evil with good" (14-21).
[Sermons: Robert S Candlish. Martyn Lloyd-Jones. William Still 1. William Still 2.Various. ]
[Illustration: Today's image depicts Iphigenie in a state of contemplation, perhaps pondering her impending demise as a sacrifice to appease a pagan god. In today's chapter Paul presents for our contemplation a different kind of human sacrifice, a living sacrifice -- a dedication of ourselves to God -- to his good, acceptable, and perfect will. ]




---



RESOURCES


[THEMATICALLY AND CHRONOLOGICALLY RELATED SCRIPTURES: Romans 12:1-2: 1 Corinthians 1:10-17; 2 Corinthians 10:1-6; Ephesians 4:1-10; 1 Thessalonians 4:1-8; 2 Thessalonians 2:1-12; Philemon 1:8-14; Philippians 2:14-18; Philippians 4:10-20; Colossians 1:21-23; 1 Thessalonians 2:9-12. Romans 12:3-8: 1 Corinthians 4:6-7; 1 Corinthians 12:4-31; Ephesians 4:11-16. Romans 12:9-21: 1 Corinthians 13:4-7; 2 Corinthians 13:11-13; Ephesians 4:25-32; Ephesians 4:25-32; Philippians 2:1-11; Philippians 4:4-9; Colossians 3:12-17; 1 Thessalonians 4:9-12; 1 Thessalonians 5:12-22; 1 Thessalonians 3:11-13; 2 Thessalonians 2:16-17. ]
NOTE: The parallels above are based in a very small part on my own research but principally on the following sources:
Fred O Francis and J. Paul Sampley, Pauline Parallels, Second Edition. (Minneapolis, Minnesota: Fortress Press, 1984).
Most of the material on Hebrews is from an online article titled Pauline parallels in Hebrews taken from Charles H. Welch and Stuart Allen Welch, Perfection Or Perdition? An Exposition Of The Epistle To The Hebrews, (London: Berean Publishing Trust, 1973). ]

[ CHRONOLOGY: GENERAL. Patriarchs (Traditional). Judges # 1. Judges # 2. Kings # 1. Kings # 2. Prophets # 1. Prophets # 2. NT # 1. NT # 2. NT # 3. ]

[ MAPS: Maps # 1. Maps # 2. Maps # 3. Maps # 4. Maps # 5. ]

[ COMMENTARIES, ETC: GENERAL: Bible Study Tools; Bible Hub: Study Light; Blue Letter Bible // PSALMS: Monergism: Precept Austin: The Treasury of David; John Gill; John Calvin - Volumes 1, 2, 3, 4, 5]

[ MUSIC: GENERAL: The Cyber Hymnal // PSALMS: Genevan Psalter (Instrumental). VARIOUS ARTISTS: Micha'el Ben David. Sons of Korah. Fernando Ortega. Janet Isaac Morrison. Music of the Bible Revealed - Suzanne Haik-Vantoura. Dr. David Erb. Gregorian Chants. ]


---
*** For Additional word studies use one of the Greek Interlinear Bibles below. ***
---
Romans 12
4. Redeemed Living (Romans 12:1 - Romans 16:27) - 55 A.D. Corinth
1 I beseech you therefore, brethren, by the mercies of God, that ye present your bodies a living sacrifice, holy, acceptable unto God, which is your reasonable service. 2 And be not conformed to this world: but be ye transformed by the renewing of your mind, that ye may prove what is that good, and acceptable, and perfect, will of God.
3 For I say, through the grace given unto me, to every man that is among you, not to think of himself more highly than he ought to think; but to think soberly, according as God hath dealt to every man the measure of faith. 4 For as we have many members in one body, and all members have not the same office: 5 So we, being many, are one body in Christ, and every one members one of another. 6 Having then gifts differing according to the grace that is given to us, whether prophecy, let us prophesy according to the proportion of faith; 7 Or ministry, let us wait on our ministering: or he that teacheth, on teaching; 8 Or he that exhorteth, on exhortation: he that giveth, let him do it with simplicity; he that ruleth, with diligence; he that sheweth mercy, with cheerfulness.
9 Let love be without dissimulation. Abhor that which is evil; cleave to that which is good. 10 Be kindly affectioned one to another with brotherly love; in honour preferring one another; 11 Not slothful in business; fervent in spirit; serving the Lord; 12 Rejoicing in hope; patient in tribulation; continuing instant in prayer; 13 Distributing to the necessity of saints; given to hospitality.
14 Bless them which persecute you: bless, and curse not. 15 Rejoice with them that do rejoice, and weep with them that weep. 16 Be of the same mind one toward another. Mind not high things, but condescend to men of low estate. Be not wise in your own conceits. 17 Recompense to no man evil for evil. Provide things honest in the sight of all men. 18 If it be possible, as much as lieth in you, live peaceably with all men. 19 Dearly beloved, avenge not yourselves, but rather give place unto wrath: for it is written, Vengeance is mine; I will repay, saith the Lord. 20 Therefore if thine enemy hunger, feed him; if he thirst, give him drink: for in so doing thou shalt heap coals of fire on his head. 21 Be not overcome of evil, but overcome evil with good.




---
ADDITIONAL AD LIB MATERIAL: Prose, Poetry, Writers, Visual Artists, Music, DAWN, and ILLUMINATION. ILLUMINATION features a compact, Illuminated Bible. DAWN, the page you are presently visiting, features a new image and explanation daily.

Please Email Comments and Questions To

AD LIB ARTS EMAIL copyright 2016, Scott Souza