---
DAWN
Daily Arts Web Nucleus
---
Discover the Arts!
Each day a different image from the Literary, Performing, or Visual Arts representing a portion of Scripture
plus an explanation with links
2016 September 12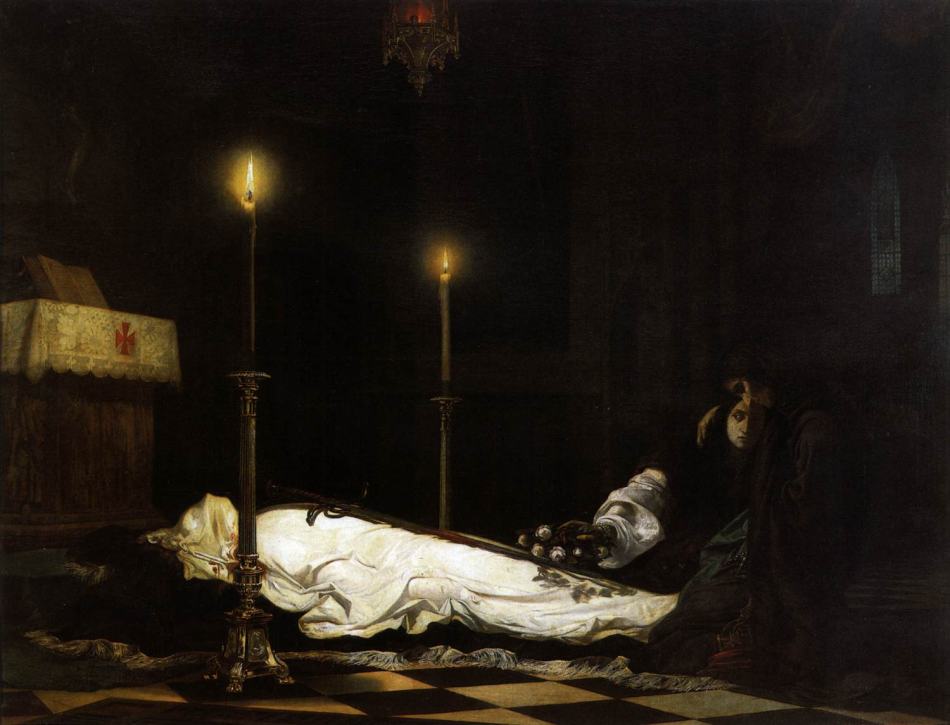 Laszlo Hunyadi on the Bier (1859)
Viktor Madarasz (1830-1917)
Romantic Style
Magyar Nemzeti Galeria, Budapest, Hungary Image Source: Web Gallery of Art



Explanation: In 1 Corinthians 5, Paul chided the Corinthians for allowing a case of incest to go undisciplined (1-2). He told his readers to deliver the person to Satan for the destruction of the flesh, that the spirit might be saved in the day of the Lord Jesus (3-5). He told them that they had no right to gory. They must purge themselves of wickedness and be sincere and truthful (6-8). He had already written to them to avoid fornicators who were brothers, not fornicators of the world, otherwise they would have to go out of the world (9-13).
[Sermons: William F Cook III. Various. ]
[Illustration: Today's image depicts a woman mourning a man, which is the probable outcome of Paul's instructions to the Corinthians in today's chapter. The difference is that the death depicted was of an honorable man, and the death among the Corinthians was of a disobedient man. ]




---



RESOURCES


[THEMATICALLY AND CHRONOLOGICALLY RELATED SCRIPTURES: 1 Corinthians 5:1-5: Romans 16:17-20a; 2 Corinthians 2:5-11; 2 Corinthians 6:14 - 7:1; 2 Thessalonians 3:14-15. 1 Corinthians 5:6-8: Ephesians 5:1-2. 1 Corinthians 5:9-13: Romans 1:29-32; Romans 13:11-14; 1 Corinthians 6:9-11; 2 Corinthians 12:19-21; Galatians 5:16-26; Ephesians 4:17-24; Ephesians 4:25-32; Ephesians 5:3-14; Colossians 3:5-11; Romans 16:17-20a; 2 Corinthians 6:14 - 7:1; 2 Thessalonians 3:14-15. ]
NOTE: The parallels above are based in a very small part on my own research but principally on the following sources:
Fred O Francis and J. Paul Sampley, Pauline Parallels, Second Edition. (Minneapolis, Minnesota: Fortress Press, 1984).
Most of the material on Hebrews is from an online article titled Pauline parallels in Hebrews taken from Charles H. Welch and Stuart Allen Welch, Perfection Or Perdition? An Exposition Of The Epistle To The Hebrews, (London: Berean Publishing Trust, 1973). ]

[ CHRONOLOGY: GENERAL. Patriarchs (Traditional). Judges # 1. Judges # 2. Kings # 1. Kings # 2. Prophets # 1. Prophets # 2. NT # 1. NT # 2. NT # 3. ]

[ MAPS: Maps # 1. Maps # 2. Maps # 3. Maps # 4. Maps # 5. ]

[ COMMENTARIES, ETC: GENERAL: Bible Study Tools; Bible Hub: Study Light; Blue Letter Bible // PSALMS: Monergism: Precept Austin: The Treasury of David; John Gill; John Calvin - Volumes 1, 2, 3, 4, 5]

[ MUSIC: GENERAL: The Cyber Hymnal // PSALMS: Genevan Psalter (Instrumental). VARIOUS ARTISTS: Micha'el Ben David. Sons of Korah. Fernando Ortega. Janet Isaac Morrison. Music of the Bible Revealed - Suzanne Haik-Vantoura. Dr. David Erb. Gregorian Chants. ]


---
*** For Additional word studies use one of the Greek Interlinear Bibles below. ***
---
1 Corinthians 5
1. Issues Affecting the Corinthian's Unity (1 Corinthians 1:1 - 1 Corinthians 15:58) - 54 A.D. Philippi
1 It is reported commonly that there is fornication among you, and such fornication as is not so much as named among the Gentiles, that one should have his father's wife. 2 And ye are puffed up, and have not rather mourned, that he that hath done this deed might be taken away from among you.
3 For I verily, as absent in body, but present in spirit, have judged already, as though I were present, concerning him that hath so done this deed, 4 In the name of our Lord Jesus Christ, when ye are gathered together, and my spirit, with the power of our Lord Jesus Christ, 5 To deliver such an one unto Satan for the destruction of the flesh, that the spirit may be saved in the day of the Lord Jesus.
6 Your glorying is not good. Know ye not that a little leaven leaveneth the whole lump? 7 Purge out therefore the old leaven, that ye may be a new lump, as ye are unleavened. For even Christ our passover is sacrificed for us: 8 Therefore let us keep the feast, not with old leaven, neither with the leaven of malice and wickedness; but with the unleavened bread of sincerity and truth.
9 I wrote unto you in an epistle not to company with fornicators: 10 Yet not altogether with the fornicators of this world, or with the covetous, or extortioners, or with idolaters; for then must ye needs go out of the world. 11 But now I have written unto you not to keep company, if any man that is called a brother be a fornicator, or covetous, or an idolater, or a railer, or a drunkard, or an extortioner; with such an one no not to eat. 12 For what have I to do to judge them also that are without? do not ye judge them that are within? 13 But them that are without God judgeth. Therefore put away from among yourselves that wicked person.




---
ADDITIONAL AD LIB MATERIAL: Prose, Poetry, Writers, Visual Artists, Music, DAWN, and ILLUMINATION. ILLUMINATION features a compact, Illuminated Bible. DAWN, the page you are presently visiting, features a new image and explanation daily.

Please Email Comments and Questions To

AD LIB ARTS EMAIL copyright 2016, Scott Souza