---
DAWN
Daily Arts Web Nucleus
---
Discover the Arts!
Each day a different image from the Literary, Performing, or Visual Arts representing a portion of Scripture
plus an explanation with links
2016 September 16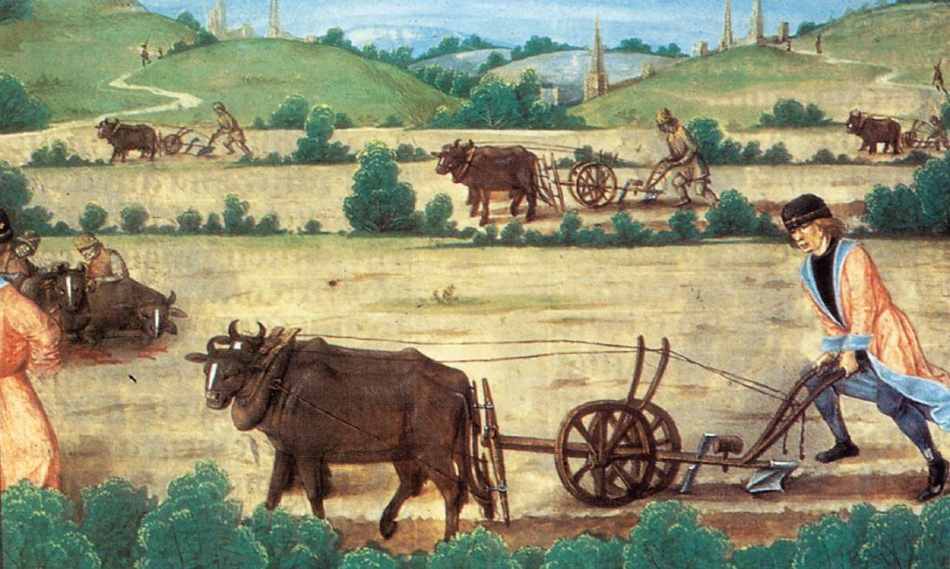 Image 1: Ploughing (15th Century A.D.)
Unknown French Miniaturist (15th Century A.D.)
Renaissance Style
British Library, London, England, United Kingdom Image Credit: Web Gallery of Art



~~~~~~~~~~


Thermae Boxer (Hellenistic Era, 3rd-2nd Centuries B.C.)
From the Thermae of Constantine
Unknown Greek Sculptor (3rd-2nd Centuries B.C.)
Hellenistic Sculpture Style
National Museum of Rome, Rome, Italy Image Source: Wikimedia



Explanation: In 1 Corinthians 9, Paul reminds his readers that he is an apostle and that he has had a special ministry to them (1-2). He reminds them of the privileges and authority which he and the other apostles have, particularly to be supported in their ministerial work (3-7).
He uses an illustration from the Law of Moses which forbids the farmer to muzzle the ox which grinds his grain. He points out that this commandment implies a greater obligation -- an obligation to support those who minister to others spiritually (8-14).
Nevertheless, Paul has not used these rights, and he does not ask the Corinthians to provide support to him. He is obligated to preach the gospel regardless of any support he might receive. His reward is present the gospel free of charge (15-18).
In order to win more people, he is everyone's servant. Whether they were Jew, or Greek, or weak, he became like them in order to save some. He did this for the sake of the gospel and to share with them in its blessings (19-23).
Everyone should run his race with the intent of receiving the prize. Like athletes, they should exercise self-control. We strive for an imperishable crown, not for one which perishes. He does not run aimlessly. He does not shadow box. He disciplines his body and keeps it under control, lest he should be rejected after preaching to others (24-27).
[Sermons: David Jackman. William Still. Various. ]
[Illustration: Today's images reflect two of the key illustrations which Paul used in today's chapter, the oxen and the boxer. ]




---



RESOURCES


[THEMATICALLY AND CHRONOLOGICALLY RELATED SCRIPTURES: 1 Corinthians 9:1-14: 2 Corinthians 3:1-3; 2 Corinthians 11:7-11; 2 Corinthians 12:14-18; Galatians 1:15-24; Philippians 4:10-20; 1 Thessalonians 2:9-12; 2 Thessalonians 3:6-13. 1 Corinthians 9:15-18: 2 Corinthians 11:7-11; 2 Corinthians 11:12-15; Ephesians 3:1-13; Philippians 4:10-20; 1 Thessalonians 2:1-8. 1 Corinthians 9:19-23: Romans 2:12-16; Romans 11:13-16; Romans 15:1-6; Galatians 2:1-10; Galatians 5:13-15. 1 Corinthians 9:24-27: Philippians 3:12-16. ]
NOTE: The parallels above are based in a very small part on my own research but principally on the following sources:
Fred O Francis and J. Paul Sampley, Pauline Parallels, Second Edition. (Minneapolis, Minnesota: Fortress Press, 1984).
Most of the material on Hebrews is from an online article titled Pauline parallels in Hebrews taken from Charles H. Welch and Stuart Allen Welch, Perfection Or Perdition? An Exposition Of The Epistle To The Hebrews, (London: Berean Publishing Trust, 1973). ]

[ CHRONOLOGY: GENERAL. Patriarchs (Traditional). Judges # 1. Judges # 2. Kings # 1. Kings # 2. Prophets # 1. Prophets # 2. NT # 1. NT # 2. NT # 3. ]

[ MAPS: Maps # 1. Maps # 2. Maps # 3. Maps # 4. Maps # 5. ]

[ COMMENTARIES, ETC: GENERAL: Bible Study Tools; Bible Hub: Study Light; Blue Letter Bible // PSALMS: Monergism: Precept Austin: The Treasury of David; John Gill; John Calvin - Volumes 1, 2, 3, 4, 5]

[ MUSIC: GENERAL: The Cyber Hymnal // PSALMS: Genevan Psalter (Instrumental). VARIOUS ARTISTS: Micha'el Ben David. Sons of Korah. Fernando Ortega. Janet Isaac Morrison. Music of the Bible Revealed - Suzanne Haik-Vantoura. Dr. David Erb. Gregorian Chants. ]


---
*** For Additional word studies use one of the Greek Interlinear Bibles below. ***
---
1 Corinthians 9
1. Issues Affecting the Corinthian's Unity (1 Corinthians 1:1 - 1 Corinthians 15:58) - 54 A.D. Philippi
1 Am I not an apostle? am I not free? have I not seen Jesus Christ our Lord? are not ye my work in the Lord? 2 If I be not an apostle unto others, yet doubtless I am to you: for the seal of mine apostleship are ye in the Lord.
3 Mine answer to them that do examine me is this, 4 Have we not power to eat and to drink? 5 Have we not power to lead about a sister, a wife, as well as other apostles, and as the brethren of the Lord, and Cephas? 6 Or I only and Barnabas, have not we power to forbear working? 7 Who goeth a warfare any time at his own charges? who planteth a vineyard, and eateth not of the fruit thereof? or who feedeth a flock, and eateth not of the milk of the flock?
8 Say I these things as a man? or saith not the law the same also? 9 For it is written in the law of Moses, Thou shalt not muzzle the mouth of the ox that treadeth out the corn. Doth God take care for oxen? 10 Or saith he it altogether for our sakes? For our sakes, no doubt, this is written: that he that ploweth should plow in hope; and that he that thresheth in hope should be partaker of his hope. 11 If we have sown unto you spiritual things, is it a great thing if we shall reap your carnal things? 12 If others be partakers of this power over you, are not we rather? Nevertheless we have not used this power; but suffer all things, lest we should hinder [give any hindrance] the gospel of Christ.
13 Do ye not know that they which minister about holy things live of the things of the temple? and they which wait at the altar are partakers with the altar? 14 Even so hath the Lord ordained that they which preach the gospel should live of the gospel.
15 But I have used none of these things: neither have I written these things, that it should be so done unto me: for it were better for me to die, than that any man should make my glorying void. 16 For though I preach the gospel, I have nothing to glory of: for necessity is laid upon me; yea, woe is unto me, if I preach not the gospel! 17 For if I do this thing willingly, I have a reward: but if against my will, a dispensation of the gospel is committed unto me. 18 What is my reward then? Verily that, when I preach the gospel, I may make the gospel of Christ without charge, that I abuse not my power in the gospel.
19 For though I be free from all men, yet have I made myself servant unto all, that I might gain the more. 20 And unto the Jews I became as a Jew, that I might gain the Jews; to them that are under the law, as under the law, that I might gain them that are under the law; 21 To them that are without law, as without law, (being not without law to God, but under the law to Christ,) that I might gain them that are without law. 22 To the weak became I as weak, that I might gain the weak: I am made all things to all men, that I might by all means save some. 23 And this I do for the gospel's sake, that I might be partaker thereof with you.
24 Know ye not that they which run in a race run all, but one receiveth the prize? So run, that ye may obtain. 25 And every man that striveth for the mastery is temperate in all things. Now they do it to obtain a corruptible crown; but we an incorruptible. 26 I therefore so run, not as uncertainly; so fight I, not as one that beateth the air: 27 But I keep under my body, and bring it into subjection: lest that by any means, when I have preached to others, I myself should be a castaway.




---
ADDITIONAL AD LIB MATERIAL: Prose, Poetry, Writers, Visual Artists, Music, DAWN, and ILLUMINATION. ILLUMINATION features a compact, Illuminated Bible. DAWN, the page you are presently visiting, features a new image and explanation daily.

Please Email Comments and Questions To

AD LIB ARTS EMAIL copyright 2016, Scott Souza