---
DAWN
Daily Arts Web Nucleus
---
Discover the Arts!
Each day a different image from the Literary, Performing, or Visual Arts representing a portion of Scripture
plus an explanation with links
2016 October 2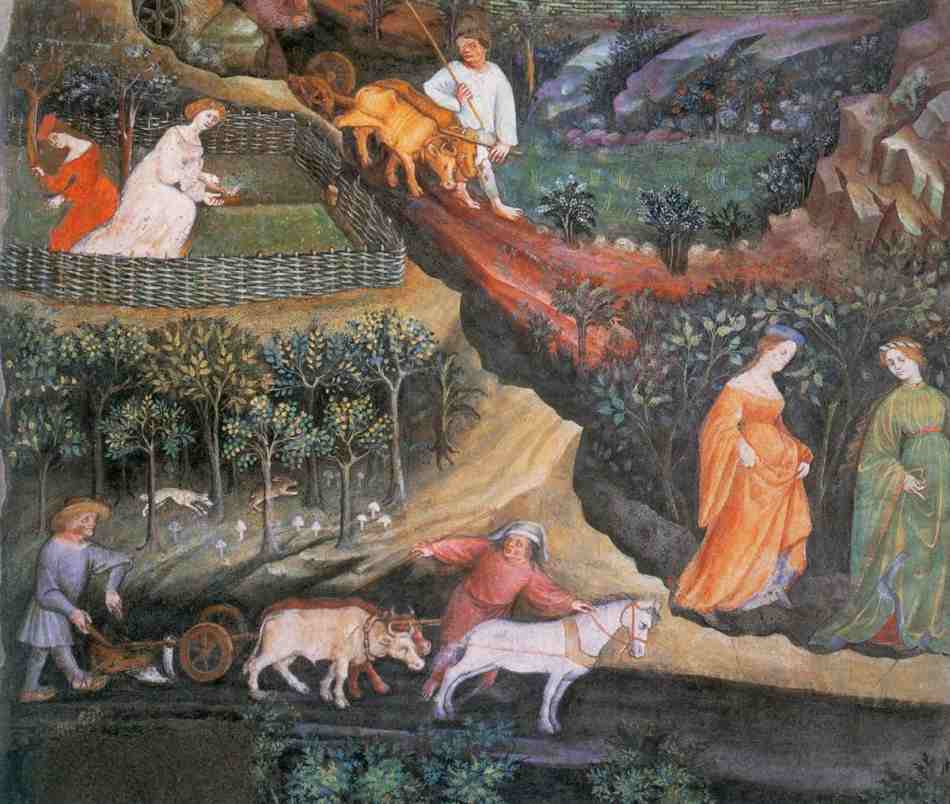 Representation of the Twelve Months (detail) - (1391-1407)
Unknown Italian Master (fl., 1391-1407)
Italian Renaissance Style
Castello del Buonconsiglio, Trent, Italy Image Source: Web Gallery of Art



Explanation: In 2 Corinthians 9, Paul commends the Corinthians for ministering to the saints and for promising to have a gift ready to send to those in need. He said he would send some brothers to them before he arrived so that the gift would be ready in a timely fashion (1-5). He exhorted them that those who sow sparingly will reap sparingly, and those who sow bountifully will reap bountifully. However, no one should give under compulsion, because God loves a cheerful giver. They should seek God's aid in giving, because God is able to give them the means to abound in every good work. As a result, they will reap a harvest of righteousness, and they will be enriched in every way. As an inspiration for giving, he sets before them the example of God himself who gave an indescribable gift (6-15).
[Sermons: John Piper. Steven J Lawson. Various. ]
[Illustration: Today's painting depicts agriculture. Likewise, Paul, in today's chapter uses agricultural images, particularly reaping and sowing to exhort his readers. ]




---



RESOURCES


[THEMATICALLY AND CHRONOLOGICALLY RELATED SCRIPTURES: 2 Corinthians 9:1-5: Romans 15:22-29; 1 Corinthians 4:14-21; 1 Corinthians 16:1-4; 1 Corinthians 16:5-9; 2 Corinthians 1:15-22; 2 Corinthians 1:23 - 2:4; 2 Corinthians 12:14 - 13:10; 1 Thessalonians 2:17-20; Philemon 1:21-22; 1 Thessalonians 1:2-10; Galatians 2:1-10. 2 Corinthians 9:6-15: Romans 15:22-29; 1 Corinthians 9:1-14; 1 Corinthians 16:1-4; Galatians 2:1-10; Ephesians 3:20-21. ]
NOTE: The parallels above are based in a very small part on my own research but principally on the following sources:
Fred O Francis and J. Paul Sampley, Pauline Parallels, Second Edition. (Minneapolis, Minnesota: Fortress Press, 1984).
Most of the material on Hebrews is from an online article titled Pauline parallels in Hebrews taken from Charles H. Welch and Stuart Allen Welch, Perfection Or Perdition? An Exposition Of The Epistle To The Hebrews, (London: Berean Publishing Trust, 1973). ]

[ CHRONOLOGY: GENERAL. Patriarchs (Traditional). Judges # 1. Judges # 2. Kings # 1. Kings # 2. Prophets # 1. Prophets # 2. NT # 1. NT # 2. NT # 3. ]

[ MAPS: Maps # 1. Maps # 2. Maps # 3. Maps # 4. Maps # 5. ]

[ COMMENTARIES, ETC: GENERAL: Bible Study Tools; Bible Hub: Study Light; Blue Letter Bible // PSALMS: Monergism: Precept Austin: The Treasury of David; John Gill; John Calvin - Volumes 1, 2, 3, 4, 5]

[ MUSIC: GENERAL: The Cyber Hymnal // PSALMS: Genevan Psalter (Instrumental). VARIOUS ARTISTS: Micha'el Ben David. Sons of Korah. Fernando Ortega. Janet Isaac Morrison. Music of the Bible Revealed - Suzanne Haik-Vantoura. Dr. David Erb. Gregorian Chants. ]


---
*** For Additional word studies use one of the Greek Interlinear Bibles below. ***
---
2 Corinthians 9
3. Paul's Blessings Among the Corinthians (2 Corinthians 7:1 - 2 Corinthians 9:15) - 55 A.D. Philippi
1 For as touching the ministering to the saints, it is superfluous for me to write to you: 2 For I know the forwardness of your mind, for which I boast of you to them of Macedonia, that Achaia was ready a year ago; and your zeal hath provoked very many. 3 Yet have I sent the brethren, lest our boasting of you should be in vain in this behalf; that, as I said, ye may be ready: 4 Lest haply if they of Macedonia come with me, and find you unprepared, we (that we say not, ye) should be ashamed in this same confident boasting. 5 Therefore I thought it necessary to exhort the brethren, that they would go before unto you, and make up beforehand your bounty, whereof ye had notice before, that the same might be ready, as a matter of bounty, and not as of covetousness.
6 But this I say, He which soweth sparingly shall reap also sparingly; and he which soweth bountifully shall reap also bountifully. 7 Every man according as he purposeth in his heart, so let him give; not grudgingly, or of necessity: for God loveth a cheerful giver. 8 And God is able to make all grace abound toward you; that ye, always having all sufficiency in all things, may abound to every good work: 9 (As it is written, He hath dispersed abroad; he hath given to the poor: his righteousness remaineth for ever [into the eons]. 10 Now he that ministereth seed to the sower both minister bread for your food, and multiply your seed sown, and increase the fruits of your righteousness;) 11 Being enriched in every thing to all bountifulness, which causeth through us thanksgiving to God. 12 For the administration of this service not only supplieth the want of the saints, but is abundant also by many thanksgivings unto God; 13 Whiles by the experiment of this ministration they glorify God for your professed subjection unto the gospel of Christ, and for your liberal distribution unto them, and unto all men; 14 And by their prayer for you, which long after you for the exceeding grace of God in you. 15 Thanks be unto God for his unspeakable gift.




---
ADDITIONAL AD LIB MATERIAL: Prose, Poetry, Writers, Visual Artists, Music, DAWN, and ILLUMINATION. ILLUMINATION features a compact, Illuminated Bible. DAWN, the page you are presently visiting, features a new image and explanation daily.

Please Email Comments and Questions To

AD LIB ARTS EMAIL copyright 2016, Scott Souza