---
DAWN
Daily Arts Web Nucleus
---
Discover the Arts!
Each day a different image from the Literary, Performing, or Visual Arts representing a portion of Scripture
plus an explanation with links
2016 October 19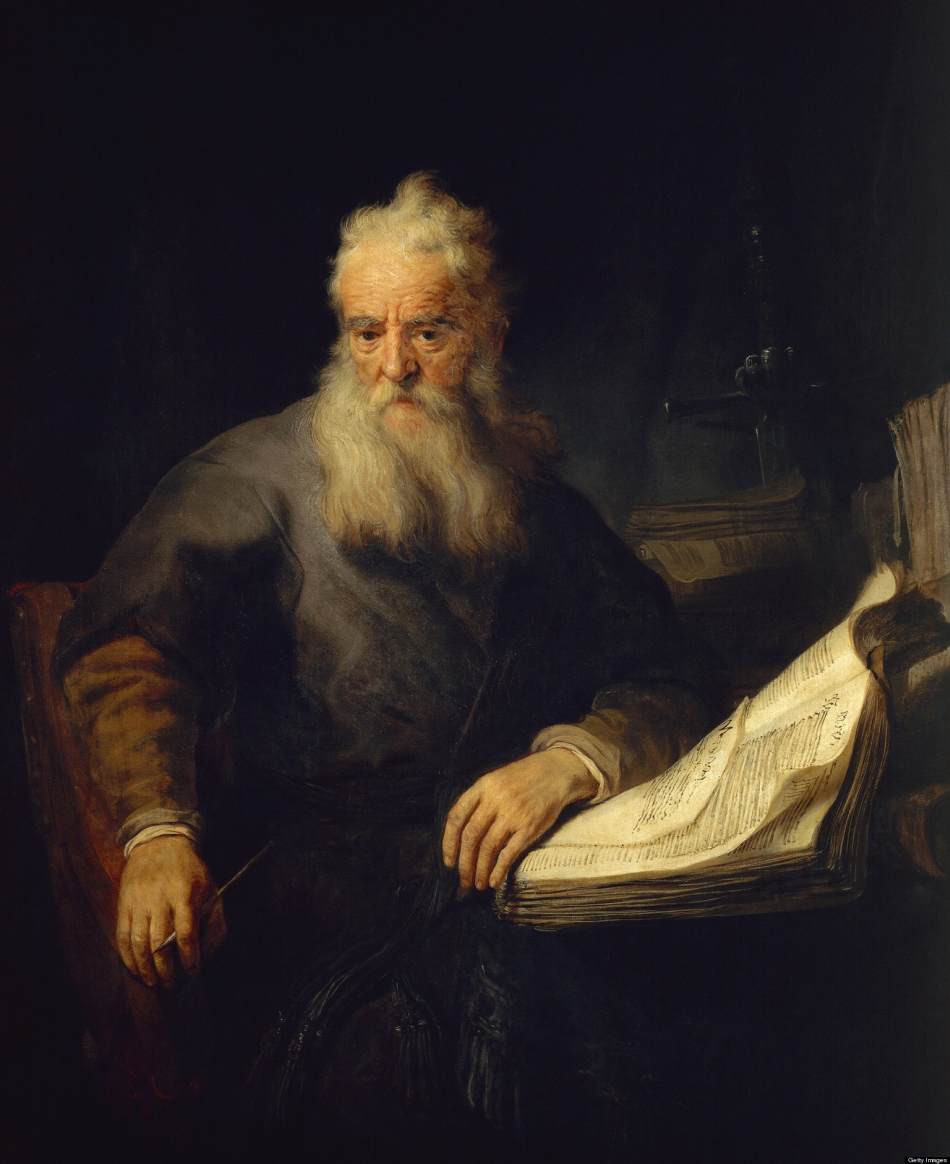 Apostle Paul (1635)
Rembrandt (1606-1669)
Dutch Golden Age Baroque Style
Private Collection Image Source: huffpost



Explanation: In Philippians 1, Paul and Timothy wish grace and peace upon the church members and the officers in Philippi (1-2).
Paul thanks God for the Philippians and prays for them constantly. He assures them that God, who began a good work in them, will bring it to completion in the last day. He appreciates their unity with him in affliction and in triumph, and he prays that they may abound in knowledge and discernment and be pure, blameless, and righteous (3-11).
He assures them that his imprisonment has helped further the gospel. The whole imperial guard knew of it. Many became more bold to preach Christ because of it -- some with good intent, others with ill intent, but in both cases the knowledge of Christ spread (12-18).
He rejoices because he knows that he will be delivered through their prayers and that Christ will be honored in him, whether by life or by death. To him, to live is Christ and to die is gain. He would prefer to die and go to Christ, but to live is necessary for them so that he may edify them, so he is convinced that he will be able to live and be a blessing to them (19-26).
So he exhorts them to live a life which is worthy of the gospel of Christ, to be of one spirit, and to not be frightened by their opponents. They have been granted the privilege to believe in Christ and to suffer for his sake, being engaged in the same conflict which Paul continues to be engaged in (27-30).
[Sermons: Sinclair B Ferguson. John Macarthur. Thomas Watson. Various. ]
[Illustration: Today's painting depicts Paul engaged in study and writing which what he did in prison when he wrote Philippians and other epistles as mentioned in today's chapter. ]




---



RESOURCES


[THEMATICALLY AND CHRONOLOGICALLY RELATED SCRIPTURES: Philippians 1:1-2: Romans 1:1-7; 1 Corinthians 1:1-3; 2 Corinthians 1:1-2; Galatians 1:1-5; Ephesians 1:1-2; Colossians 1:1-2; 1 Thessalonians 1:1; 2 Thessalonians 1:1-2; Philemon 1:1-3. Philippians 1:3-11: Romans 1:8-15; 1 Corinthians 1:4-9; Colossians 1:3-14; 1 Thessalonians 1:2-10; 2 Thessalonians 1:3-12; Philemon 1:4-7; Romans 15:14-21; 1 Thessalonians 3:6-13. Philippians 1:12-18: Romans 1:16-17; Romans 16:17-20a; 1 Corinthians 4:14-21; 2 Corinthians 10:1-6; 2 Corinthians 10:7-12; Galatians 1:6-12. Philippians 1:19-26: Romans 14:5-12; 2 Corinthians 4:7-12; 2 Corinthians 4:16 - 5:5; 2 Corinthians 5:6-10; Ephesians 6:18-20; Colossians 4:2-4; 2 Thessalonians 3:1-5; Philemon 1:21-22. Philippians 1:27-30: Romans 2:6-11; Romans 12:3-8; 1 Corinthians 12:4-11; Galatians 4:12-20; Colossians 2:4-7; 1 Thessalonians 2:13-16; Philemon 1:21-22. ]
NOTE: The parallels above are based in a very small part on my own research but principally on the following sources:
Fred O Francis and J. Paul Sampley, Pauline Parallels, Second Edition. (Minneapolis, Minnesota: Fortress Press, 1984).
Most of the material on Hebrews is from an online article titled Pauline parallels in Hebrews taken from Charles H. Welch and Stuart Allen Welch, Perfection Or Perdition? An Exposition Of The Epistle To The Hebrews, (London: Berean Publishing Trust, 1973). ]

[ CHRONOLOGY: GENERAL. Patriarchs (Traditional). Judges # 1. Judges # 2. Kings # 1. Kings # 2. Prophets # 1. Prophets # 2. NT # 1. NT # 2. NT # 3. ]

[ MAPS: Maps # 1. Maps # 2. Maps # 3. Maps # 4. Maps # 5. ]

[ COMMENTARIES, ETC: GENERAL: Bible Study Tools; Bible Hub: Study Light; Blue Letter Bible // PSALMS: Monergism: Precept Austin: The Treasury of David; John Gill; John Calvin - Volumes 1, 2, 3, 4, 5]

[ MUSIC: GENERAL: The Cyber Hymnal // PSALMS: Genevan Psalter (Instrumental). VARIOUS ARTISTS: Micha'el Ben David. Sons of Korah. Fernando Ortega. Janet Isaac Morrison. Music of the Bible Revealed - Suzanne Haik-Vantoura. Dr. David Erb. Gregorian Chants. ]


---
*** For Additional word studies use one of the Greek Interlinear Bibles below. ***
---


Book Outline:

1. The Advance of the Gospel in the Ministry of Paul (Philippians 1:1 - Philippians 1:30) - 61 A.D. Rome
2. The Advance of the Gospel Encouraged in the Life of the Philippians (Philippians 2:1 - Philippians 4:23) - 61 A.D. Rome





Philippians 1





1. The Advance of the Gospel in the Ministry of Paul (Philippians 1:1 - Philippians 1:30) - 61 A.D. Rome




1 Paul and Timotheus, the servants of Jesus Christ, to all the saints in Christ Jesus which are at Philippi, with the bishops and deacons: 2 grace be unto you, and peace, from God our Father, and from the Lord Jesus Christ.
3 I thank my God upon every remembrance of you, 4 Always in every prayer of mine for you all making request with joy, 5 For your fellowship in the gospel from the first day until now; 6 Being confident of this very thing, that he which hath begun a good work in you will perform it until the day of Jesus Christ: 7 Even as it is meet for me to think this of you all, because I have you in my heart; inasmuch as both in my bonds, and in the defence and confirmation of the gospel, ye all are partakers of my grace. 8 For God is my record, how greatly I long after you all in the bowels of Jesus Christ. 9 And this I pray, that your love may abound yet more and more in knowledge and in all judgment; 10 That ye may approve things that are excellent; that ye may be sincere and without offence till the day of Christ; 11 Being filled with the fruits of righteousness, which are by Jesus Christ, unto the glory and praise of God.
12 But I would ye should understand, brethren, that the things which happened unto me have fallen out rather unto the furtherance of the gospel; 13 So that my bonds in Christ are manifest in all the palace, and in all other places; 14 And many of the brethren in the Lord, waxing confident by my bonds, are much more bold to speak the word without fear.
15 Some indeed preach Christ even of envy and strife; and some also of good will: 16 The one preach Christ of contention, not sincerely, supposing to add affliction to my bonds: 17 But the other of love, knowing that I am set for the defence of the gospel. 18 What then? notwithstanding, every way, whether in pretence, or in truth, Christ is preached; and I therein do rejoice, yea, and will rejoice.
19 For I know that this shall turn to my salvation through your prayer, and the supply of the Spirit of Jesus Christ, 20 According to my earnest expectation and my hope, that in nothing I shall be ashamed, but that with all boldness, as always, so now also Christ shall be magnified in my body, whether it be by life, or by death. 21 For to me to live is Christ, and to die is gain. 22 But if I live in the flesh, this is the fruit of my labour: yet what I shall choose I wot not. 23 For I am in a strait betwixt two, having a desire to depart, and to be with Christ; which is far better: 24 Nevertheless to abide in the flesh is more needful for you. 25 And having this confidence, I know that I shall abide and continue with you all for your furtherance and joy of faith; 26 That your rejoicing may be more abundant in Jesus Christ for me by my coming to you again.
27 Only let your conversation be as it becometh the gospel of Christ: that whether I come and see you, or else be absent, I may hear of your affairs, that ye stand fast in one spirit, with one mind striving together for the faith of the gospel; 28 And in nothing terrified by your adversaries: which is to them an evident token of perdition, but to you of salvation, and that of God. 29 For unto you it is given in the behalf of Christ, not only to believe on him, but also to suffer for his sake; 30 Having the same conflict which ye saw in me, and now hear to be in me.




---
ADDITIONAL AD LIB MATERIAL: Prose, Poetry, Writers, Visual Artists, Music, DAWN, and ILLUMINATION. ILLUMINATION features a compact, Illuminated Bible. DAWN, the page you are presently visiting, features a new image and explanation daily.

Please Email Comments and Questions To

AD LIB ARTS EMAIL copyright 2016, Scott Souza