---
DAWN
Daily Arts Web Nucleus
---
Discover the Arts!
Each day a different image from the Literary, Performing, or Visual Arts representing a portion of Scripture
plus an explanation with links
2016 November 4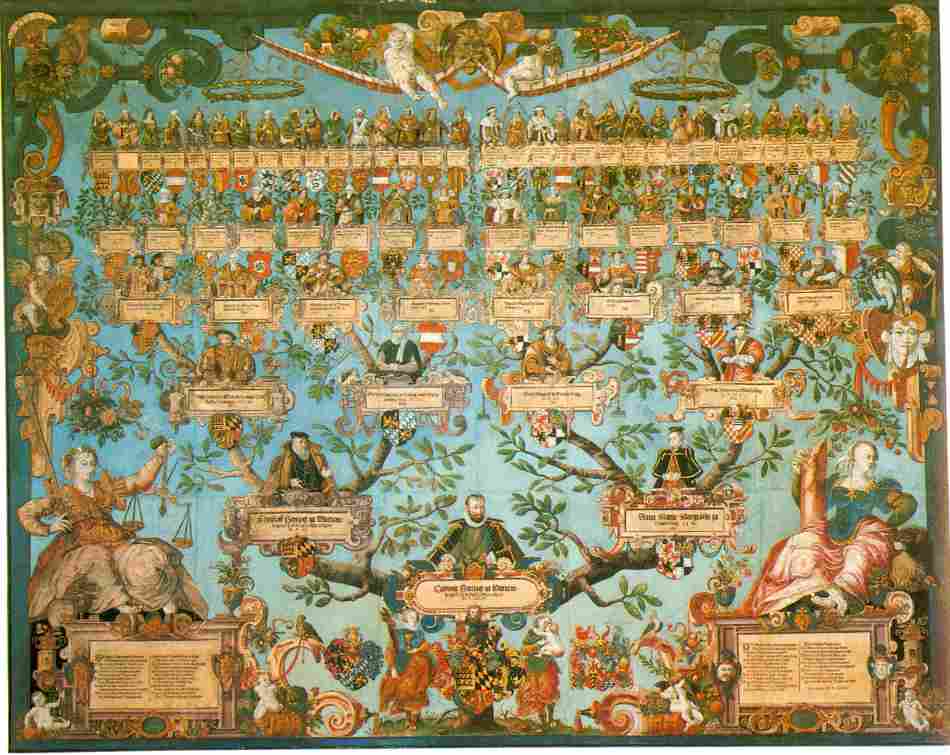 Ahnentafel von Herzog Ludwig (1568-1593) - (1587)
Joachim Lederlin (c. 1550 - c. 1604)
Based on a Drawing by Jakob Zuberlein (1556-1607)
Late Renaissance Style - (Both Artists)
Landesmuseum Wurttemberg, Stuttgart, Germany Image Source: Wikimedia



Explanation: In 1 Timothy 1, Paul wishes grace, mercy, and peace upon Timothy (1-2). He reminds Timothy that he had charged him to command some to teach no other doctrine, and to avoid fables and genealogies which generate. the result will be a pure hearted love, a good conscience, and unfeigned faith. Some have wandered away into vain rambling, desiring to be teachers of the law but not understanding what they say or their confident assertions (3-7).
The law is good, if one uses it lawfully. It is not made for the just, but for the disobedient and ungodly who walk contrary to the gospel (8-11).
He is grateful to Christ for appointing him to his service in spite of the fact that he had been a blasphemer, a persecutor, and an insolent opponent. He called himself the chief of sinners who obtained mercy so that Jesus Christ might display his perfect patience as an example to others who believe. He gives glory to God for this (12-17). Therefore, Paul charges Timothy to wage a good warfare in faith and in good conscience. Those who reject this make shipwreck of their faith. Such are Hymenaeus and Alexander whom he has handed over to Satan that they may learn not blaspheme (18-20).
[Sermons: C H Spurgeon. Various. ]
[Illustration: Today's image is of a genealogical tree. In today's chapter, Paul says that disputes over genealogies have no spiritual value. ]




---



RESOURCES


[THEMATICALLY AND CHRONOLOGICALLY RELATED SCRIPTURES: 1 Timothy 1: 1 Timothy 4:7; 2 Timothy 2:14; 2 Timothy 2:23; 2 Timothy 4:4; Titus 1:14; Colossians 2:18-23. ]

[ CHRONOLOGY: GENERAL. Patriarchs (Traditional). Judges # 1. Judges # 2. Kings # 1. Kings # 2. Prophets # 1. Prophets # 2. NT # 1. NT # 2. NT # 3. ]

[ MAPS: Maps # 1. Maps # 2. Maps # 3. Maps # 4. Maps # 5. ]

[ COMMENTARIES, ETC: GENERAL: Bible Study Tools; Bible Hub: Study Light; Blue Letter Bible // PSALMS: Monergism: Precept Austin: The Treasury of David; John Gill; John Calvin - Volumes 1, 2, 3, 4, 5]

[ MUSIC: GENERAL: The Cyber Hymnal // PSALMS: Genevan Psalter (Instrumental). VARIOUS ARTISTS: Micha'el Ben David. Sons of Korah. Fernando Ortega. Janet Isaac Morrison. Music of the Bible Revealed - Suzanne Haik-Vantoura. Dr. David Erb. Gregorian Chants. ]


---
*** For Additional word studies use one of the Greek Interlinear Bibles below. ***
---


Book Outline:

1. Proper Church Doctrine & Government (1 Timothy 1:1 - 1 Timothy 4:16) - 62 A.D. Laodicea
2. Proper Personal Relationships in the Church (1 Timothy 5:1 - 1 Timothy 6:21) - 62 A.D. Laodicea




1 Timothy 1





1. Proper Church Doctrine & Government (1 Timothy 1:1 - 1 Timothy 4:16) - 62 A.D. Laodicea




1 Paul, an apostle of Jesus Christ by the commandment of God our Saviour, and Lord Jesus Christ, which is our hope; 2 Unto Timothy, my own son in the faith: grace, mercy, and peace, from God our Father and Jesus Christ our Lord.
3 As I besought thee to abide still at Ephesus, when I went into Macedonia, that thou mightest charge some that they teach no other doctrine, 4 Neither give heed to fables and endless genealogies, which minister questions, rather than godly edifying which is in faith: so do. 5 Now the end of the commandment is charity out of a pure heart, and of a good conscience, and of faith unfeigned: 6 From which some having swerved have turned aside unto vain jangling; 7 Desiring to be teachers of the law; understanding neither what they say, nor whereof they affirm.
8 But we know that the law is good, if a man use it lawfully; 9 Knowing this, that the law is not made for a righteous man, but for the lawless and disobedient, for the ungodly and for sinners, for unholy and profane, for murderers of fathers and murderers of mothers, for manslayeers, 10 For whoremongers, for them that defile themselves with mankind for menstealers, for liars, for perjured persons, and if there be any other thing that is contrary to sound doctrine; 11 According to the glorious gospel of the blessed God, which was committed to my trust.
12 And I thank [have gratitude to] Christ Jesus our Lord, who hath enabled me, for that he counted me faithful, putting me into the ministry; 13 Who was before a blasphemer, and a persecutor, and injurious: but I obtained mercy, because I did it ignorantly in unbelief. 14 And the grace of our Lord was exceeding abundant with faith and love which is in Christ Jesus. 15 This is a faithful saying, and worthy of all acceptation, that Christ Jesus came into the world to save sinners; of whom I am chief. 16 Howbeit for this cause I obtained mercy, that in me first Jesus Christ might shew forth all longsuffering, for a pattern to them which should hereafter believe on him to life everlasting. 17 Now unto the King eternal, immortal, invisible, the only wise God, be honour and glory for ever and ever [into the eons of the eons]. Amen.
18 This charge I commit unto thee, son Timothy, according to the prophecies which went before on thee, that thou by them mightest war a good warfare; 19 Holding faith, and a good conscience; which some having put away concerning faith have made shipwreck: 20 Of whom is Hymenaeus and Alexander; whom I have delivered unto Satan, that they may learn not to blaspheme.




---
ADDITIONAL AD LIB MATERIAL: Prose, Poetry, Writers, Visual Artists, Music, DAWN, and ILLUMINATION. ILLUMINATION features a compact, Illuminated Bible. DAWN, the page you are presently visiting, features a new image and explanation daily.

Please Email Comments and Questions To

AD LIB ARTS EMAIL copyright 2016, Scott Souza