---
DAWN
Daily Arts Web Nucleus
---
Discover the Arts!
Each day a different image from the Literary, Performing, or Visual Arts representing a portion of Scripture
plus an explanation with links
2016 December 10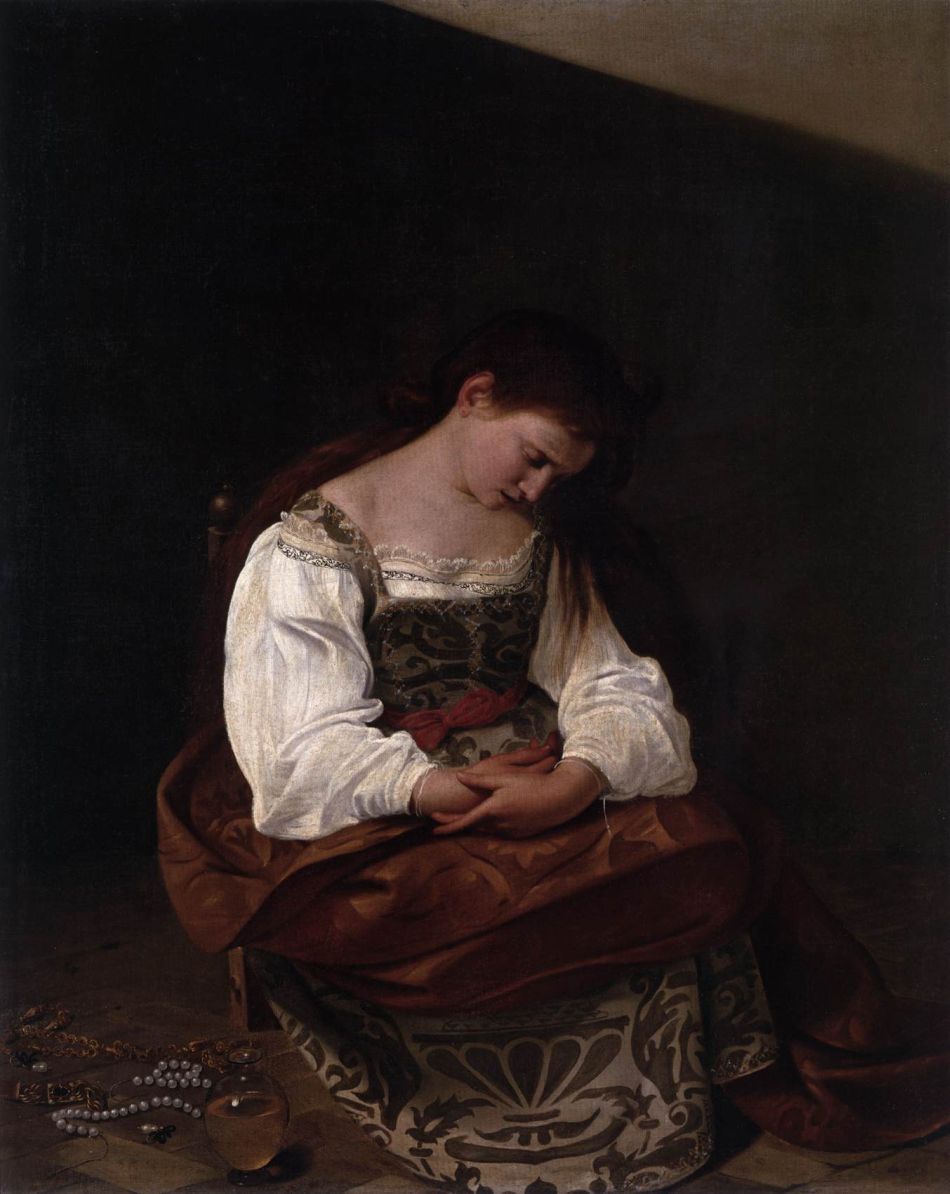 Mary Magdalene (1596-1597)
Caravaggio (1571-1610)
Baroque Style
Galleria Doria Pamphilj, Rome, Italy Image Source: Web Gallery of Art



Explanation: In 1 Peter 5, Peter exhorts the elders in Ephesus to feed the flock and to be an example to them, not their lords. When the Chief Shepherd returns, they will receive an unfading crown of glory (1-4).
The younger should submit to the elder. Each of them should be subject to the other; and they should be clothed with humility, because God resists the proud and gives grace to the humble (5).
We should, therefore, humble ourselves under the mighty hand of God, that he might exalt us in due time. We should cast our care upon him because he cares for us. And we should be aware that our adversary, the Devil, goes about seeking whom he may devour (literally, whom "to drink down," or whom "to swallow down"). We should resist him in the faith, knowing that the trials we undergo are the same trials which our fellow-Christians suffer throughout the world. After we suffer for a little, the God of all grace will restore, confirm, strengthen, and establish us. His dominion is forever (6-11).
Paul sent this letter by Silvanus (Silas). The church at Babylon (perhaps the Babylon which was famous throughout Scripture) sends greetings and so does Mark. He closes by telling them to greet one another with the kiss of love. He wishes peace upon them (12-14).]
[Sermons: Alistair Begg. Various. ]
[Illustration: Today's painting depicts Mary Magdalene as she transitions in repentance from a woman who lived in luxury and disobedience to obedience and humility. It is to such people, as Peter notes in today's chapter, that God gives grace. But he resists the proud. ]






---



RESOURCES


[THEMATICALLY AND CHRONOLOGICALLY RELATED SCRIPTURES: 1 Peter 5: Proverbs 3:34; Psalm 55:23. ]

[ CHRONOLOGY: GENERAL. Patriarchs (Traditional). Judges # 1. Judges # 2. Kings # 1. Kings # 2. Prophets # 1. Prophets # 2. NT # 1. NT # 2. NT # 3. ]

[ MAPS: Maps # 1. Maps # 2. Maps # 3. Maps # 4. Maps # 5. ]

[ COMMENTARIES, ETC: GENERAL: Bible Study Tools; Bible Hub: Study Light; Blue Letter Bible // PSALMS: Monergism: Precept Austin: The Treasury of David; John Gill; John Calvin - Volumes 1, 2, 3, 4, 5]

[ MUSIC: GENERAL: The Cyber Hymnal // PSALMS: Genevan Psalter (Instrumental). VARIOUS ARTISTS: Micha'el Ben David. Sons of Korah. Fernando Ortega. Janet Isaac Morrison. Music of the Bible Revealed - Suzanne Haik-Vantoura. Dr. David Erb. Gregorian Chants. ]


---
*** For Additional word studies use one of the Greek Interlinear Bibles below. ***
---


Book Outline:

1 PETER (COVENANT LIVING: The Importance of Obedience)

1. Chosen for Obedience: Its Meaning (1 Peter 1:1 - 1 Peter 1:25) - 63 A.D. Israel
2. Chosen for Obedience: Its Outworking in Life (1 Peter 2:1 - 1 Peter 5:14) - 63 A.D. Israel





1 Peter 5





2. Chosen for Obedience: Its Outworking in Life (1 Peter 2:1 - 1 Peter 5:14) - 63 A.D. Israel




1 The elders which are among you I exhort, who am also an elder, and a witness of the sufferings of Christ, and also a partaker of the glory that shall be revealed: 2 Feed the flock of God which is among you, taking the oversight thereof, not by constraint, but willingly; not for filthy lucre, but of a ready mind; 3 Neither as being Lords over God's heritage, but being ensamples to the flock. 4 And when the chief Shepherd shall appear, ye shall receive a crown of glory that fadeth not away. 5 Likewise, ye younger, submit yourselves unto the elder. Yea, all of you be subject one to another, and be clothed with humility: for God resisteth the proud, and giveth grace to the humble.
6 Humble yourselves therefore under the mighty hand of God, that he may exalt you in due time: 7 Casting all your care upon him; for he careth for you. 8 Be sober, be vigilant; because your adversary the devil, as a roaring lion, walketh about, seeking whom he may devour: 9 Whom resist stedfast in the faith, knowing that the same afflictions are accomplished in your brethren that are in the world. 10 But the God of all grace, who hath called us unto his eternal glory by Christ Jesus, after that ye have suffered a while, make you perfect, stablish, strengthen, settle you. 11 To him be glory and dominion for ever and ever [into the eons of the eons]. Amen.
12 By Silvanus, a faithful brother unto you, as I suppose, I have written briefly, exhorting, and testifying that this is the true grace of God wherein ye stand. 13 The church that is at Babylon, elected together with you, saluteth you; and so doth Marcus my son. 14 Greet ye one another with a kiss of charity. Peace be with you all that are in Christ Jesus. Amen.




---
ADDITIONAL AD LIB MATERIAL: Prose, Poetry, Writers, Visual Artists, Music, DAWN, and ILLUMINATION. ILLUMINATION features a compact, Illuminated Bible. DAWN, the page you are presently visiting, features a new image and explanation daily.

Please Email Comments and Questions To

AD LIB ARTS EMAIL copyright 2016, Scott Souza