---
DAWN
Daily Arts Web Nucleus
---
Discover the Arts!
Each day a different image from the Literary, Performing, or Visual Arts representing a portion of Scripture
plus an explanation with links
2017 August 19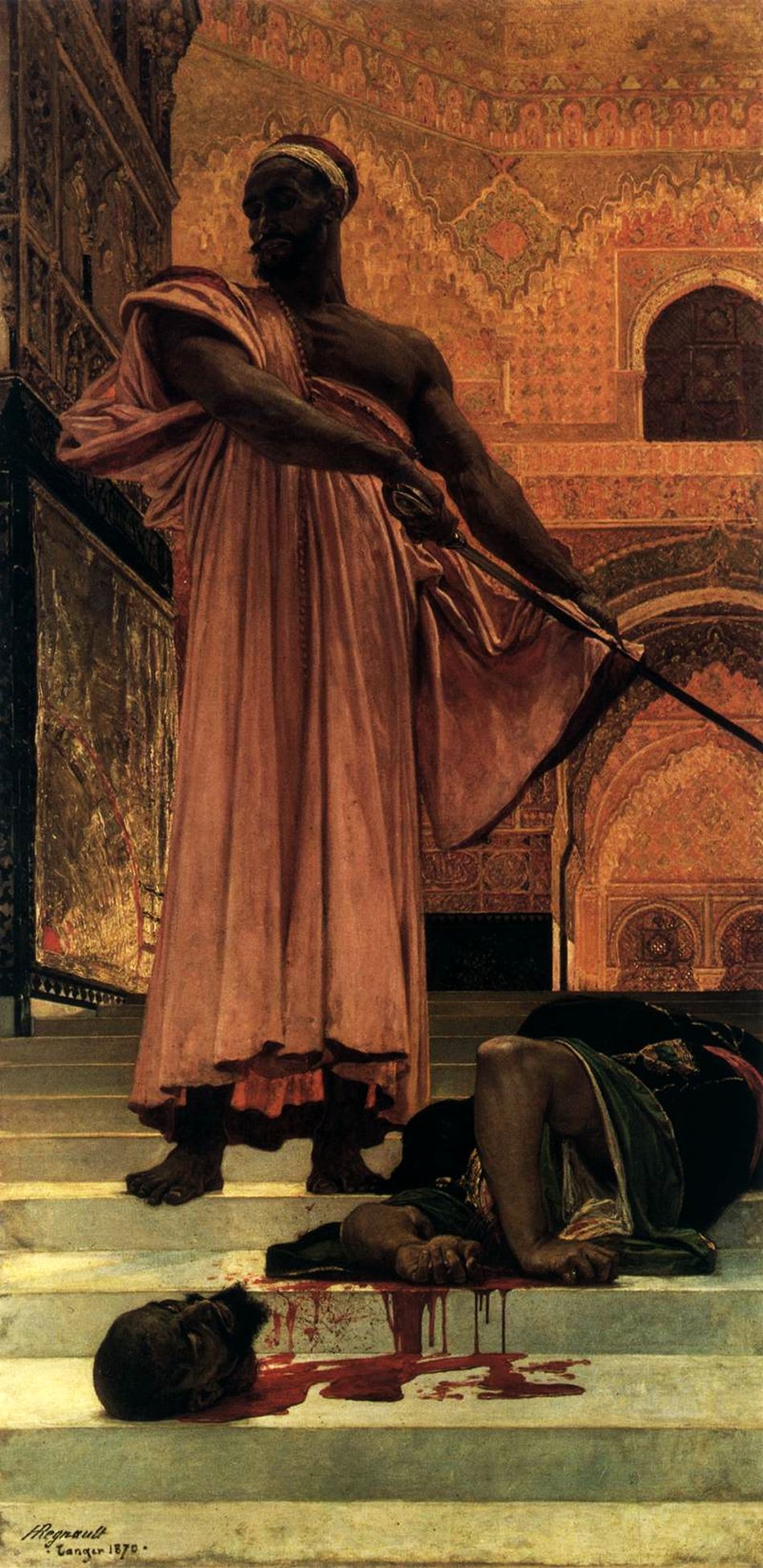 Summary Execution Under the Moorish Kings of Granada (1870)
Henri Regnault (1843-1871)
Academic Style
Musee d'Orsay, Paris, France Image Source: Web Gallery of Art




SPECIAL NOTE:


[ I will again be working through the Scriptures from Genesis to Revelation. I will be adding links, resources, images, and the like, upgrading the former work-through which began with the 2013-10-12 posting which can be found, along with the full Genesis to Revelation postings, in the Archive Page. Postings will be at midnight Eastern Time, as I am able. However, no chapters will be skipped, even though a posting may be late. And all postings will be housed in the Archive Page. ]



Explanation: Judges 8 contains the conclusion of the war against the Midianite confederation (including the capture and execution of Zebah and Zalmunna), together with a summary of Gideon's life and his death some years later, followed by the decline of Israel back into idolatry.
As the war raged on, the men of Ephraim brought the heads of Oreb and Zeeb to Gideon (Judges 7:24-25); but they complained angrily to him for not inviting them to the battle initially. Gideon, however, pacified them by telling them that in comparison to their capture of Oreb and Zeeb (described in the previous chapter), his deeds were insignificant (1-3).
As the fight continued, Gideon and his three-hundred men, faint though they were, pursued the fleeing troops. He asked for help from Succoth and from Penuel; but both cities refused (4-9).
Gideon captured the kings Zebah and Zalmunna (10-12).
He returned after sunup and captured a young man from Succoth from whom he learned the identity of the princes of the town. Gideon then chided those elders for not helping him and chastised them with briars and thorns. He then went to Penuel and beat down the tower that was there and slew the men of the city. Penuel may have been an ally of the Midianites and so received the greater punishment (13-17).
Afterward, Gideon learned from his captives, Zebah and Zalmunna, that they had killed his brothers. So he commanded his son to execute them. But the youth was afraid; so Gideon himself carried out the execution; and he took the ornaments that were on the camel's necks (18-21).
After these exploits, the men of Israel asked him to rule over them, but he refused, asking only for the gold earrings from the slain warriors. He also took other ornaments and the purple raiment that was on the kings of Midian. From these Gideon made an ephod and put it up in his city, Ophrah, where Israel treated it as an object of worship. The ephod may have been a statue; but the term is usually used for a priestly garment, especially the High Priest's garment (considering the gold and possibly the purple cloth used to make it). Whatever the case, it seems to have been a central object in a shrine (judging from the fact that it was "put," or "established") in his city and the people went whoring after it -- meaning that they used it for unlawful worship, which Scripture calls spiritual adultery. So Midian was subdued before Israel; and the land had rest for forty years (22-28).
Gideon had seventy sons by his many wives. He also had a son, Abimelech, by his concubine in Shechem. Gideon lived a long life (29-32).
But, when he was dead, the Israelites turned to the god Baalberith, forgot the LORD and his goodness, and were unkind to the house of Gideon in spite of the good things he did for them (33-35).
[ Sermons: Vern Picknally. Various. ]
[ Illustration: The painting above illustrates, in kind, the summary execution of Gideon's brothers by Zebah and Zalmunna (verses 18-21, below). ]






---



RESOURCES


PLEASE NOTE: Use the resources on this and other sites thoughtfully, particularly the commentaries and encyclopedias. I have attempted to list conservative, scholarly resources. However, some providers use liberal or liberal-influenced commentaries such as the Cambridge Bible for Schools and Colleges (in Bible Hub). Such commentaries are undoubtedly included by the provider for the wealth of useful information and comments which they provide. By consulting several commentaries, it should be fairly easy to sort out the wheat from the chaff. If, however, you would like personal assistance, write to me at AD LIB ARTS EMAIL.


[ THEMATICALLY AND CHRONOLOGICALLY RELATED SCRIPTURES: Judges 8:
[1] Judges 12:1; Judges 7:25; 1 Samuel 2:16.
[2] Deuteronomy 24:21; Isaiah 10:26.
[3] Proverbs 15:1; Isaiah 25:4; Ecclesiastes 10:4.
[4] Judges 7:23.
[5] Genesis 33:17; Joshua 13:27; Psalm 60:6; Psalm 108:7; Judges 4:10;Numbers 31:8; Judges 4:2.
[6] 1 Kings 20:11.
[7] Hebrews 11:32; Matthew 5:21-22; Matthew 19:8; Acts 17:30; 2 Samuel 12:31; 1 Chronicles 20:3; Amos 1:3; Judges 5:23; Hosea 10:8; Judges 4:6.
[8] Genesis 32:30; 1 Kings 12:25.
[9] 1 Kings 22:27.
[11] Numbers 32:42; Numbers 32:34.
[12] Psalm 83:13-14.
[13] Judges 1:36; Genesis 19:15; Judges 1:35; Judges 2:9; Job 9:7; Judges 14:18.
[14] Judges 1:24; Numbers 11:16.
[16] Proverbs 10:9; Judges 6:7.
[17] 1 Kings 12:25.
[18] Job 17:15; Judges 7:22; 1 Kings 22:4; 1 Samuel 10:24; 1 Samuel 16:6-7.
[19] Genesis 43:29; Ruth 3:13; 1 Samuel 14:41.
[20] Numbers 35:12; 2 Samuel 2:22; Joshua 10:24-25; 1 Samuel 15:33; 2 Samuel 1:15.
[21] Deuteronomy 33:25; Isaiah 3:18.
[22] 2 Samuel 8:5-7; 2 Samuel 12:12; 2 Samuel 12:17.
[23] Numbers 23:21; Deuteronomy 33:5; 1 Samuel 6:12; Judges 10:2-3; Judges 12:7; Deuteronomy 17:14-20.
[24] Genesis 14:21-23; Genesis 24:47; Isaiah 3:21; Ezekiel 16:12; Job 42:11; Genesis 37:28.
[26] Genesis 24:22; Judges 8:21; Isaiah 3:19; Exodus 25:4.
[27] Exodus 28:6-14; 1 Samuel 21:9; 1 Samuel 23:9; 1 Samuel 30:7; Hosea 2:13; Judges 8:33; Judges 2:12; Leviticus 17:7, Leviticus 20:5; Hosea 1:2; Psalm 106:39; Judges 17:5; Hosea 3:4; Judges 17:3; Judges 6:24; Judges 6:32; Exodus 10:7; Exodus 23:33.
[28] Judges 1:2; Judges 4:23-24; Judges 5:31.
[30] Deuteronomy 17:17; Judges 10:4; Judges 12:9.
[31] Judges 9:1-4, 18.
[32] Genesis 15:15; Genesis 49:29; Job 5:26.
[33] Psalm 106:13; Psalm 106:21; Joshua 24:25.
[34] Judges 1:5; 2 Kings 17:33.
[35] Judges 9:17-18.
-- From Ellicott's Commentary for English Readers ]

[ CHRONOLOGY: GENERAL. Patriarchs (Traditional). Judges # 1. Judges # 2. Kings # 1. Kings # 2. Prophets # 1. Prophets # 2. NT # 1. NT # 2. NT # 3. ]

[ MAPS: Maps # 1. Maps # 2. Maps # 3. Maps # 4. Maps # 5. ]

[ COMMENTARIES, ETC: GENERAL: Bible Study Tools; Bible Hub: Study Light; Blue Letter Bible // PSALMS: Monergism: Precept Austin: The Treasury of David; John Gill; John Calvin - Volumes 1, 2, 3, 4, 5]

[ MUSIC: GENERAL: The Cyber Hymnal // PSALMS: Genevan Psalter (Instrumental). VARIOUS ARTISTS: Micha'el Ben David. Sons of Korah. Fernando Ortega. Janet Isaac Morrison. Music of the Bible Revealed - Suzanne Haik-Vantoura. Dr. David Erb. Gregorian Chants. ]


---
HARMONY OF THE LAW
HEBREW AND GREEK INTERLINEAR BIBLES
---
Judges Detailed Outline
Judges 8
Note: The Book of Judges teaches Israel's unfaithfulness. (The previous book, The Book of Joshua, teaches the Lord's faithfulness.)
Note: Some of the Judges may overlap each other chronologically and may have served in only part of the country.
1. The Historical Setting (1:1 - 3:6) - (1390 - 1377 B.C. Israel)
A. The Present Setting [in the Time of the Judges - This is the Second Campaign of Judah] (1:1-7)
B. The Past Setting [in Joshua's Time - First Campaigns of 6 Tribes] (1:8 - 3:6)
2. The History of the Judges (3:7 - 16:31) - (1377 - 1055 B.C. Israel)
1 And the men of Ephraim said unto him, Why hast thou served us thus, that thou calledst us not, when thou wentest to fight with the Midianites? And they did chide with him sharply. 2 And he said unto them, What have I done now in comparison of you? Is not the gleaning of the grapes of Ephraim better than the vintage of Abiezer? 3 God hath delivered into your hands the princes of Midian, Oreb and Zeeb: and what was I able to do in comparison of you? Then their anger was abated toward him, when he had said that.
4 And Gideon came to Jordan, and passed over, he, and the three hundred men that were with him, faint, yet pursuing them. 5 And he said unto the men of Succoth, Give, I pray you, loaves of bread unto the people that follow me; for they be faint, and I am pursuing after Zebah and Zalmunna, kings of Midian. 6 And the princes of Succoth said, Are the hands of Zebah and Zalmunna now in thine hand, that we should give bread unto thine army? 7 And Gideon said, Therefore when the LORD hath delivered Zebah and Zalmunna into mine hand, then I will tear your flesh with the thorns of the wilderness and with briers. 8 And he went up thence to Penuel, and spake unto them likewise: and the men of Penuel answered him as the men of Succoth had answered him. 9 And he spake also unto the men of Penuel, saying, When I come again in peace, I will break down this tower.
10 Now Zebah and Zalmunna were in Karkor, and their hosts with them, about fifteen thousand men, all that were left of all the hosts of the children of the east: for there fell an hundred and twenty thousand men that drew sword. 11 And Gideon went up by the way of them that dwelt in tents on the east of Nobah and Jogbehah, and smote the host: for the host was secure. 12 And when Zebah and Zalmunna fled, he pursued after them, and took the two kings of Midian, Zebah and Zalmunna, and discomfited all the host.
13 And Gideon the son of Joash returned from battle before the sun was up, 14 And caught a young man of the men of Succoth, and enquired of him: and he described unto him the princes of Succoth, and the elders thereof, even threescore and seventeen men. 15 And he came unto the men of Succoth, and said, Behold Zebah and Zalmunna, with whom ye did upbraid me, saying, Are the hands of Zebah and Zalmunna now in thine hand, that we should give bread unto thy men that are weary? 16 And he took the elders of the city, and thorns of the wilderness and briers, and with them he taught the men of Succoth. 17 And he beat down the tower of Penuel, and slew the men of the city.
18 Then said he unto Zebah and Zalmunna, What manner of men were they whom ye slew at Tabor? And they answered, As thou art, so were they; each one resembled the children of a king. 19 And he said, They were my brethren, even the sons of my mother: as the LORD liveth, if ye had saved them alive, I would not slay you. 20 And he said unto Jether his firstborn, Up, and slay them. But the youth drew not his sword: for he feared, because he was yet a youth. 21 Then Zebah and Zalmunna said, Rise thou, and fall upon us: for as the man is, so is his strength. And Gideon arose, and slew Zebah and Zalmunna, and took away the ornamrnts that were on their camels' necks.
22 Then the men of Israel said unto Gideon, Rule thou over us, both thou, and thy son, and thy son's son also: for thou hast delivered us from the hand of Midian. 23 And Gideon said unto them, I will not rule over you, neither shall my son rule over you: the LORD shall rule over you. 24 And Gideon said unto them, I would desire a request of you, that ye would give me every man the earrings of his prey. (For they had golden earrings, because they were Ishmaelites.) 25 And they answered, We will willingly give [to give we shall give] them. And they spread a garment, and did cast therein every man the earrings of his prey. 26 And the weight of the golden earrings that he requested was a thousand and seven hundred shekels of gold; beside [apart from] ornamrnts, and collars, and purple raiment that was on the kings of Midian, and beside [apart from] the chains that were about their camels' necks. 27 And Gideon made an ephod thereof, and put it in his city, even in Ophrah: and all Israel went thither a whoring after it: which thing became a snare unto Gideon, and to his house. 28 Thus was Midian subdued before the children of Israel, so that they lifted up their heads no more. And the country was in quietness forty years in the days of Gideon.
29 And Jerubbaal the son of Joash went and dwelt in his own house. 30 And Gideon had threescore and ten sons of his body begotten: for he had many wives. 31 And his concubine that was in Shechem, she also bare him a son, whose name he called Abimelech. 32 And Gideon the son of Joash died in a good old age, and was buried in the sepulchre of Joash his father, in Ophrah of the Abiezrites.
33 And it came to pass, as soon as Gideon was dead, that the children of Israel turned again, and went a whoring after Baalim, and made Baalberith their god. 34 And the children of Israel remembered not the LORD their God, who had delivered them out of the hands of all their enemies on every side: 35 Neither shewed they kindness to the house of Jerubbaal, namely, Gideon, according to all the goodness which he had shewed unto Israel.




---
ADDITIONAL AD LIB MATERIAL: Prose, Poetry, Writers, Visual Artists, Music, DAWN, and ILLUMINATION. ILLUMINATION features a compact, Illuminated Bible. DAWN, the page you are presently visiting, features a new image and explanation daily.

Please Email Comments and Questions To

AD LIB ARTS EMAIL copyright 2017, Scott Souza