---
DAWN
Daily Arts Web Nucleus
---
Discover the Arts!
Each day a different image from the Literary, Performing, or Visual Arts representing a portion of Scripture
plus an explanation with links
2017 September 14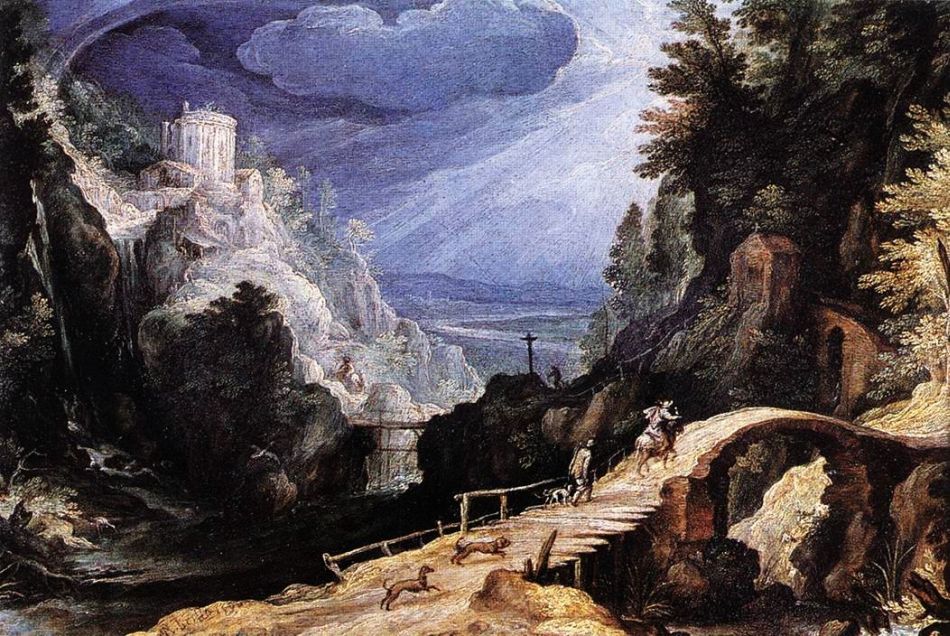 Image 1: The Polish Rider (1655)
Rembrandt Harmenszoon van Rijn (1606-1669)
Dutch Golden Age Baroque Style
Frick Collection, New York, New York, USA Image Credit: Web Gallery of Art



~~~~~~~~~~


Image 2: Mountain Scene (c. 1599)
Paul Bril (1554-1626)
Flemish Baroque / Northern Mannerist Style
Wallraf-Richartz-Museum, Cologne, Germany Image Credit: Web Gallery of Art




SPECIAL NOTE:


[ I will again be working through the Scriptures from Genesis to Revelation. I will be adding links, resources, images, and the like, upgrading the former work-through which began with the 2013-10-12 posting which can be found, along with the full Genesis to Revelation postings, in the Archive Page. Postings will be at midnight Eastern Time, as I am able. However, no chapters will be skipped, even though a posting may be late. And all postings will be housed in the Archive Page. ]



Explanation: 1 Samuel 9 opens with a description of Saul, noting his lineage, the power of his father, and his goodly bearing, and his tallness (1-2).
His fathers asses were lost; and his father sent Saul and one of his servants to seek them. They passed through several regions but could not find them (3-4).
At that point, Saul told his servant that they should return lest his father begin to worry about them. But the servant suggested that they go to a nearby city and make inquiry of the man of God, Samuel. The servant had a small amount of silver which he suggested that they use as a gift to Samuel for his aid in finding the animals (5-10).
When they arrived at the city, they were directed to a spot where Samuel was making a sacrifice (11-14).
The LORD had already told Samuel that someone was coming from the land of Benjamin whom he had chosen as a king for Israel to deliver them from the Philistines. When Samuel saw Saul the LORD said that he was the one of whom he spoke. And Samuel told Saul to stay with him that day and the next, and he would tell him all. He assured him that the asses were found. And he told him that the desire of all of Israel was on him and his father's house. But Saul was surprised that Samuel would say such a thing to one who was from such a small tribe and from such an insignificant family (15-21).
At the meal following the sacrifice Samuel gave Saul the best portion of the meat (22-24).
Afterward, Samuel talked to Saul on the top of his house. The next day, they arose early and went with Saul on his way through the city (25-26).
At the edge of the city, Samuel told Saul to send the servant on ahead and had him wait while he spoke the word of God to him (27).
[ Sermons: William W Goligher. William Still. Various. ]
[ Illustration: In today's chapter, Saul has an encounter with Samuel which prepares him for his pending kingship. The two paintings above represent two aspects of this encounter. The first painting depicts a man whom some refer to as a nobleman or an aristocrat. Such was Saul, who was from one of the leading families of the Benjaminites. The second painting represents, in kind, the long and vast search which Saul went through while he and his servant were looking for his father's lost asses. ]






---



RESOURCES


PLEASE NOTE: Use the resources on this and other sites thoughtfully, particularly the commentaries and encyclopedias. I have attempted to list conservative, scholarly resources. However, some providers use liberal or liberal-influenced commentaries such as the Cambridge Bible for Schools and Colleges (in Bible Hub). Such commentaries are undoubtedly included by the provider for the wealth of useful information and comments which they provide. By consulting several commentaries, it should be fairly easy to sort out the wheat from the chaff. If, however, you would like personal assistance, write to me at AD LIB ARTS EMAIL.


[ THEMATICALLY AND CHRONOLOGICALLY RELATED SCRIPTURES: 1 Samuel 9:
[1] Genesis 46:21; 1 Samuel 9:1; 1 Samuel 14:51; 1 Chronicles 7:6-8; 1 Samuel 10:21; 1 Chronicles 9:35.
[2] Judges 5:10; Judges 10:4; 1 Samuel 22:18.
[3] 2 Kings 4:42.
[7] Genesis 43:11; 1 Kings 10:10.
[10] 1 Samuel 7:17.
[16] 1 Samuel 7:13.
-- From Ellicott's Commentary for English Readers ]


[ CHRONOLOGY: GENERAL. Patriarchs (Traditional). Judges # 1. Judges # 2. Kings # 1. Kings # 2. Prophets # 1. Prophets # 2. NT # 1. NT # 2. NT # 3. ]

[ MAPS: Maps # 1. Maps # 2. Maps # 3. Maps # 4. Maps # 5. ]

[ COMMENTARIES, ETC: GENERAL: Bible Study Tools; Bible Hub: Study Light; Blue Letter Bible // PSALMS: Monergism: Precept Austin: The Treasury of David; John Gill; John Calvin - Volumes 1, 2, 3, 4, 5]

[ MUSIC: GENERAL: The Cyber Hymnal // PSALMS: Genevan Psalter (Instrumental). VARIOUS ARTISTS: Micha'el Ben David. Sons of Korah. Fernando Ortega. Janet Isaac Morrison. Music of the Bible Revealed - Suzanne Haik-Vantoura. Dr. David Erb. Gregorian Chants. ]


---
HARMONY OF THE LAW
HEBREW AND GREEK INTERLINEAR BIBLES
---
1 Samuel Detailed Outline
1 Samuel 9
Note: In the Hebrew Bible 1 Samuel and 2 Samuel are one book. Also, 1 Kings and 2 Kings are one book.
Samuel and Kings reveal Israel's history from Samuel to the beginning of the Babylonian Captivity.
1 and 2 Chronicles, originally one book, trace the history of God's people from creation to the end of the Babylonian Captivity.
1. Samuel's Reign as the Last of the Judges (1 Samuel 1:1 - 8:22) - 1100 - 1050 B.C. Israel
A. Samuel's Early Life (1 Samuel 1:1 - 3:21)
B. Samuel's Life From Youth to Old Age (1 Samuel 4:1 - 8:22)
1. Samuel & the Philistines (1 Samuel 4:1 - 7:14)
2. Samuel & the Israelites (1 Samuel 7:15 - 8:22)
2. Saul's Reign as the First God-Given King over All of Israel (1 Samuel 9:1 - 31:13) - 1050 - 1010 B.C. Israel
A. Saul and Samuel (1 Samuel 9:1 - 14:52)
1 Now there was a man of Benjamin, whose name was Kish, the son of Abiel, the son of Zeror, the son of Bechorath, the son of Aphiah, a Benjamite, a mighty man of power. 2 And he had a son, whose name was Saul, a choice young man, and a goodly: and there was not among the children of Israel a goodlier person than he: from his shoulders and upward he was higher than any of the people.
3 And the asses of Kish Saul's father were lost. And Kish said to Saul his son, Take now one of the servants with thee, and arise, go seek the asses. 4 And he passed through mount Ephraim, and passed through the land of Shalisha, but they found them not: then they passed through the land of Shalim, and there they were not: and he passed through the land of the Benjamites, but they found them not.
5 And when they were come to the land of Zuph, Saul said to his servant that was with him, Come, and let us return; lest my father leave caring for the asses, and take thought for us. 6 And he said unto him, Behold now, there is in this city a man of God, and he is an honourable man; all that he saith cometh surely to pass [coming it comes]: now let us go thither; peradventure he can shew us our way that we should go. 7 Then said Saul to his servant, But, behold, if we go, what shall we bring the man? for the bread is spent in our vessels, and there is not a present to bring to the man of God: what have we? 8 And the servant answered Saul again, and said, Behold, I have here at hand the fourth part of a shekel of silver: that will I give to the man of God, to tell us our way. 9 (Beforetime in Israel, when a man went to enquire of God, thus he spake, Come, and let us go to the seer: for he that is now called a Prophet was beforetime called a Seer.) 10 Then said Saul to his servant, Well said; come, let us go. So they went unto the city where the man of God was.
11 And as they went up the hill to the city, they found young maidens going out to draw water, and said unto them, Is the seer here? 12 And they answered them, and said, He is; behold, he is before you: make haste now, for he came to day to the city; for there is a sacrifice of the people to day in the high place: 13 As soon as ye be come into the city, ye shall straightway find him, before he go up to the high place to eat: for the people will not eat until he come, because he doth bless the sacrifice; and afterwards they eat that be bidden. Now therefore get you up; for about this time ye shall find him. 14 And they went up into the city: and when they were come into the city, behold, Samuel came out against them, for to go up to the high place.
15 Now the LORD had told Samuel in his ear a day before Saul came, saying, 16 To morrow about this time I will send thee a man out of the land of Benjamin, and thou shalt anoint him to be captain over my people Israel, that he may save my people out of the hand of the Philistines: for I have looked upon my people, because their cry is come unto me. 17 And when Samuel saw Saul, the LORD said unto him, Behold the man whom I spake to thee of! this same shall reign over my people. 18 Then Saul drew near to Samuel in the gate, and said, Tell me, I pray thee, where the seer's house is. 19 And Samuel answered Saul, and said, I am the seer: go up before me unto the high place; for ye shall eat with me to day, and to morrow I will let thee go, and will tell thee all that is in thine heart. 20 And as for thine asses that were lost three days ago, set not thy mind on them; for they are found. And on whom is all the desire of Israel? Is it not on thee, and on all thy father's house? 21 And Saul answered and said, Am not I a Benjamite, of the smallest of the tribes of Israel? and my family the least of all the families of the tribe of Benjamin? wherefore then speakest thou so to me?
22 And Samuel took Saul and his servant, and bought them into the parlour, and made them sit in the chiefest place among them that were bidden, which were about thirty persons. 23 And Samuel said unto the cook, Bring the portion which I gave thee, of which I said unto thee, Set it by thee. 24 And the cook took up the shoulder, and that which was upon it, and set it before Saul. And Samuel said, Behold that which is left! set it before thee, and eat: for unto this time hath it been kept for thee since I said, I have invited the people. So Saul did eat with Samuel that day.
25 And when they were come down from the high place into the city, Samuel communed with Saul upon the top of the house. 26 And they arose early: and it came to pass about the spring of the day, that Samuel called Saul to the top of the house, saying, Up, that I may send thee away. And Saul arose, and they went out both of them, he and Samuel, abroad.
---
ADDITIONAL AD LIB MATERIAL: Prose, Poetry, Writers, Visual Artists, Music, DAWN, and ILLUMINATION. ILLUMINATION features a compact, Illuminated Bible. DAWN, the page you are presently visiting, features a new image and explanation daily.

Please Email Comments and Questions To

AD LIB ARTS EMAIL copyright 2017, Scott Souza