---
DAWN
Daily Arts Web Nucleus
---
Discover the Arts!
Each day a different image from the Literary, Performing, or Visual Arts representing a portion of Scripture
plus an explanation with links
2017 October 23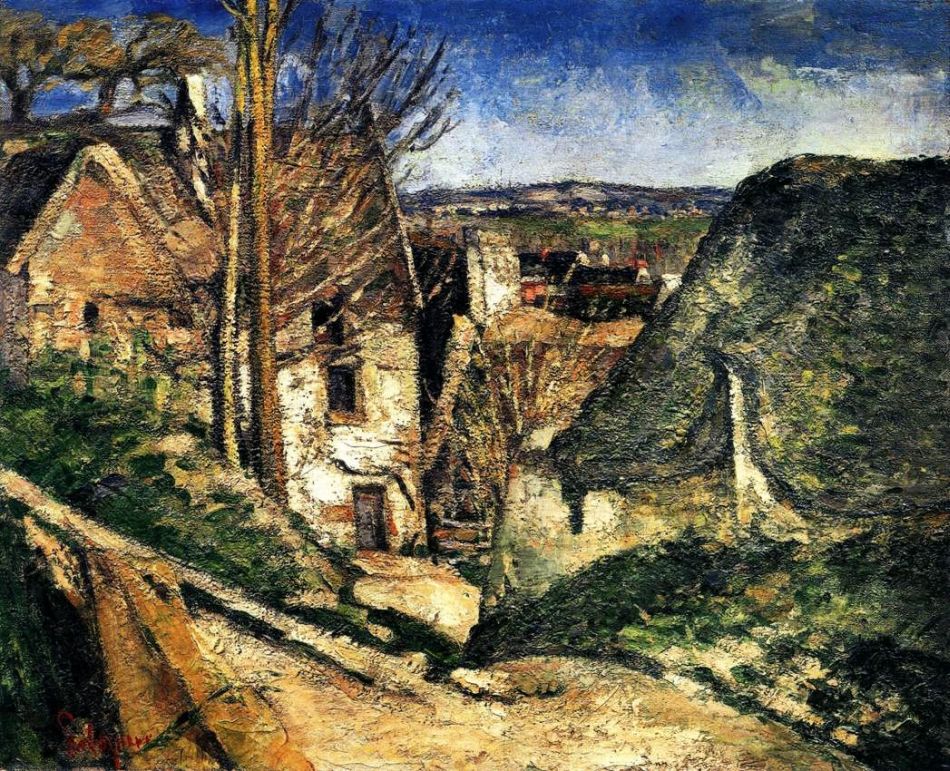 House of the Hanged Man, Auvers-sur_Oise (1873)
Paul Cezanne (1839-1906)
Post-Impressionism Style
Musee d'Orsay, Paris, France Image Source: Web Gallery of Art




SPECIAL NOTE:


[ I will again be working through the Scriptures from Genesis to Revelation. I will be adding links, resources, images, and the like, upgrading the former work-through which began with the 2013-10-12 posting which can be found, along with the full Genesis to Revelation postings, in the Archive Page. Postings will be at midnight Eastern Time, as I am able. However, no chapters will be skipped, even though a posting may be late. And all postings will be housed in the Archive Page. ]



Explanation: 2 Samuel 17 describes how Hushai defeated the counsel of Absalom and thereby rescued David from harm. Ahithophel wanted to take twelve thousand men and catch David and his troops while they were weary and weak. He planned to scatter David's troops, to kill only David, and to bring the others back as loyal subjects of Absalom. This idea pleased Absalom (1-4).
But he called Hushai to see if he agreed. Hushai persuaded Absalom that Ahithophel's plan was dangerous and advised him to gather massive troops from all over Israel so that David could neither hide nor escape. Absalom decided that Hushai's advice was better than Ahithophel's. This was from the LORD who had determined to bring evil upon Absalom (5-14).
Hushai delivered this news to the priests Zadok and Abiathar who conveyed it to their sons Jonathan and Ahimaaz for delivery to David. The young men were seen leaving the area; but a woman hid them in a well and their pursuers could not find them (15-20).
When the pursuers left, Jonathan and Ahimaaz, continued on their way and told David what Ahithophel had counseled against him. So David and his people crossed over to the east side of the Jordan River (21-22).
When Ahithophel saw that his advice was not followed he went and put his house in order and hanged himself, undoubtedly because he realized that Absalom's cause was lost (23).
Then David arrived in Mahanaim; and his nemesis, Absalom, encamped with his troops in Gilead, possibly to the south of Mahanaim (24-26).
Although Mahanaim had been the capital of Saul's house during the reign of Ishbosheth (2 Samuel 2:8), David was well received there, possibly because of his kind treatment of Saul's grandson, Mephibosheth, who had lived with Machir, a resident of Mahanaim (v. 27 with 2 Samuel 9:1-8). They brought beds, food, and drink to David and those who were with him (27-29).
[ Sermons: Richard Phillips. Derek Thomas. Various. ]
[ Illustration: The painting above is noted, among other things, for its sense of isolation and desolation. By his sin, Ahithophel brought these same afflictions upon himself and his family. His life ended when he hanged himself, making his house, literally, the house of the hanged man. ]






---



RESOURCES


PLEASE NOTE: Use the resources on this and other sites thoughtfully, particularly the commentaries and encyclopedias. I have attempted to list conservative, scholarly resources. However, some providers use liberal or liberal-influenced commentaries such as the Cambridge Bible for Schools and Colleges (in Bible Hub). Such commentaries are undoubtedly included by the provider for the wealth of useful information and comments which they provide. By consulting several commentaries, it should be fairly easy to sort out the wheat from the chaff. If, however, you would like personal assistance, write to me at AD LIB ARTS EMAIL.


[ THEMATICALLY AND CHRONOLOGICALLY RELATED SCRIPTURES: 2 Samuel 17:
[Chapter 17 Thematically Related Psalms] Psalm 4; Psalm 42; Psalm 43; Psalm 55; Psalm 71; Psalm 28; Psalm 143; Psalm 40; Psalm 70; Psalm 27; Psalm 69; Psalm 120; Psalm 121.
[1] 2 Samuel 17:16; 2 Samuel 15:28.
[7] 2 Samuel 16:21.
[17] Joshua 15:7; Joshua 18:16.
[20] Joshua 2:4-7; 1 Samuel 19:12-17.
[24] 2 Samuel 2:8.
[25] 1 Chronicles 2:16-17.
[27] 2 Samuel 10:1; 2 Samuel 12:29-31.
-- From Ellicott's Commentary for English Readers ]


[ CHRONOLOGY: GENERAL. Patriarchs (Traditional). Judges # 1. Judges # 2. Kings # 1. Kings # 2. Prophets # 1. Prophets # 2. NT # 1. NT # 2. NT # 3. ]

[ MAPS: Maps # 1. Maps # 2. Maps # 3. Maps # 4. Maps # 5. ]

[ COMMENTARIES, ETC: GENERAL: Bible Study Tools; Bible Hub: Study Light; Blue Letter Bible // PSALMS: Monergism: Precept Austin: The Treasury of David; John Gill; John Calvin - Volumes 1, 2, 3, 4, 5]

[ MUSIC: GENERAL: The Cyber Hymnal // PSALMS: Genevan Psalter (Instrumental). VARIOUS ARTISTS: Micha'el Ben David. Sons of Korah. Fernando Ortega. Janet Isaac Morrison. Music of the Bible Revealed - Suzanne Haik-Vantoura. Dr. David Erb. Gregorian Chants. ]


---
HARMONY OF THE LAW
HEBREW AND GREEK INTERLINEAR BIBLES
---
2 Samuel Detailed Outline
2 Samuel 17
Note: In the Hebrew Bible 1 Samuel and 2 Samuel are one book. Also, 1 Kings and 2 Kings are one book.
Samuel and Kings reveal Israel's history from Samuel to the beginning of the Babylonian Captivity.
1 and 2 Chronicles, originally one book, trace the history of God's people from creation to the end of the Babylonian Captivity.
David's Reign as God's Chosen Dynastic King (2 Samuel 1:1 - 24:25) - 1010 - 971 B.C. Israel
A. Phase 1: As King Over Judah (2 Samuel 1:1 - 4:12) - 1010 - 1003? B.C. Judah
B. Phase 2: As King Over Israel (2 Samuel 5:1 - 24:25) - 1003? - 971 B.C. Israel (United Kingdom)
1. Initial Consolidation of His Rule (2 Samuel 5:1 - 7:29)
2. Full Consolidation of His Rule (2 Samuel 8:1 - 24:25)
1 Moreover Ahithophel said unto Absalom, Let me now choose out twelve thousand men, and I will arise and pursue after David this night: 2 And I will come upon him while he is weary and weak handed, and will make him afraid: and all the people that are with him shall flee; and I will smite the king only: 3 And I will bring back all the people unto thee: the man whom thou seekest is as if all returned: so all the people shall be in peace. 4 And the saying pleased Absalom well, and all the elders of Israel.
5 Then said Absalom, Call now Hushai the Archite also, and let us hear likewise what he saith. 6 And when Hushai was come to Absalom, Absalom spake unto him, saying, Ahithophel hath spoken after this manner: shall we do after his saying? if not; speak thou. 7 And Hushai said unto Absalom, The counsel that Ahithophel hath given is not good at this time. 8 For, said Hushai, thou knowest thy father and his men, that they be mighty men, and they be chafed in their minds, as a bear robbed of her whelps in the field: and thy father is a man of war, and will not lodge with the people. 9 Behold, he is hid now in some pit, or in some other place: and it will come to pass, when some of them be overthrown at the first, that whosoever heareth [hearing the one hearing] it will say, There is a slaughter among the people that follow Absalom. 10 And he also that is valiant, whose heart is as the heart of a lion, shall utterly melt [melting he shall melt]: for all Israel knoweth that thy father is a mighty man, and they which be with him are valiant men. 11 Therefore I counsel that all Israel be generally gathered [gathering shall be gathered] unto thee, from Dan even to Beersheba, as the sand that is by the sea for multitude; and that thou go to battle in thine own person. 12 So shall we come upon him in some place where he shall be found, and we will light upon him as the dew falleth on the ground: and of him and of all the men that are with him there shall not be left so much as one. 13 Moreover, if he be gotten into a city, then shall all Israel bring ropes to that city, and we will draw it into the river, until there be not one small stone found there. 14 And Absalom and all the men of Israel said, The counsel of Hushai the Archite is better than the counsel of Ahithophel. For the LORD had appointed to defeat the good counsel of Ahithophel, to the intent that the LORD might bring evil upon Absalom.
15 Then said Hushai unto Zadok and to Abiathar the priests, Thus and thus did Ahithophel counsel Absalom and the elders of Israel; and thus and thus have I counselled. 16 Now therefore send quickly, and tell David, saying, Lodge not this night in the plains of the wilderness, but speedily pass over; lest the king be swallowed up, and all the people that are with him. 17 Now Jonathan and Ahimaaz stayed by Enrogel; for they might not be seen to come into the city: and a wench went and told them; and they went and told king David. 18 Nevertheless a lad saw them, and told Absalom: but they went both of them away quickly, and came to a man's house in Bahurim, which had a well in his court; whither they went down. 19 And the woman took and spread a coverering over the well's mouth, and spread ground corn thereon; and the thing was not known. 20 And when Absalom's servants came to the woman to the house, they said, Where is Ahimaaz and Jonathan? And the woman said unto them, They be gone over the brook of water. And when they had sought and could not find them, they returned to Jerusalem.
21 And it came to pass, after they were departed, that they came up out of the well, and went and told king David, and said unto David, Arise, and pass quickly over the water: for thus hath Ahithophel counselled against you. 22 Then David arose, and all the people that were with him, and they passed over Jordan: by the morning light there lacked not one of them that was not gone over Jordan.
23 And when Ahithophel saw that his counsel was not followed, he saddled his ass, and arose, and gat him home to his house, to his city, and put his household in order, and hanged himself, and died, and was buried in the sepulchre of his father.
24 Then David came to Mahanaim. And Absalom passed over Jordan, he and all the men of Israel with him. 25 And Absalom made Amasa captain of the host instead of Joab: which Amasa was a man's son, whose name was Ithra an Israelite, that went in to Abigail the daughter of Nahash, sister to Zeruiah Joab's mother. 26 So Israel and Absalom pitched in the land of Gilead.
27 And it came to pass, when David was come to Mahanaim, that Shobi the son of Nahash of Rabbah of the children of Ammon, and Machir the son of Ammiel of Lodebar, and Barzillai the Gileadite of Rogelim, 28 Brought beds, and basons, and earthen vessels, and wheat, and barley, and flour, and parched corn, and beans, and lentiles, and parched pulse, 29 And honey, and butter, and sheep, and cheese of kine, for David, and for the people that were with him, to eat: for they said, The people is hungry, and weary, and thirsty, in the wilderness.




---
ADDITIONAL AD LIB MATERIAL: Prose, Poetry, Writers, Visual Artists, Music, DAWN, and ILLUMINATION. ILLUMINATION features a compact, Illuminated Bible. DAWN, the page you are presently visiting, features a new image and explanation daily.

Please Email Comments and Questions To

AD LIB ARTS EMAIL copyright 2017, Scott Souza