---
DAWN
Daily Arts Web Nucleus
---
Discover the Arts!
Each day a different image from the Literary, Performing, or Visual Arts representing a portion of Scripture
plus an explanation with links
2017 November 4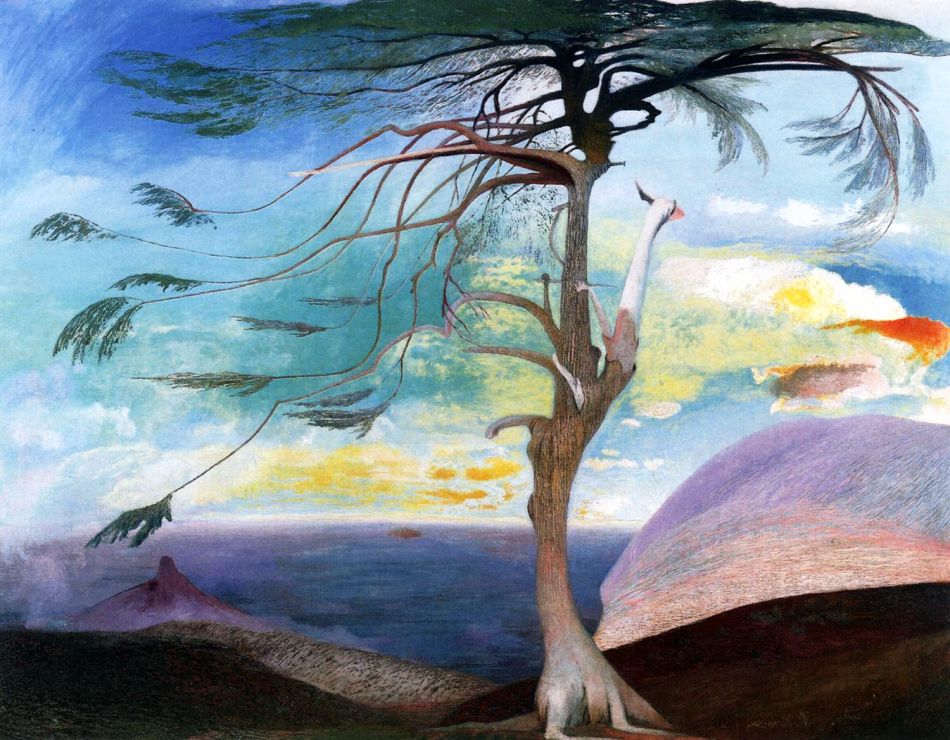 The Solitary Cedar (1907)
Tivadar Csontvary Kosztka (1853-1919)
Self Taught Style with Post-Impressionism and Expressionism Affinities; avant-garde movement
Janus Pannonius Muzeum, Pecs, Hungary Image Source: Web Gallery of Art




SPECIAL NOTE:


[ I will again be working through the Scriptures from Genesis to Revelation. I will be adding links, resources, images, and the like, upgrading the former work-through which began with the 2013-10-12 posting which can be found, along with the full Genesis to Revelation postings, in the Archive Page. Postings will be at midnight Eastern Time, as I am able. However, no chapters will be skipped, even though a posting may be late. And all postings will be housed in the Archive Page. ]



Explanation: 1 Kings 5 records the formal beginning of Solomon's Temple. After Solomon became king, Hiram king of Tyre, sent his servants to Solomon. Solomon sent them back with a commission to provide materials to build the Temple (1-6).
Hiram readily agreed and began to deliver the things requested. In return Solomon gave Hiram a yearly allotment of food for his household; and they made a league together (7-12).
Solomon conscripted thousands of workers from all over Israel and sent them to work in Lebanon. Their schedule was one month of work followed by two months at home. Solomon received great stones and timber from Hiram for the building of the Temple (13-18).
[ Sermons: William Still. Sinclair B Ferguson. Various. ]
[ Illustration: Today's painting depicts a cedar. Cedars were key components in Solomon's extensive building campaigns. ]






---



RESOURCES


PLEASE NOTE: Use the resources on this and other sites thoughtfully, particularly the commentaries and encyclopedias. I have attempted to list conservative, scholarly resources. However, some providers use liberal or liberal-influenced commentaries such as the Cambridge Bible for Schools and Colleges (in Bible Hub). Such commentaries are undoubtedly included by the provider for the wealth of useful information and comments which they provide. By consulting several commentaries, it should be fairly easy to sort out the wheat from the chaff. If, however, you would like personal assistance, write to me at AD LIB ARTS EMAIL.


[ THEMATICALLY AND CHRONOLOGICALLY RELATED SCRIPTURES: 1 Kings 5:
[1] 1 Chronicles 14:1; 2 Chronicles 2:14-15.
[3] 1 Chronicles 22:4.
[6] Song of Solomon 4:11; Hosea 14:6-7; Jeremiah 18:14; Psalm 104:16; 1 Kings 5:8; 2 Chronicles 2:8.
[7] 2 Chronicles 2:12-16.
[9] 2 Chronicles 2:16; Acts 12:20.
[11] 1 Kings 4:22; 2 Chronicles 2:10.
[13] 1 Kings 9:22; 2 Chronicles 2:17.
[16] 1 Kings 9:23; 2 Chronicles 2:18; Exodus 5:14-15.
[17] 1 Kings 6:7.
[18] Ezekiel 27:9; Psalm 83:7.
-- From Ellicott's Commentary for English Readers ]


[ CHRONOLOGY: GENERAL. Patriarchs (Traditional). Judges # 1. Judges # 2. Kings # 1. Kings # 2. Prophets # 1. Prophets # 2. NT # 1. NT # 2. NT # 3. ]

[ MAPS: Maps # 1. Maps # 2. Maps # 3. Maps # 4. Maps # 5. ]

[ COMMENTARIES, ETC: GENERAL: Bible Study Tools; Bible Hub: Study Light; Blue Letter Bible // PSALMS: Monergism: Precept Austin: The Treasury of David; John Gill; John Calvin - Volumes 1, 2, 3, 4, 5]

[ MUSIC: GENERAL: The Cyber Hymnal // PSALMS: Genevan Psalter (Instrumental). VARIOUS ARTISTS: Micha'el Ben David. Sons of Korah. Fernando Ortega. Janet Isaac Morrison. Music of the Bible Revealed - Suzanne Haik-Vantoura. Dr. David Erb. Gregorian Chants. ]


---
HARMONY OF THE LAW
HEBREW AND GREEK INTERLINEAR BIBLES
---
1 Kings Detailed Outline
1 Kings 5
Notes: In the Hebrew Bible 1 Kings and 2 Kings were one Book. Overlapping dates for various kings indicate overlapping reigns (co-regencies).
1. The Reign of Solomon (1 Kings 1:1 - 1 Kings 11:43) - 971 - 931 B.C. Israel
A. His Rise by Wisdom (1 Kings 1:1 - 10:29)
1. The Initial Consolidation of His Kingdom (1 Kings 1:1 - 2:46)
2. The Development of His Kingdom (1 Kings 3:1 - 11:43)
1 And Hiram king of Tyre sent his servants unto Solomon; for he had heard that they had anointed him king in the room of his father: for Hiram was ever [all of the days] a lover of David. 2 And Solomon sent to Hiram, saying, 3 Thou knowest how that David my father could not build an house unto the name of the LORD his God for the wars which were about him on every side, until the LORD put them under the soles of his feet. 4 But now the LORD my God hath given me rest on every side, so that there is neither adversary nor evil occurrent. 5 And, behold, I purpose to build an house unto the name of the LORD my God, as the LORD spake unto David my father, saying, Thy son, whom I will set upon thy throne in thy room, he shall build an house unto my name. 6 Now therefore command thou that they hew me cedar trees out of Lebanon; and my servants shall be with thy servants: and unto thee will I give hire for thy servants according to all that thou shalt appoint: for thou knowest that there is not among us any that can skill to hew timber like unto the Sidonians.
7 And it came to pass, when Hiram heard the words of Solomon, that he rejoiced greatly, and said, Blessed be the LORD this day, which hath given unto David a wise son over this great people. 8 And Hiram sent to Solomon, saying, I have considered the things which thou sentest to me for: and I will do all thy desire concerning timber of cedar, and concerning timber of fir. 9 My servants shall bring them down from Lebanon unto the sea: and I will convey them by sea in floats unto the place that thou shalt appoint me [you shall send unto me], and will cause them to be discharged there, and thou shalt receive them: and thou shalt accomplish my desire, in giving food for my household. 10 So Hiram gave Solomon cedar trees and fir trees according to all his desire. 11 And Solomon gave Hiram twenty thousand measures of wheat for food to his household, and twenty measures of pure oil: thus gave Solomon to Hiram year by year. 12 And the LORD gave Solomon wisdom, as he promised him: and there was peace between Hiram and Solomon; and they two made a league together [cut a covenant].
13 And king Solomon raised a levy out of all Israel; and the levy was thirty thousand men. 14 And he sent them to Lebanon, ten thousand a month by courses: a month they were in Lebanon, and two months at home: and Adoniram was over the levy. 15 And Solomon had threescore and ten thousand that bare burdens, and fourscore thousand hewers in the mountains; 16 Beside the chief of Solomon's officers which were over the work, three thousand and three hundred, which ruled over the people that wrought in the work. 17 And the king commanded, and they bought great stones, costly stones, and hewed stones, to lay the foundation of the house. 18 And Solomon's builders and Hiram's builders did hew them, and the stonesquarers: so they prepared timber and stones to build the house.




---
ADDITIONAL AD LIB MATERIAL: Prose, Poetry, Writers, Visual Artists, Music, DAWN, and ILLUMINATION. ILLUMINATION features a compact, Illuminated Bible. DAWN, the page you are presently visiting, features a new image and explanation daily.

Please Email Comments and Questions To

AD LIB ARTS EMAIL copyright 2017, Scott Souza