---
DAWN
Daily Arts Web Nucleus
---
Discover the Arts!
Each day a different image from the Literary, Performing, or Visual Arts representing a portion of Scripture
plus an explanation with links
2018 January 7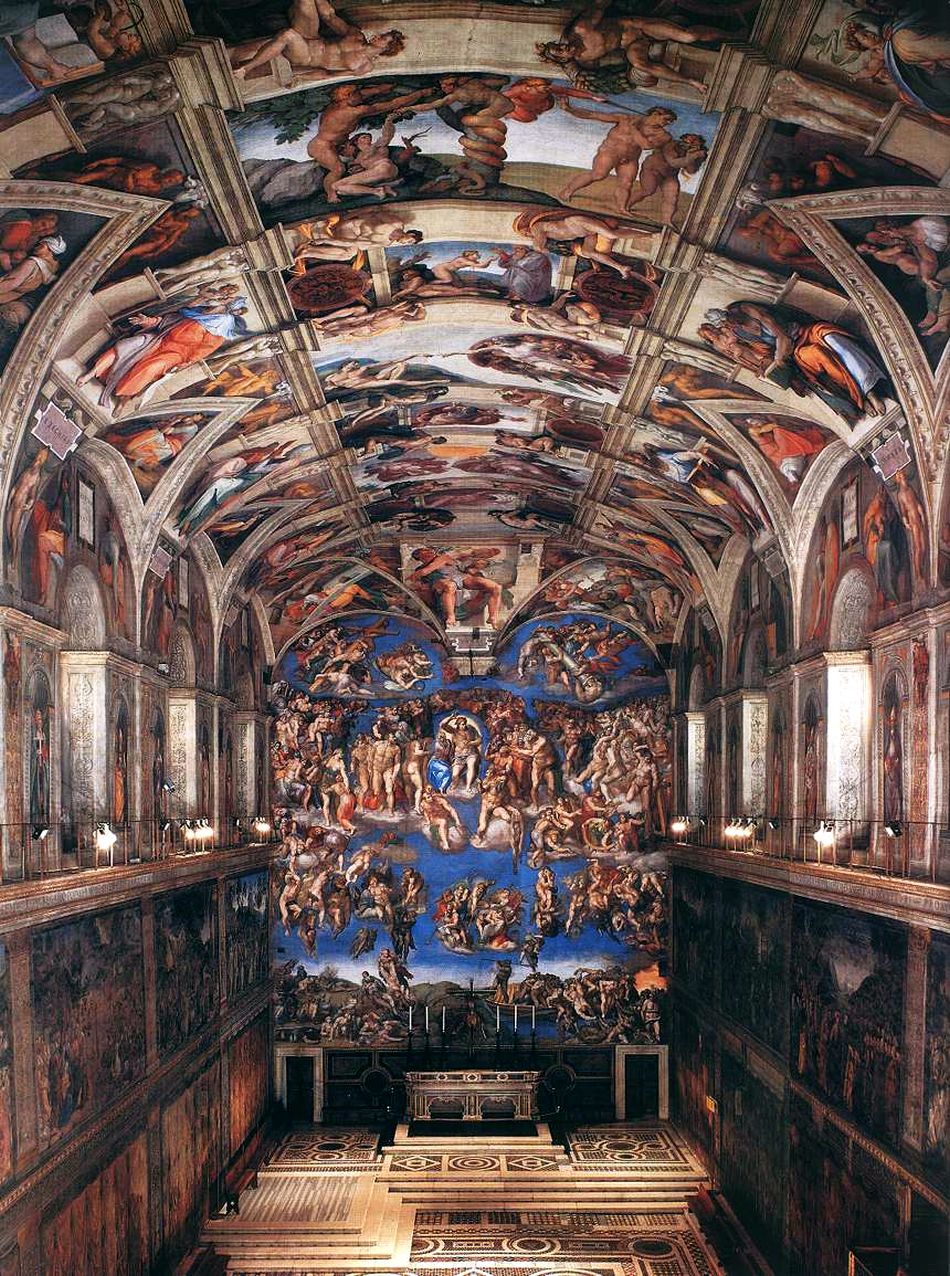 Interior of the Sistine Chapel (1475-1483, 1508-1512, 1535-1541)
Michelangelo Buonarroti (1475-1564)
High Renaissance Style
Sistine Chapel, The Vatican, Vatican City, Rome, Italy Image Source: Web Gallery of Art

[ Illustration: Today's illustration shows the Sistine Chapel which was patterned after the exact dimensions of Solomon's Temple. In today's chapter, David began preparations for this Temple. ]





SPECIAL NOTE:


[ I will again be working through the Scriptures from Genesis to Revelation. I will be adding links, resources, images, and the like, upgrading the former work-through which began with the 2013-10-12 posting which can be found, along with the full Genesis to Revelation postings, in the Archive Page. Postings will be at midnight Eastern Time, as I am able. However, no chapters will be skipped, even though a posting may be late. And all postings will be housed in the Archive Page. ]



Explanation: In 1 Chronicles 22 David makes preparations for building the Temple, a task which the LORD assigned to his son Solomon. Traditional Patriarchal Timeline. Judges. Judges Period Chronology. Kings of Judah and Israel #1. Kings of Judah and Israel #2].
David chose the Temple site by designating the threshingfloor of Ornan the Jebusite to be the House of God and by appointing the altar he built to be the altar of burnt offering (1).
He then began to make preparations for the Temple to be built. He did this while Solomon, whom the LORD had appointed to build the Temple, was still young (2-5).
David then gave Solomon a charge to build the Temple. He reminded Solomon that the LORD had commissioned Solomon to do the building because David had shed much blood in His sight, and because Solomon would enjoy a peaceful reign and would inherit an everlasting throne (6-10).
So David blessed Solomon and informed him about the abundance of materials and the workmen which he had gathered for Solomon to use in building the Temple (11-16).
Also, David commanded the rulers of Israel to help Solomon. And David reminded Solomon that he (David) had subdued the surrounding people; and he commanded Solomon to seek the LORD and to furnish the Temple when it was built (17-19).

[ Sermons: Ian Hamilton. Various. ]







---



RESOURCES


PLEASE NOTE: Use the resources on this and other sites thoughtfully, particularly the commentaries and encyclopedias. I have attempted to list conservative, scholarly resources. However, some providers use liberal or liberal-influenced commentaries such as the Cambridge Bible for Schools and Colleges (in Bible Hub). Such commentaries are undoubtedly included by the provider for the wealth of useful information and comments which they provide. By consulting several commentaries, it should be fairly easy to sort out the wheat from the chaff. If, however, you would like personal assistance, write to me at AD LIB ARTS EMAIL.


[ THEMATICALLY AND CHRONOLOGICALLY RELATED SCRIPTURES: 1 Chronicles 22: 2 Samuel 24; 1 Kings 1].
[1] Genesis 28:17.
[2] 1 Chronicles 15:3-4; 1 Chronicles 19:7; Genesis 15:13; 2 Chronicles 8:7-8; 1 Kings 9:20-21; 2 Chronicles 2:17-18; 1 Chronicles 15:16-17; 1 Kings 5:13-18; Isaiah 9:9.
[3] 1 Kings 6:34-35; 2 Chronicles 34:11.
[4] 1 Chronicles 14:1; 1 Kings 5:8-11.
[5] 1 Chronicles 29:1; 2 Chronicles 13:7; Exodus 2:6; Isaiah 7:16; Isaiah 8:4; Isaiah 3:5; 1 Samuel 17:55; 1 Samuel 30:17; Exodus 33:11; 1 Kings 3:7; 2 Samuel 12:24; Deuteronomy 20:8; 1 Chronicles 5:1; 1 Chronicles 13:4; 1 Chronicles 9:25; 1 Chronicles 15:2; 1 Chronicles 14:2; Isaiah 2:3; Isaiah 60:3; Isaiah 62:2-3; Exodus 2:14; Genesis 17:17.
[6] 1 Kings 2:1-9; 1 Chronicles 28; 1 Kings 8:17; 1 Kings 10:2; Joshua 14:7; 1 Chronicles 28:2; 1 Kings 8:29; 1 Chronicles 17:1-14.
[8] 1 Chronicles 17:4-14; 1 Kings 5:3; Genesis 9:5-6; Amos 1:3; Amos 1:13; Amos 2:1; 1 Chronicles 20:3; Hosea 1:4; Hosea 7:7.
[9] 2 Samuel 17:8; 1 Chronicles 28:3; 2 Samuel 7:1; 1 Kings 5:4; 2 Samuel 7:1; 1 Kings 5:4; Proverbs 16:7; 2 Samuel 12:24-25; 1 Chronicles 20:5; Judges 5:31.
[10] 1 Chronicles 17.
[11] 1 Chronicles 9:20; 1 Samuel 3:19; 2 Kings 18:7; 2 Chronicles 7:11; Genesis 24:40; Genesis 18:19; Isaiah 37:22.
[12] 1 Kings 3:9-15; 2 Samuel 7:11.
[13] Deuteronomy 7:11; Deuteronomy 11:32; 1 Chronicles 1:7; Deuteronomy 1:21; Deuteronomy 31:8; Joshua 1:9.
[14] 1 Chronicles 29:2; Genesis 31:42; Daniel 7:10; Genesis 24:60;Micah 6:7; 2 Chronicles 2:3; 2 Chronicles 2:7-8; Exodus 31:3.
[16] Ezra 10:4.
[17] 1 Chronicles 16:7; 1 Chronicles 23:4-5; 1 Chronicles 28:19.
[18] Joshua 2:24; Numbers 32:22; Numbers 32:29; Joshua 18:1.
[19] 2 Chronicles 17:4; Ezra 4:2; 1 Chronicles 16:12; 1 Chronicles 21:301 Chronicles 21:24; 1 Chronicles 15:1.
-- From Ellicott's Commentary for English Readers ]


[ CHRONOLOGY: GENERAL. Patriarchs (Traditional). Judges # 1. Judges # 2. Kings # 1. Kings # 2. Prophets # 1. Prophets # 2. NT # 1. NT # 2. NT # 3. ]

[ MAPS: Maps # 1. Maps # 2. Maps # 3. Maps # 4. Maps # 5. ]

[ COMMENTARIES, ETC: GENERAL: Bible Study Tools; Bible Hub: Study Light; Blue Letter Bible // PSALMS: Monergism: Precept Austin: The Treasury of David; John Gill; John Calvin - Volumes 1, 2, 3, 4, 5]

[ MUSIC: GENERAL: The Cyber Hymnal // PSALMS: Genevan Psalter (Instrumental). VARIOUS ARTISTS: Micha'el Ben David. Sons of Korah. Fernando Ortega. Janet Isaac Morrison. Music of the Bible Revealed - Suzanne Haik-Vantoura. Dr. David Erb. Gregorian Chants. ]


---
HARMONY OF THE LAW
HEBREW AND GREEK INTERLINEAR BIBLES
---
1 Chronicles Detailed Outline
1 Chronicles 22
Notes: In the Hebrew Bible 1 & 2 Chronicles are one Book. The author may have been Ezra.
2. The Kings: The Kings from the Tribes of Benjamin and Judah (1 Chronicles 10:1 - 2 Chronicles 36:14)
A. From the Tribe of Benjamin: Saul of the United Kingdom (1 Chronicles 10:1-14) - 1050 - 1010 B.C., Israel
[Note: Saul's son, Ishbosheth briefly reigned over 12 tribes, then 11 (1010-1003?) but he is not mentioned in Chronicles.]
B. From the Tribe of Judah (1 Chronicles 11:1 - 2 Chronicles 36:14)
1. David, First King of Judah and then all of Israel (1 Chronicles 11:1 - 29:30) - 1010 - 1003?; Judah; 1003? - 971, Israel
b. The Major Internal Project: Preparation for the Temple (1 Chronicles 21:1 - 29:30)
1 Then David said, This is the house of the LORD God, and this is the altar of the burnt offering for Israel.
2 And David commanded gather together the strangers that were in the land of Israel; and he set masons to hew wrought stones to build the house of God. 3 And David prepared iron in abundance for the nails for the doors of the gates, and for the joinings; and brass in abundance without weight; 4 Also cedar trees in abundance [without number]: for the Zidonians and they of Tyre bought much cedar wood to David. 5 And David said, Solomon my son is young and tender, and the house that is to be builded for the LORD must be exceeding magnifical, of fame and of glory throughout all countries: I will therefore now make preparation for it. So David prepared abundantly before his death.
6 Then he called for Solomon his son, and charged him to build an house for the LORD God of Israel. 7 And David said to Solomon, My son, as for me, it was in my mind to build an house unto the name of the LORD my God: 8 But the word of the LORD came to me, saying, Thou hast shed blood abundantly, and hast made great wars: thou shalt not build an house unto my name, because thou hast shed much blood upon the earth in my sight. 9 Behold, a son shall be born to thee, who shall be a man of rest; and I will give him rest from all his enemies round about: for his name shall be Solomon, and I will give peace and quietness unto Israel in his days. 10 He shall build an house for my name; and he shall be my son, and I will be his father; and I will establish the throne of his kingdom over Israel for ever [unto perpetuity].
11 Now, my son, the LORD be with thee; and prosper, and build the house of the LORD thy God, as he hath said of thee. 12 Only the LORD give thee wisdom and understanding, and give thee charge concerning Israel, that thou mayest keep the law of the LORD thy God. 13 Then shalt thou prosper, if thou takest heed to fulfil the statutes and judgments which the LORD charged Moses with concerning Israel: be strong, and of good courage; dread not, nor be dismayed. 14 Now, behold, in my trouble I have prepared for the house of the LORD an hundred thousand talents of gold, and a thousand thousand talents of silver; and of brass and iron without weight; for it is in abundance: timber also and stone have I prepared; and thou mayest add thereto. 15 Moreover there are workmen [doers of work] with thee in abundance, hewers and workers of stone and timber, and all manner of cunning men for every manner of work. 16 Of the gold, the silver, and the brass, and the iron, there is no number. Arise therefore, and be doing, and the LORD be with thee.
17 David also commanded all the princes of Israel to help Solomon his son, saying, 18 Is not the LORD your God with you? and hath he not given you rest on every side? for he hath given the inhabitants of the land into mine hand; and the land is subdued before the LORD, and before his people. 19 Now set your heart and your soul to seek the LORD your God; arise therefore, and build ye the sanctuary of the LORD God, to bring the ark of the covenant of the LORD, and the holy vessels of God, into the house that is to be built to the name of the LORD.



---
ADDITIONAL AD LIB MATERIAL: Prose, Poetry, Writers, Visual Artists, Music, DAWN, and ILLUMINATION. ILLUMINATION features a compact, Illuminated Bible. DAWN, the page you are presently visiting, features a new image and explanation daily.

Please Email Comments and Questions To

AD LIB ARTS EMAIL copyright 2018, Scott Souza