---
DAWN
Daily Arts Web Nucleus
---
Discover the Arts!
Each day a different image from the Literary, Performing, or Visual Arts representing a portion of Scripture
plus an explanation with links
2018 May 31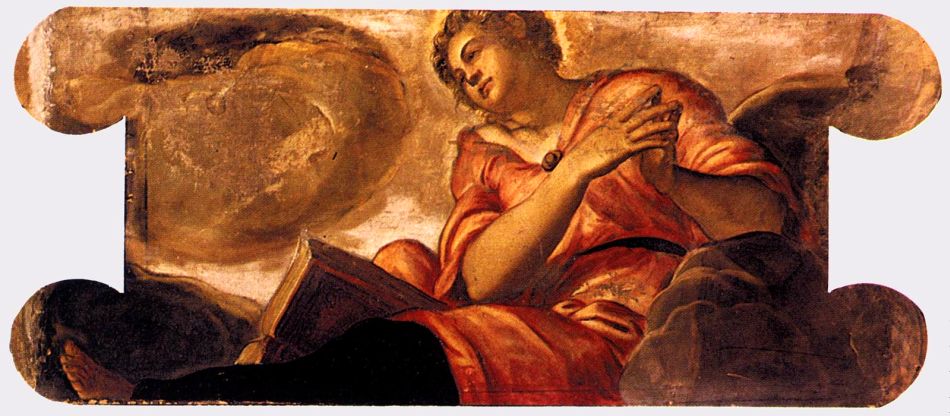 Allegory of Goodness (c. 1564)
Tintoretto (1518-1594)
Renaissance Style
Venetian School, with Mannerist Elements
Scuola Grande di San Rocco, Venice, Italy
Image Source: Web Gallery of Art

[ Illustration: Today's painting is a personification of goodness making a trusting gesture. These two qualities (goodness and trust) are characteristics of David in the Psalm below. ]





SPECIAL NOTE:


[ I will again be working through the Scriptures from Genesis to Revelation. I will be adding links, resources, images, and the like, upgrading the former work-through which began with the 2013-10-12 posting which can be found, along with the full Genesis to Revelation postings, in the Archive Page. Postings will be at midnight Eastern Time, as I am able. However, no chapters will be skipped, even though a posting may be late. And all postings will be housed in the Archive Page. ]




Explanation: In Psalm 26, David expresses his desire to be approved by the Lord and to be delivered from the power of the wicked. The Psalm is chiastic (a structure in which elements in the first part repeat in reverse order in the second part).
INTEGRITY. David begins with a request to the LORD that he be judged in accord with his integrity and his trust in the LORD. He expresses confidence that he will not slide, meaning that he will be able to stand before the LORD. He asks the LORD to examine him, to test him, to search his kidneys and his heart -- in other words, to examine him thoroughly within. He states that he has always kept the LORD's lovingkindness in view, and has walked in the LORD's truth, i.e., the word of God (1-3).
INNOCENCE. Moreover he has not sat with vain persons, nor with dissemblers (i.e., with desolators nor deceivers). Instead, he has hated the assembly of evil doers; and he will not sit with the wicked. He washes his hands in innocence and worships and sacrifice at the altar of the LORD (4-7).
INNOCENCE. He has loved the house of the LORD (the Tabernacle) where God's honor dwells. Therefore, David asks the LORD not to give him his lot with sinners and with bloody men who are filled with mischief and bribes (8-10).
INTEGRITY. David promises to walk in integrity, so he asks the LORD to redeem him and be merciful to him. And, as he said at the beginning of the Psalm, his foot will stand in an even place. And in the congregation of God's people he will bless the LORD (11-12).
NOTE. The structure presented above is based on The Literary Structure of the Old Testament, David A. Dorsey, 1999, p. 177.

[ Sermons: Joe Morecraft III. Stuart Olyott. Various. ]



---
Bile Chronologies -- Genesis to Revelation
---



RESOURCES


PLEASE NOTE: Use the resources on this and other sites thoughtfully, particularly the commentaries and encyclopedias. I have attempted to list conservative, scholarly resources. However, some providers use liberal or liberal-influenced commentaries such as the Cambridge Bible for Schools and Colleges (in Bible Hub). Such commentaries are undoubtedly included by the provider for the wealth of useful information and comments which they provide. By consulting several commentaries, it should be fairly easy to sort out the wheat from the chaff. If, however, you would like personal assistance, write to me at AD LIB ARTS EMAIL.


[ THEMATICALLY AND CHRONOLOGICALLY RELATED SCRIPTURES: Psalm 26: 2 Samuel 15. Psalm 1. Psalm 25. ]
[6] Deuteronomy 21:6; Matthew 27:24; Job 9:30; Ezekiel 36:25; Exodus 30:17-21.
-- From Ellicott's Commentary for English Readers ]


[ CHRONOLOGY: GENERAL. Patriarchs (Traditional). Judges # 1. Judges # 2. Kings # 1. Kings # 2. Prophets # 1. Prophets # 2. NT # 1. NT # 2. NT # 3. ]

[ MAPS: Maps # 1. Maps # 2. Maps # 3. Maps # 4. Maps # 5. ]

[ COMMENTARIES, ETC: GENERAL: Bible Study Tools; Bible Hub: Study Light; Blue Letter Bible // PSALMS: Monergism: Precept Austin: The Treasury of David; John Gill; John Calvin - Volumes 1, 2, 3, 4, 5]

[ MUSIC: GENERAL: The Cyber Hymnal // PSALMS: Psalm 26 - #1. Psalm 26 - #2. Psalm 26 - #3. Genevan Psalter (Instrumental). VARIOUS ARTISTS: Micha'el Ben David. Sons of Korah. Fernando Ortega. Janet Isaac Morrison. Music of the Bible Revealed - Suzanne Haik-Vantoura. Dr. David Erb. Gregorian Chants. ]


---
HARMONY OF THE LAW
HEBREW AND GREEK INTERLINEAR BIBLES
---
Psalm Detailed Outline
THE PSALTER:
(SONGS FOR COVENANT WORSHIP)
Deliverance from Sinners and from Sin
Nearly all the Psalms (except Psalm 90) were written during the 612 year period
from the time of David around 1016 B. C. to the close of the Canon in about 404 B. C.
Psalm 90, according to its superscription, was written by Moses; this may have been around 1406 B. C.
BOOK ONE OF FIVE:
PSALMS 1-41.
1016 - 539 B.C. Israel
God is Against the Wicked
Psalm 26
Vindicate me, O LORD.
---
ADDITIONAL AD LIB MATERIAL: Prose, Poetry, Writers, Visual Artists, Music, DAWN, and ILLUMINATION. ILLUMINATION features a compact, Illuminated Bible. DAWN, the page you are presently visiting, features a new image and explanation daily.

Please Email Comments and Questions To

AD LIB ARTS EMAIL
copyright 2018, Scott Souza