---
DAWN
Daily Arts Web Nucleus
---
Discover the Arts!
Each day a different image from the Literary, Performing, or Visual Arts representing a portion of Scripture
plus an explanation with links
2018 July 7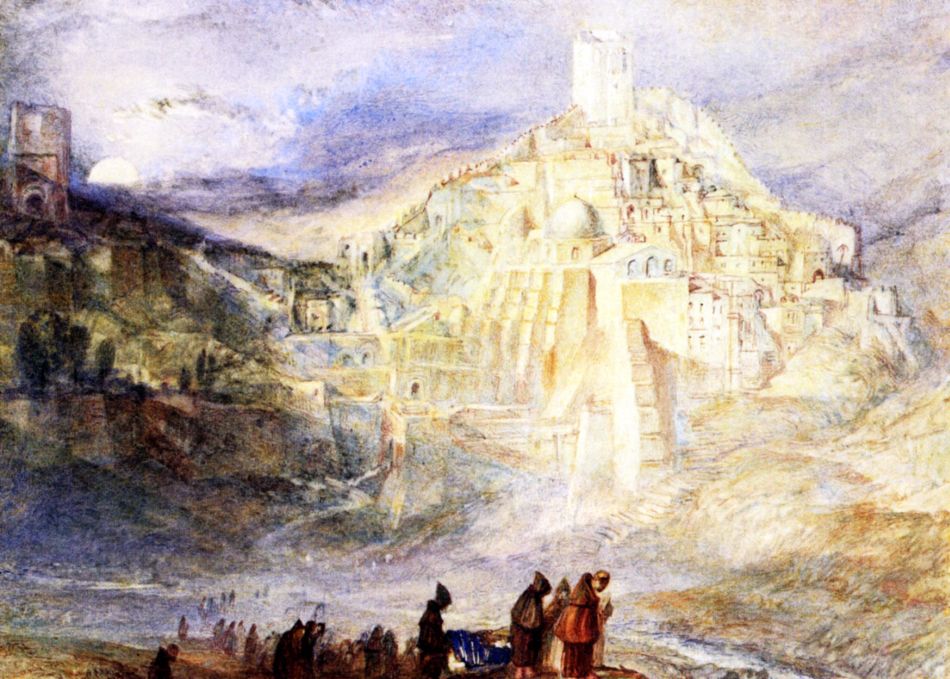 Wilderness of Engedi and Convent of Santa Saba (c. 1835-1836)
Joseph Mallord William "J. M. W." Turner (1775-1851)
Romanticism Style
Private Collection
Image Source: Wikiart

[ Illustration: The illustration above depicts the Wilderness of Engedi, to which David often resorted while he was persecuted by Saul, and to which he may have resorted, or aspired to resort, during the rebellion of Absalom. ]





SPECIAL NOTE:


[ I will again be working through the Scriptures from Genesis to Revelation. I will be adding links, resources, images, and the like, upgrading the former work-through which began with the 2013-10-12 posting which can be found, along with the full Genesis to Revelation postings, in the Archive Page. Postings will be at midnight Eastern Time, as I am able. However, no chapters will be skipped, even though a posting may be late. And all postings will be housed in the Archive Page. ]




Explanation: In Psalm 63, David, while exiled in the desert, thirsts, not for water, but for God. He prays for deliverance from his enemies and expresses his confidence that they will fall. David was king at the time (v. 11), so the exile in the wilderness to which the Psalm alludes probably took place during the rebellion of Absalom and his cohorts. Commentator's disagree about where, precisely, David was during this wilderness experience.
In Psalm 63 David claims the almighty God as his God. He says that he will seek him early because his soul is thirsty for him as one who is in a dry and thirsty land where there is no water. He longs to see God's power and his glory as he had seen him in the sanctuary (1-2).
He expresses his assurance that he will praise and bless God, lifting up his hands in prayer, because of God's lovingkindness. His thirsty soul will be satisfied with marrow and fatness. His mouth will praise God with joyful lips when he remembers God on his bed and meditates on him in the night watches (3-6).
God has been his help; therefore he will rejoice under the shadow of his wings. His soul will follow hard after God because God's right hand upholds him (7-8).
But those who seek to destroy his soul will descend into the grave; they will fall by the sword; and foxes (or jackals) will eat them (9-10).
But David, the King, will rejoice in God; and everyone who swears by him will glory; but the mouths of those who speak lies shall be stopped (11).


[ Sermons: Eric Alexander. Various. ]



---
Bible Chronologies -- Genesis to Revelation
---



RESOURCES


PLEASE NOTE: Use the resources on this and other sites thoughtfully, particularly the commentaries and encyclopedias. I have attempted to list conservative, scholarly resources. However, some providers use liberal or liberal-influenced commentaries such as the Cambridge Bible for Schools and Colleges (in Bible Hub). Such commentaries are undoubtedly included by the provider for the wealth of useful information and comments which they provide. By consulting several commentaries, it should be fairly easy to sort out the wheat from the chaff. If, however, you would like personal assistance, write to me at AD LIB ARTS EMAIL.


[ THEMATICALLY AND CHRONOLOGICALLY RELATED SCRIPTURES: Psalm 63: 2 Samuel 15 - 18. ]
[1] Song of Solomon 7:12; Luke 21:28; Psalm 84:2; Psalm 143:6; Genesis 25:29-30.
[3] Psalm 28:2.
[6] Judges 7:19; Exodus 14:24.
[7] Psalm 17:8; Psalm 36:7; Psalm 57:1; Psalm 61:4.
[8] Jeremiah 42:16; Psalm 139:15; Ephesians 4:9.
[10] Jeremiah 18:21; Ezekiel 35:5; Song of Solomon 2:15.
[11] Zephaniah 1:5; Deuteronomy 6:13; Isaiah 65:16; Amos 8:14; Deuteronomy 10:20-21; Romans 3:19.
-- From Ellicott's Commentary for English Readers ]


[ CHRONOLOGY: GENERAL. Patriarchs (Traditional). Judges # 1. Judges # 2. Kings # 1. Kings # 2. Prophets # 1. Prophets # 2. NT # 1. NT # 2. NT # 3. ]

[ MAPS: Maps # 1. Maps # 2. Maps # 3. Maps # 4. Maps # 5. ]

[ COMMENTARIES, ETC: GENERAL: Bible Study Tools; Bible Hub: Study Light; Blue Letter Bible // PSALMS: Monergism: Precept Austin: The Treasury of David; John Gill; John Calvin - Volumes 1, 2, 3, 4, 5]

[ MUSIC: GENERAL: The Cyber Hymnal // PSALMS: Psalm 63 - #1. Psalm 63 - #2. Psalm 63 - #3. Psalm 63 - #4. Psalm 63 - #5. Psalm 63 - #6. Psalm 63 - #7. Psalm 63 - #8. Psalm 63 - #9. Psalm 63 - #10. Genevan Psalter (Instrumental). VARIOUS ARTISTS: Micha'el Ben David. Sons of Korah. Fernando Ortega. Janet Isaac Morrison. Music of the Bible Revealed - Suzanne Haik-Vantoura. Dr. David Erb. Gregorian Chants. ]


---
HARMONY OF THE LAW
HEBREW AND GREEK INTERLINEAR BIBLES
---
Psalm Detailed Outline
THE PSALTER:
(SONGS FOR COVENANT WORSHIP)
Deliverance from Sinners and from Sin
Nearly all the Psalms (except Psalm 90) were written during the 612 year period
from the time of David around 1016 B. C. to the close of the Canon in about 404 B. C.
Psalm 90, according to its superscription, was written by Moses; this may have been around 1406 B. C.
BOOK TWO OF FIVE:
PSALMS 42-72.
1016 - 586 B.C. Israel
God is Merciful to the Righteous
Psalm 63
I long for God.
---
ADDITIONAL AD LIB MATERIAL: Prose, Poetry, Writers, Visual Artists, Music, DAWN, and ILLUMINATION. ILLUMINATION features a compact, Illuminated Bible. DAWN, the page you are presently visiting, features a new image and explanation daily.

Please Email Comments and Questions To

AD LIB ARTS EMAIL
copyright 2018, Scott Souza