---
DAWN
Daily Arts Web Nucleus
---
Discover the Arts!
Each day a different image from the Literary, Performing, or Visual Arts representing a portion of Scripture
plus an explanation with links
2016 October 18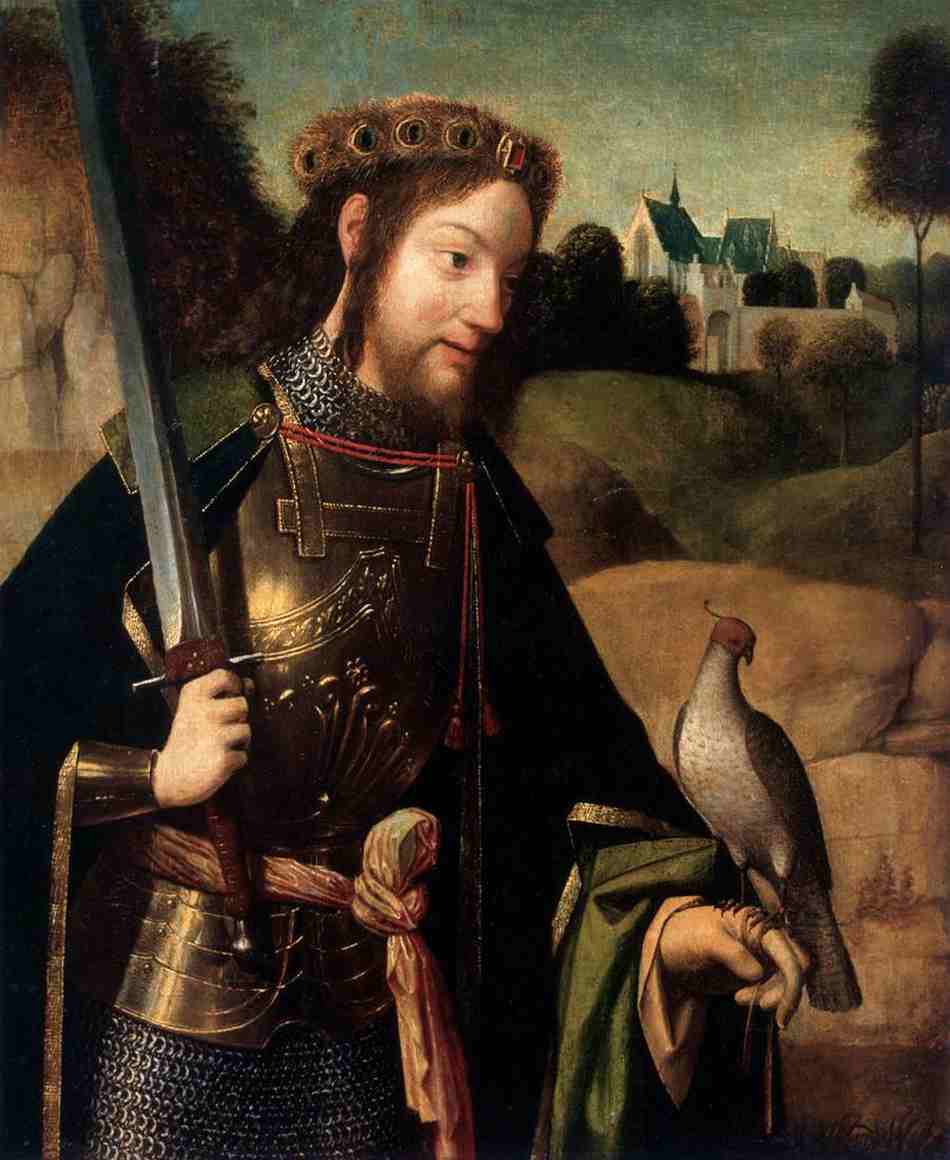 St Bavo (1480s)
Geertgen tot Sint Jans (c. 1465 - c. 1495)
Early Netherlandish Style
The Hermitage, St. Petersburg, Russia Image Source: Web Gallery of Art



Explanation: In Ephesians 6, Paul tells children to obey their parents so that the blessings of God may come upon them. And he tells Fathers to avoid provoking their children to anger and to bring them up in the discipline and instruction of the Lord (1-4). Slaves should obey their masters with sincerity of heart as servants of Christ, not as man-pleasers. And masters should forbear threatening (5-9).
Paul calls upon everyone to be strong in the Lord and in the strength of his might. We should put on the whole armor of God so that we may be able to stand against the schemes of the devil because we do not wrestle against flesh and blood but against powerful spiritual forces. Therefore we should stand firm in such spiritual qualities and practices as truth, righteousness, the firm footing which come from the gospel of peace, faith, salvation, the word of God, prayer, and perseverance. And Paul also asks that his readers would pray for him that he may boldly proclaim the mystery of the gospel (10-20).
Paul concludes the epistle stating that Tychicus would come to them and tell them the news about himself. He wishes peace and grace upon them (21-24).
[Sermons: John Calvin. Martyn Lloyd-Jones. Various. ]
[Illustration: Today's painting is a symbol for the spiritual armor which Paul tells us to put on in today's chapter. ]




---



RESOURCES


[THEMATICALLY AND CHRONOLOGICALLY RELATED SCRIPTURES: Ephesians 5:21 - 6:9: Colossians 3:18 - 4:1; Romans 13:1-7; 1 Corinthians 7:32-35; 1 Corinthians 11:2-16; 1 Corinthians 14:33b-36; 2 Corinthians 11:1-6. Ephesians 6:10-17: Romans 13:11-14; 1 Corinthians 16:13-14; Colossians 4:2-4; 1 Thessalonians 5:1-11; 2 Thessalonians 2:13-17; 2 Corinthians 10:1-6; 2 Thessalonians 2:1-12. Ephesians 6:18-20: Romans 15:30-33; Colossians 4:2-4; 1 Thessalonians 5:25; 2 Thessalonians 3:1-5; Romans 8:26-27; Colossians 1:24 - 2:3. Ephesians 6:21-22: Romans 16:1-2; 1 Corinthians 16:10-12; 1 Corinthians 16:15-18; 2 Corinthians 3:1-3; 2 Corinthians 8:16-24; Philippians 2:19-24; Philippians 2:25 - 3:1; Colossians 4:7-9; Philemon 1:8-20. Ephesians 6:23-24: Romans 16:20b; 1 Corinthians 16:23-24; 2 Corinthians 13:14; Galatians 6:18; Philippians 4:23; Colossians 4:18b; 1 Thessalonians 5:28; 2 Thessalonians 3:18; Philemon 1:25. ]
NOTE: The parallels above are based in a very small part on my own research but principally on the following sources:
Fred O Francis and J. Paul Sampley, Pauline Parallels, Second Edition. (Minneapolis, Minnesota: Fortress Press, 1984).
Most of the material on Hebrews is from an online article titled Pauline parallels in Hebrews taken from Charles H. Welch and Stuart Allen Welch, Perfection Or Perdition? An Exposition Of The Epistle To The Hebrews, (London: Berean Publishing Trust, 1973). ]

[ CHRONOLOGY: GENERAL. Patriarchs (Traditional). Judges # 1. Judges # 2. Kings # 1. Kings # 2. Prophets # 1. Prophets # 2. NT # 1. NT # 2. NT # 3. ]

[ MAPS: Maps # 1. Maps # 2. Maps # 3. Maps # 4. Maps # 5. ]

[ COMMENTARIES, ETC: GENERAL: Bible Study Tools; Bible Hub: Study Light; Blue Letter Bible // PSALMS: Monergism: Precept Austin: The Treasury of David; John Gill; John Calvin - Volumes 1, 2, 3, 4, 5]

[ MUSIC: GENERAL: The Cyber Hymnal // PSALMS: Genevan Psalter (Instrumental). VARIOUS ARTISTS: Micha'el Ben David. Sons of Korah. Fernando Ortega. Janet Isaac Morrison. Music of the Bible Revealed - Suzanne Haik-Vantoura. Dr. David Erb. Gregorian Chants. ]


---
*** For Additional word studies use one of the Greek Interlinear Bibles below. ***
---


Book Outline:

1. You are Predestined According to God's Plan (Ephesians 1:1 - Ephesians 2:22) - 60 A.D. Rome
2. Conform to Your Destiny (Ephesians 3:1 - Ephesians 6:24) - 60 A.D. Rome





Ephesians 6





2. Conform to Your Destiny (Ephesians 3:1 - Ephesians 6:24) - 60 A.D. Rome




1 children, obey your parents in the Lord: for this is right. 2 Honour thy father and mother; (which is the first commandment with promise;) 3 That it may be well with thee, and thou mayest live long on the earth. 4 And, ye fathers, provoke not your children to wrath: but bring them up in the nurture and admonition of the Lord.
5 Servants, be obedient to them that are your masters according to the flesh, with fear and trembling, in singleness of your heart, as unto Christ; 6 Not with eyeservice, as menpleasers; but as the servants of Christ, doing the will of God from the heart; 7 With good will doing service, as to the Lord, and not to men: 8 Knowing that whatsoever good thing any man doeth, the same shall he receive of the Lord, whether he be bond or free. 9 And, ye masters, do the same things unto them, forbearing threatening: knowing that your Master also is in heaven; neither is there respect of persons with him.
10 Finally, my brethren, be strong in the Lord, and in the power of his might. 11 put on the whole armour of God, that ye may be able to stand against the wiles of the devil. 12 For we wrestle not against flesh and blood, but against principalities, against powers, against the rulers of the darkness of this world, against spiritual wickedness in high places. 13 Wherefore take unto you the whole armour of God, that ye may be able to withstand in the evil day, and having done all, to stand. 14 Stand therefore, having your loins girt about with truth, and having on the breastplate of righteousness; 15 And your feet shod with the preparation of the gospel of peace; 16 Above all, taking the shield of faith, wherewith ye shall be able to quench all the fiery darts of the wicked. 17 And take the helmet of salvation, and the sword of the Spirit, which is the word of God: 18 Praying always with all prayer and supplication in the Spirit, and watching thereunto with all perseverance and supplication for all saints; 19 And for me, that utterance may be given unto me, that I may open my mouth boldly, to make known the mystery of the gospel, 20 For which I am an ambassador in bonds: that therein I may speak boldly, as I ought to speak.
21 But that ye also may know my affairs, and how I do, Tychicus, a beloved brother and faithful minister in the Lord, shall make known to you all things: 22 Whom I have sent unto you for the same purpose, that ye might know our affairs, and that he might comfort your hearts. 23 peace be to the brethren, and love with faith, from God the Father and the Lord Jesus Christ. 24 grace be with all them that love our Lord Jesus Christ in sincerity. Amen. To the Ephesians written from Rome, by Tychicus.




---
ADDITIONAL AD LIB MATERIAL: Prose, Poetry, Writers, Visual Artists, Music, DAWN, and ILLUMINATION. ILLUMINATION features a compact, Illuminated Bible. DAWN, the page you are presently visiting, features a new image and explanation daily.

Please Email Comments and Questions To

AD LIB ARTS EMAIL copyright 2016, Scott Souza