---
DAWN
Daily Arts Web Nucleus
---
Discover the Arts!
Each day a different image from the Literary, Performing, or Visual Arts representing a portion of Scripture
plus an explanation with links
2017 November 3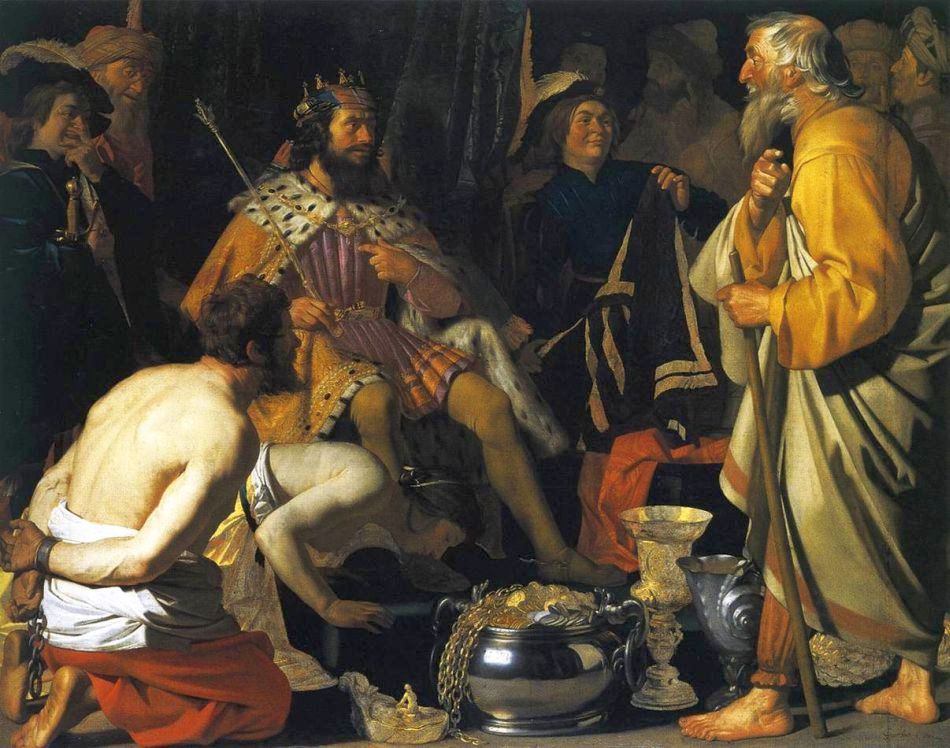 Solon and Croesus (1624)
Gerrit van Honthorst (1590-1656)
Dutch Golden Age Baroque
Kunsthalle Hamburg, Hamburg, Germany Image Source: Web Gallery of Art




SPECIAL NOTE:


[ I will again be working through the Scriptures from Genesis to Revelation. I will be adding links, resources, images, and the like, upgrading the former work-through which began with the 2013-10-12 posting which can be found, along with the full Genesis to Revelation postings, in the Archive Page. Postings will be at midnight Eastern Time, as I am able. However, no chapters will be skipped, even though a posting may be late. And all postings will be housed in the Archive Page. ]



Explanation: In 1 Kings 4, the chapter begins with a list of Solomon's chief officers (1-6).
Also, Solomon had twelve officers who collected food revenues (7-19). Under Solomon, Judah and Israel were well populated, well provisioned, and lived in a state of rejoicing. Solomon's empire was vast; and he reigned over many nations and received tributes from them (20-21).
Solomon's daily provision for his table was great. His dominion was extensive; the nations around him were at peace with him; and Judah and Israel lived in internal harmony. Solomon had many horses, chariots, and horsemen; and the provisions for all of these were vast (22-28).
God gave Solomon great wisdom -- greater even than the most noted wise men of the east. He spoke thousands of proverbs and songs. The themes of these sayings and songs covered a comprehensive list of subjects. People from all around came to hear his wisdom (29-34).
[ Sermons: William Still. James Faris. Various. ]
[ Illustration: Today's chapter contains descriptions of the majesty of Solomon's kingdom and of the breadth of his wisdom. The painting above shows a contrast and an opposition between a man of wealth and power (represented by Croesus) and a man of wisdom (represented by Solon). In Solomon, by God's gift, they were united. ]






---



RESOURCES


PLEASE NOTE: Use the resources on this and other sites thoughtfully, particularly the commentaries and encyclopedias. I have attempted to list conservative, scholarly resources. However, some providers use liberal or liberal-influenced commentaries such as the Cambridge Bible for Schools and Colleges (in Bible Hub). Such commentaries are undoubtedly included by the provider for the wealth of useful information and comments which they provide. By consulting several commentaries, it should be fairly easy to sort out the wheat from the chaff. If, however, you would like personal assistance, write to me at AD LIB ARTS EMAIL.


[ THEMATICALLY AND CHRONOLOGICALLY RELATED SCRIPTURES: 1 Kings 4:
[Chapter 4 Related Scriptures: 2 Chronicles 1:15; 1 Kings 10:26, 28-29; 2 Chronicles 1:14, 16-17; 2 Chronicles 9:25, 28; 2 Chronicles 9:26; Psalm 88; Psalm 89; Psalm 1; Psalm 3; Psalm 45; Proverbs; Ecclesiastes; Song of Solomon. ]
[1] 2 Samuel 8:16-18; 2 Samuel 20:23-26; 1 Chronicles 6:9-10; 2 Samuel 8:18; 1 Chronicles 18:17; 2 Samuel 6:14.
[3] 1 Chronicles 18:16; 2 Samuel 20:25; 2 Samuel 8:16; 2 Samuel 20:24; 1 Chronicles 18:15.
[5] 1 Chronicles 3:5; 2 Samuel 8:18; 1 Kings 1:8; 1 Kings 1:10; 1 Kings 1:22; 1 Kings 1:32; 1 Kings 4:7-19; 2 Samuel 15:37; 2 Samuel 16:16.
[6] 1 Kings 5:14; 2 Samuel 8:16-18; 2 Samuel 20:24; 1 Kings 12:18.
[7] 1 Chronicles 26:25-31; 1 Kings 4:11; 1 Kings 4:15; 1 Chronicles 27:16-22.
[8] Deuteronomy 33:13-17.
[9] Joshua 19:41-43; 1 Chronicles 8:23; 1 Chronicles 1:43; 1 Samuel 6:12-21.
[10] Joshua 15:35; 1 Samuel 17:1-3; Joshua 12:17.
[11] Joshua 11:2; 1 Kings 12:23; 1 Kings 17:11.
[12] Joshua 17:11; Judges 1:27; Judges 5:19; 2 Kings 9:27; 2 Kings 23:29; 1 Samuel 31:12; Judges 7:22; 1 Chronicles 6:68; 1 Chronicles 6:68.
[13] Deuteronomy 3:4; Deuteronomy 3:13-14; Deuteronomy 4:43; Joshua 20:8; Joshua 21:38; 1 Kings 22:3; 2 Kings 8:28; 2 Kings 9:1.
[14] Genesis 36:3; Joshua 13:26; Joshua 13:30; Joshua 21:38; 2 Samuel 2:8; 2 Samuel 2:12; 2 Samuel 2:29; 2 Samuel 17:24; 2 Samuel 17:27.
[15] Joshua 12:22; Joshua 19:37; Judges 4:6.
[16] Judges 1:31-32; Joshua 19:24-30.
[20] 1 Kings 9:20-22; 1 Kings 12:4; Joshua 1:4; Genesis 22:17.
[21] Psalm 72:10; 1 Kings 10:15.
[23] Ezra 4:6; Ezra 6:6.
[26] 2 Chronicles 9:25; 1 Kings 10:26; Deuteronomy 17:16; 1 Samuel 8:11-12; Joshua 11:9.
[30] Genesis 29:1; Judges 6:3; Judges 6:33; Judges 7:12; Judges 8:10; Job 1:3.
[31] 1 Chronicles 2:6; 1 Chronicles 6:33; 1 Chronicles 6:44; 1 Chronicles 25:5.
[32] 1 Kings 1:20-33; 1 Kings 1:2; 1 Kings 1:8; Ecclesiastes 12:3-6; Proverbs 30:15-16; Proverbs 30:24-31; Proverbs 25:1.
-- From Ellicott's Commentary for English Readers ]


[ CHRONOLOGY: GENERAL. Patriarchs (Traditional). Judges # 1. Judges # 2. Kings # 1. Kings # 2. Prophets # 1. Prophets # 2. NT # 1. NT # 2. NT # 3. ]

[ MAPS: Maps # 1. Maps # 2. Maps # 3. Maps # 4. Maps # 5. ]

[ COMMENTARIES, ETC: GENERAL: Bible Study Tools; Bible Hub: Study Light; Blue Letter Bible // PSALMS: Monergism: Precept Austin: The Treasury of David; John Gill; John Calvin - Volumes 1, 2, 3, 4, 5]

[ MUSIC: GENERAL: The Cyber Hymnal // PSALMS: Genevan Psalter (Instrumental). VARIOUS ARTISTS: Micha'el Ben David. Sons of Korah. Fernando Ortega. Janet Isaac Morrison. Music of the Bible Revealed - Suzanne Haik-Vantoura. Dr. David Erb. Gregorian Chants. ]


---
HARMONY OF THE LAW
HEBREW AND GREEK INTERLINEAR BIBLES
---
1 Kings Detailed Outline
1 Kings 4
Notes: In the Hebrew Bible 1 Kings and 2 Kings were one Book. Overlapping dates for various kings indicate overlapping reigns (co-regencies).
1. The Reign of Solomon (1 Kings 1:1 - 1 Kings 11:43) - 971 - 931 B.C. Israel
A. His Rise by Wisdom (1 Kings 1:1 - 10:29)
1. The Initial Consolidation of His Kingdom (1 Kings 1:1 - 2:46)
2. The Development of His Kingdom (1 Kings 3:1 - 11:43)
1 So king Solomon was king over all Israel. 2 And these were the princes which he had; Azariah the son of Zadok the priest, 3 Elihoreph and Ahiah, the sons of Shisha, scribes; Jehoshaphat the son of Ahilud, the recorder. 4 And Benaiah the son of Jehoiada was over the host: and Zadok and Abiathar were the priests: 5 And Azariah the son of Nathan was over the officers: and Zabud the son of Nathan was principal officer, and the king's friend: 6 And Ahishar was over the household: and Adoniram the son of Abda was over the tribute.
7 And Solomon had twelve officers over all Israel, which provided victuals for the king and his household: each man his month in a year made provision. 8 And these are their names: The son of Hur, in mount Ephraim: 9 The son of Dekar, in Makaz, and in Shaalbim, and Bethshemesh, and Elonbethhanan: 10 The son of Hesed, in Aruboth; to him pertained Sochoh, and all the land of Hepher: 11 The son of Abinadab, in all the region of Dor; which had Taphath the daughter of Solomon to wife: 12 Baana the son of Ahilud; to him pertained Taanach and Megiddo, and all Bethshean, which is by Zartanah beneath Jezreel, from Bethshean to Abelmeholah, even unto the place that is beyond Jokneam: 13 The son of Geber, in Ramothgilead; to him pertained the towns of Jair the son of Manasseh, which are in Gilead; to him also pertained the region of Argob, which is in Bashan, threescore great cities with walls and brasen bars: 14 Ahinadab the son of Iddo had Mahanaim: 15 Ahimaaz was in Naphtali; he also took Basmath the daughter of Solomon to wife: 16 Baanah the son of Hushai was in Asher and in Aloth: 17 Jehoshaphat the son of Paruah, in Issachar: 18 Shimei the son of Elah, in Benjamin: 19 Geber the son of Uri was in the country of Gilead, in the country of Sihon king of the Amorites, and of Og king of Bashan; and he was the only officer which was in the land.
20 Judah and Israel were many, as the sand which is by the sea in multitude, eating and drinking, and making merry. 21 And Solomon reigned over all kingdoms from the river unto the land of the Philistines, and unto the border of Egypt: they bought presents, and served Solomon all the days of his life.
22 And Solomon's provision for one day was thirty measures of fine flour, and threescore measures of meal, 23 Ten fat oxen, and twenty oxen out of the pastures, and an hundred sheep, beside harts, and roebucks, and fallowdeer, and fatted fowl. 24 For he had dominion over all the region on this side the river, from Tiphsah even to Azzah, over all the kings on this side the river: and he had peace on all sides round about him. 25 And Judah and Israel dwelt safely, every man under his vine and under his fig tree, from Dan even to Beersheba, all the days of Solomon. 26 And Solomon had forty thousand stalls of horses for his chariots, and twelve thousand horsemen. 27 And those officers provided victual for king Solomon, and for all that came unto king Solomon's table, every man in his month: they lacked nothing. 28 Barley also and straw for the horses and dromedaries bought they unto the place where the officers were, every man according to his charge.
29 And God gave Solomon wisdom and understanding exceeding much, and largeness of heart, even as the sand that is on the sea shore. 30 And Solomon's wisdom excelled the wisdom of all the children of the east country, and all the wisdom of Egypt. 31 For he was wiser than all men; than Ethan the Ezrahite, and Heman, and Chalcol, and Darda, the sons of Mahol: and his fame was in all nations round about. 32 And he spake three thousand proverbs: and his songs were a thousand and five. 33 And he spake of trees, from the cedar tree that is in Lebanon even unto the hyssop that springeth out of the wall: he spake also of beasts, and of fowl, and of creeping things, and of fishes. 34 And there came of all people to hear the wisdom of Solomon, from all kings of the earth, which had heard of his wisdom.




---
ADDITIONAL AD LIB MATERIAL: Prose, Poetry, Writers, Visual Artists, Music, DAWN, and ILLUMINATION. ILLUMINATION features a compact, Illuminated Bible. DAWN, the page you are presently visiting, features a new image and explanation daily.

Please Email Comments and Questions To

AD LIB ARTS EMAIL copyright 2017, Scott Souza