---
DAWN
Daily Arts Web Nucleus
---
Discover the Arts!
Each day a different image from the Literary, Performing, or Visual Arts representing a portion of Scripture
plus an explanation with links
2018 January 1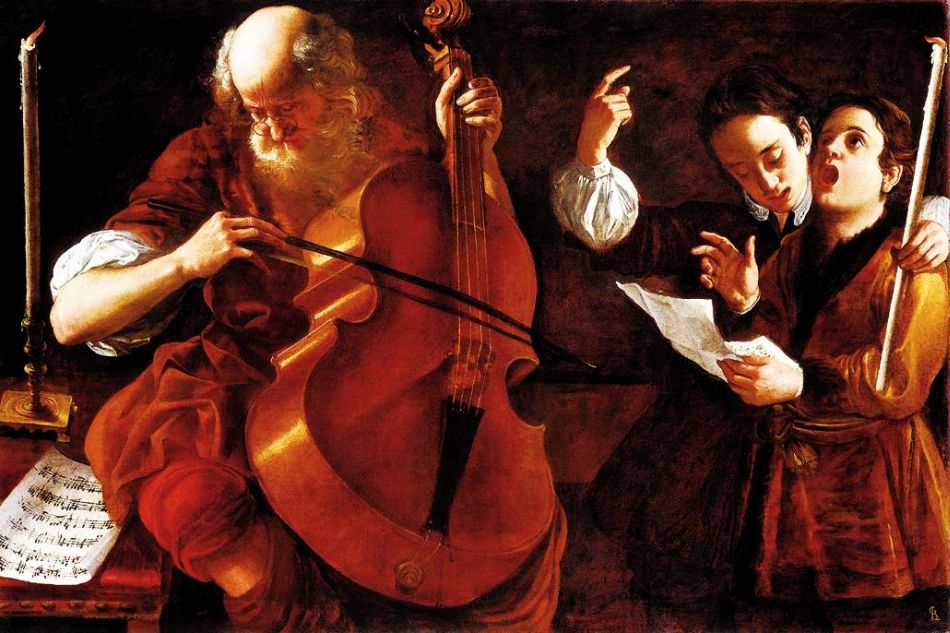 Concert with Two Singers (First Half of the 18th Century)
Giovanni Domenico Lombardi (1682-1751)
Baroque Style with Influences from Neoclassical and Caravaggist Sources
Private Collection Image Source: Web Gallery of Art

[ Illustration: Today's painting illustrates two aspects of the music in the Tabernacle in David's time -- stringed instruments and voices. ]





SPECIAL NOTE:


[ I will again be working through the Scriptures from Genesis to Revelation. I will be adding links, resources, images, and the like, upgrading the former work-through which began with the 2013-10-12 posting which can be found, along with the full Genesis to Revelation postings, in the Archive Page. Postings will be at midnight Eastern Time, as I am able. However, no chapters will be skipped, even though a posting may be late. And all postings will be housed in the Archive Page. ]



Explanation: In 1 Chronicles 16 David and the people concluded the ceremonies begun in the previous chapter. The Levites put the Ark of the Covenant in the Tabernacle in Jerusalem. And David wrote a Psalm for the occasion. Parts of that Psalm also occur in Psalm 105:1-15 (1 Chronicles 16:8-22); Psalm 96:1-13 (1 Chronicles 16:23-33); and Psalm 106:1, 47-48 (1 Chronicles 16:34-36). Traditional Patriarchal Timeline. Judges. Judges Period Chronology. Kings of Judah and Israel #1. Kings of Judah and Israel #2].
After David placed the ark in the Tabernacle he and the people made offerings; David blessed them; and he sent them home with bread, wine, and meat (1-3). And David appointed various duties to the Levites, particularly musical duties. To them he delivered the Psalm which he wrote for this occasion (4-7).
THE PSALM [verses 8-36a]: The first stanza praises the LORD for his deeds as manifestations of his strength and judgment (8-13). The second stanza praises God for his covenant and recounts how he kept it by bringing them into the promised land and defeating their enemies (14-22). The third stanza sets the LORD in contrast to all of the heathen idols (23-27). The fourth stanza calls on the inhabitants of the earth to rejoice in the LORD and to give thanks to him; and he calls upon the sea, the fields, and the trees to do likewise (28-34). The fifth, and last stanza, commands men to call on the LORD for salvation. It ends by calling the LORD "Blessed," forever (35-36a).
And the Tabernacle service began and went on continuously (36b-42). "And all the people departed every man to his house: and David returned to bless his house." However, as recorded in 2 Samuel 6:20-23, David's wife Michal scorned David to his face for "uncovering" himself while he danced before the Ark. And the passage cited lists her scorn as the reason that Michal had no child until the day she died. It may be that the LORD cursed her with bareness; or it may be that David put her away into a sort of widowhood. Further discussion can be found here (43).
[ Sermons: Ian Hamilton. Various. ]







---



RESOURCES


PLEASE NOTE: Use the resources on this and other sites thoughtfully, particularly the commentaries and encyclopedias. I have attempted to list conservative, scholarly resources. However, some providers use liberal or liberal-influenced commentaries such as the Cambridge Bible for Schools and Colleges (in Bible Hub). Such commentaries are undoubtedly included by the provider for the wealth of useful information and comments which they provide. By consulting several commentaries, it should be fairly easy to sort out the wheat from the chaff. If, however, you would like personal assistance, write to me at AD LIB ARTS EMAIL.


[ THEMATICALLY AND CHRONOLOGICALLY RELATED SCRIPTURES: 1 Chronicles 16: 2 Chronicles 1:4; 2 Samuel 6:12-23; 1 Chronicles 15; Psalm 105; Psalm 96].

[1] 2 Samuel 17-19.
[2] 2 Samuel 6:18; Numbers 6:22-27; 1 Kings 8:14; 1 Kings 8:55; Deuteronomy 33:1.
[3] 1 Samuel 2:36; Exodus 29:23; Hosea 3:1; Isaiah 16:7.
[4] 2 Samuel 6:12-20; Genesis 3:12; Leviticus 2:2; Psalms 146-150.
[5] 1 Chronicles 15:18-21.
[7] Exodus 15:1; Judges 5:1; 2 Chronicles 7:6.
[8] Psalm 3:1-7; Psalm 5:1; Psalm 7:6.
[9] Exodus 3:20.
[10] 1 Chronicles 13:3; 1 Chronicles 15:13.
[11] Exodus 15:2; Isaiah 26:4.
[12] Genesis 1:3; Exodus 12:12; Psalm 105:5.
[13] Psalm 105:6.
[15] Psalm 105:8; Psalm 111:5.
[16] Haggai 2:5; Genesis 22:16-18; Psalm 105:9; Amos 7:9.
[17] Psalms 105.
[18] Psalm 105:11; Psalm 16:5.
[19] Genesis 34:30; Genesis 23:4.
[20] Psalm 105:13.
[21] 2 Samuel 16:11; Psalm 105:14-15.
[22] Psalm 2:6; Genesis 17:16; Genesis 23:6; Genesis 12; Genesis 20; Genesis 26; Psalms 96.
[27] Psalm 96:6; Nehemiah 8:10; 1 Chronicles 15:1; 1 Chronicles 15:3.
[29] Psalms 96.
[31] Psalm 96:10.
[34] Jeremiah 33:11.
[35] Psalm 106:47-48; Psalm 106:1; Psalm 96:10; Jeremiah 32:37.
[36] Psalm 106:47-48;Ezra 3:11.
[37] Exodus 5:13.
[38] 1 Chronicles 26:8; 1 Chronicles 6:44; 1 Chronicles 26:1-4.
[39] 1 Samuel 1:9; 1 Samuel 2:11; 2 Kings 11:9; 2 Kings 11:15; 1 Kings 3:3-4.
[40] Exodus 29:38; Numbers 28:3; 1 Chronicles 18:16; 1 Kings 8:1-4.
[41] 1 Chronicles 12:31; 1 Chronicles 15:19-24; Psalms 136.
[42] 1 Chronicles 15:9; 1 Chronicles 15:24.
[43] 2 Samuel 6:19-23; 1 Chronicles 10:14; 1 Chronicles 15:29.
-- From Ellicott's Commentary for English Readers ]


[ CHRONOLOGY: GENERAL. Patriarchs (Traditional). Judges # 1. Judges # 2. Kings # 1. Kings # 2. Prophets # 1. Prophets # 2. NT # 1. NT # 2. NT # 3. ]

[ MAPS: Maps # 1. Maps # 2. Maps # 3. Maps # 4. Maps # 5. ]

[ COMMENTARIES, ETC: GENERAL: Bible Study Tools; Bible Hub: Study Light; Blue Letter Bible // PSALMS: Monergism: Precept Austin: The Treasury of David; John Gill; John Calvin - Volumes 1, 2, 3, 4, 5]

[ MUSIC: GENERAL: The Cyber Hymnal // PSALMS: Genevan Psalter (Instrumental). VARIOUS ARTISTS: Micha'el Ben David. Sons of Korah. Fernando Ortega. Janet Isaac Morrison. Music of the Bible Revealed - Suzanne Haik-Vantoura. Dr. David Erb. Gregorian Chants. ]


---
HARMONY OF THE LAW
HEBREW AND GREEK INTERLINEAR BIBLES
---
1 Chronicles Detailed Outline
1 Chronicles 16
Notes: In the Hebrew Bible 1 & 2 Chronicles are one Book. The author may have been Ezra.
2. The Kings: The Kings from the Tribes of Benjamin and Judah (1 Chronicles 10:1 - 2 Chronicles 36:14)
A. From the Tribe of Benjamin: Saul of the United Kingdom (1 Chronicles 10:1-14) - 1050 - 1010 B.C., Israel
[Note: Saul's son, Ishbosheth briefly reigned over 12 tribes, then 11 (1010-1003?) but he is not mentioned in Chronicles.]
B. From the Tribe of Judah (1 Chronicles 11:1 - 2 Chronicles 36:14)
1. David, First King of Judah and then all of Israel (1 Chronicles 11:1 - 29:30) - 1010 - 1003?; Judah; 1003? - 971, Israel
a. Secondary Projects (1 Chronicles 11:1 - 20:8)
1 So they bought the ark of God, and set it in the midst of the tent that David had pitched for it: and they offered burnt sacrifices and peace offerings before God. 2 And when David had made an end of offering the burnt offerings and the peace offerings, he blessed the people in the name of the LORD. 3 And he dealt to every one of Israel, both man and woman, to every one a loaf of bread, and a good piece of flesh, and a flagon of wine.
4 And he appointed certain of the Levites to minister before the ark of the LORD, and to record, and to thank and praise the LORD God of Israel: 5 Asaph the chief, and next to him Zechariah, Jeiel, and Shemiramoth, and Jehiel, and Mattithiah, and Eliab, and Benaiah, and Obededom: and Jeiel with psalteries [in instruments of skin bags] and with harps; but Asaph made a sound with cymbals; 6 Benaiah also and Jahaziel the priests with trumpets continually before the ark of the covenant of God. 7 Then on that day David delivered first this psalm to thank the LORD into the hand of Asaph and his brethren.
8 Give thanks unto the LORD, call upon his name, make known his deeds among the people. 9 Sing unto him, sing psalms unto him, talk ye of all his wondrous works. 10 Glory ye in his holy name: let the heart of them rejoice that seek the LORD. 11 Seek the LORD and his strength, seek his face continually. 12 Remember his marvellous works that he hath done, his wonders, and the judgments of his mouth; 13 O ye seed of Israel his servant, ye children of Jacob, his chosen ones.
14 He is the LORD our God; his judgments are in all the earth. 15 Be ye mindful always of his covenant; the word which he commanded to a thousand generations; 16 Even of the covenant which he made with Abraham, and of his oath unto Isaac; 17 And hath confirmed the same to Jacob for a law, and to Israel for an everlasting covenant, 18 Saying, Unto thee will I give the land of Canaan, the lot of your inheritance; 19 When ye were but few, even a few, and strangers in it. 20 And when they went from nation to nation, and from one kingdom to another people; 21 He suffered no man to do them wrong: yea, he reproved kings for their sakes, 22 Saying, Touch not mine anointed, and do my prophets no harm.
23 Sing unto the LORD, all the earth; shew forth from day to day his salvation. 24 Declare his glory among the heathen; his marvellous works among all nations. 25 For great is the LORD, and greatly to be praised: he also is to be feared above all gods. 26 For all the gods of the people are idols: but the LORD made the heavens. 27 Glory and honour are in his presence; strength and gladness are in his place.
28 Give unto the LORD, ye kindreds of the people, give unto the LORD glory and strength. 29 Give unto the LORD the glory due unto his name: bring an offering, and come before him: worship the LORD in the beauty of holiness. 30 Fear before him, all the earth: the world also shall be stable, that it be not moved. 31 Let the heavens be glad, and let the earth rejoice: and let men say among the nations, The LORD reigneth. 32 Let the sea roar, and the fulness thereof: let the fields rejoice, and all that is therein. 33 Then shall the trees of the wood sing out at the presence of the LORD, because he cometh to judge the earth. 34 O give thanks unto the LORD; for he is good; for his mercy endureth for ever.
35 And say ye, Save us, O God of our salvation, and gather us together, and deliver us from the heathen, that we may give thanks to thy holy name, and glory in thy praise. 36 Blessed be the LORD God of Israel for ever and ever [unto perpetuity]. And all the people said, Amen, and praised the LORD.
37 So he left there before the ark of the covenant of the LORD Asaph and his brethren, to minister before the ark continually, as every day's work required [to a thing of a day in his day]: 38 And Obededom with their brethren, threescore and eight; Obededom also the son of Jeduthun and Hosah to be porters: 39 And Zadok the priest, and his brethren the priests, before the tabernacle of the LORD in the high place that was at Gibeon, 40 To offer burnt offerings unto the LORD upon the altar of the burnt offering continually morning and evening, and to do according to all that is written in the law of the LORD, which he commanded Israel; 41 And with them Heman and Jeduthun, and the rest that were chosen, who were expressed by name, to give thanks to the LORD, because his mercy endureth for ever; 42 And with them Heman and Jeduthun with trumpets and cymbals for those that should make a sound, and with musical instruments of God. And the sons of Jeduthun were porters.
---
ADDITIONAL AD LIB MATERIAL: Prose, Poetry, Writers, Visual Artists, Music, DAWN, and ILLUMINATION. ILLUMINATION features a compact, Illuminated Bible. DAWN, the page you are presently visiting, features a new image and explanation daily.

Please Email Comments and Questions To

AD LIB ARTS EMAIL copyright 2017, Scott Souza